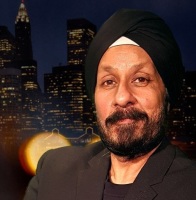 Who is he? and more to the point who cares?

​
 But if you are slightly curious, then find out below about a life less ordinary....
​​What's in a name?



My name is Deljit, but when Indian people spell my name they spell it as Daljit or nowadays as Diljit because the latter is a singer who is currently popular.  I am a Del (not a Dell as I'm definitely not PC ), not a lentil based Dal or a herb based Dil, because of my late father's spelling abiliites back in 1962.   On my birth certificate he gave the registrar the spelling of my name as Deljit and not Daljit - so thank you dad, so glad you did as I'm definitely a Del!   Over time Deljit has been shortened to Del and the rise of Only Fools & Horses means that people are totally at ease with a Del or a Del Boy, so much so my car registration plate reads - DEL 5 80Y.  

I was born in Peterborough in Cambridgeshire in 1962 ...... yes, I really am that ancient!   My family was the first Sikh family in the city and when I and my older brothers first went to school in the city we were the only non-white children in the school.   As the staff thought our two syllable Indian names would be too hard for them and other schoolchildren we were given actual English or Christian names.   I was given the name Paul, it wasn't a name I liked (sorry all you Paul's out there - could have been worse I could have been Ringo!).  When I moved from the infants school to a primary school I went back to Deljit and apart from some early name calling from the school bullies people got used to Deljit....clearly it wasn't that hard for teachers or kids.  Strangely my two older brothers stuck with Peter and David, and to this day many know them only by these names.



It's a wonderful life



I thoroughly enjoyed school in fact I was a bit of a swot and was disappointed that schools closed at the weekend.  I loved reading from an early age and immersed myself in books in the library and comics at home - my mother thought I was always constipated as I spent so long in the smallest room...... I was only reading comics!    I had the most wonderful childhood thanks to my parents who worked extremely hard so we their children would never have to know the hardship they had experienced.    My late father Gurdial Singh Rathore started life in the UK as a door to door pedlar selling clothing out of a suitcase and after marrying my mother they bought the obligatory shop although not on a corner and invested in buy to let properties.  My father also had a market stall so my mother Shanti Devi Singh would run the shop as well as raise us children.  We always had clean clothes and hot food when we came home from school, she really was the original Wonder Woman!   Growing up in Britain in the 1970s was for me the most wonderful time as our parents showered us with love and gifts, but we weren't spoiled brats as we would work in the shop during the week and on Saturday's at the market - I never did like that getting up at 6am on the weekend to go to set up the market stall, and I found many ways of getting out of it much to my brothers chagrin.  My father was the most devout and devoted Sikh so much so as there wasn't a Gurdwara (Sikh Temple) in Peterborough he built a prayer room in our house and had a Guru Granth Sahib (Sikh Holy Scripture) bought over from India in 1968.   Even after the first Gurdwara was established in the city in 1974 my father retained the prayer room in our house and over 50 years on I am blessed to have the first Guru Granth Sahib in the city in the prayer room in my house, with my mother performing the Seva (care) the Guru Granth Sahib Ji requires.  Sadly my father passed away on 17th June 1995 after a short battle with cancer, he and my mother lived with me and to this day my mother lives with my wife and I and our younger children and eldest grandchild.  I love our truly multi-generational home which is full of wisdom, love and happiness.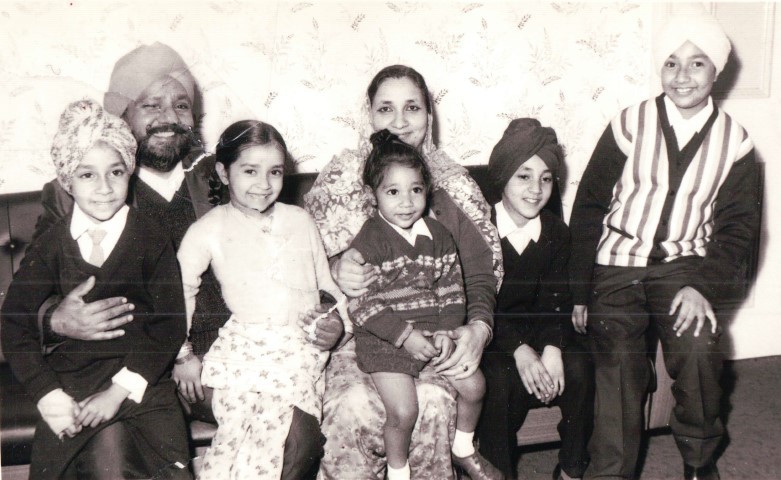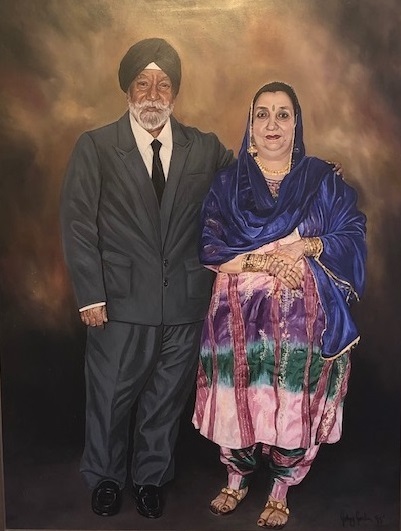 1970: Happy family - parents, brothers and sister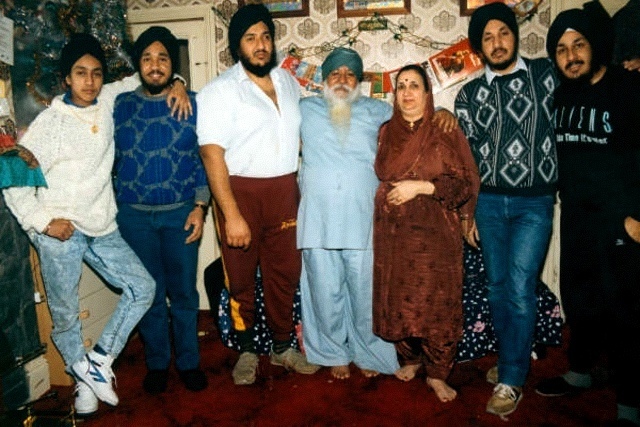 1995: Oil painting of my parents which I commisioned, sadly it was delivered on 18th June the day after my father passed away
1986: Singh brothers with Dad (Gurdial Singh Rathore) & Mum (Shanti Devi Singh)
This is England



Being a Sikh in Britain in the 1960's came with a set of challenges many today wouldn't be able to comprehend or accept as true.  One example of this that springs to mind is that of an English shopkeeper with a shop near to my parents shop spreading rumours that the "Paki" shop, was going to be closed down by the Health Department, as us foreigners were unhygenic.  Also as most foods came fresh and without packaging in those days including cheese and meats, anyone risking buying fresh foods from the Paki shop was at risk of being poisoned as the colour (dirt) came off their hands and went into the food!  Yes, this is the mindset that people had back then and many customers stayed away from our shop because of this.  My mother found the best way to combat this prejudice was to show the locals it was a lie and very cleverly she did this by enlisting the help of a local English lady to help run the shop when she took us to school in the mornings.    When English people saw a white woman behind the counter they started to come by and when they then met my mother who spoke excellent English and saw us kids run in front of them to open doors and thank them they began to see through the lies and misinformation about poor hygiene and our abiity not to be able to speak English.   My mother even invited some of the local ladies around for food and taught them how to cook curries, the spices and other ingredients could all be bought at my father's market stall.    So when I hear some homegrown moron say that "You and yours were handed everything on a plate", my response is simple - Bollocks!  My parents like many first generation foreigners coming to England had to work bloody hard and fight racism and prejudice in order to survive and once they did that they thrived.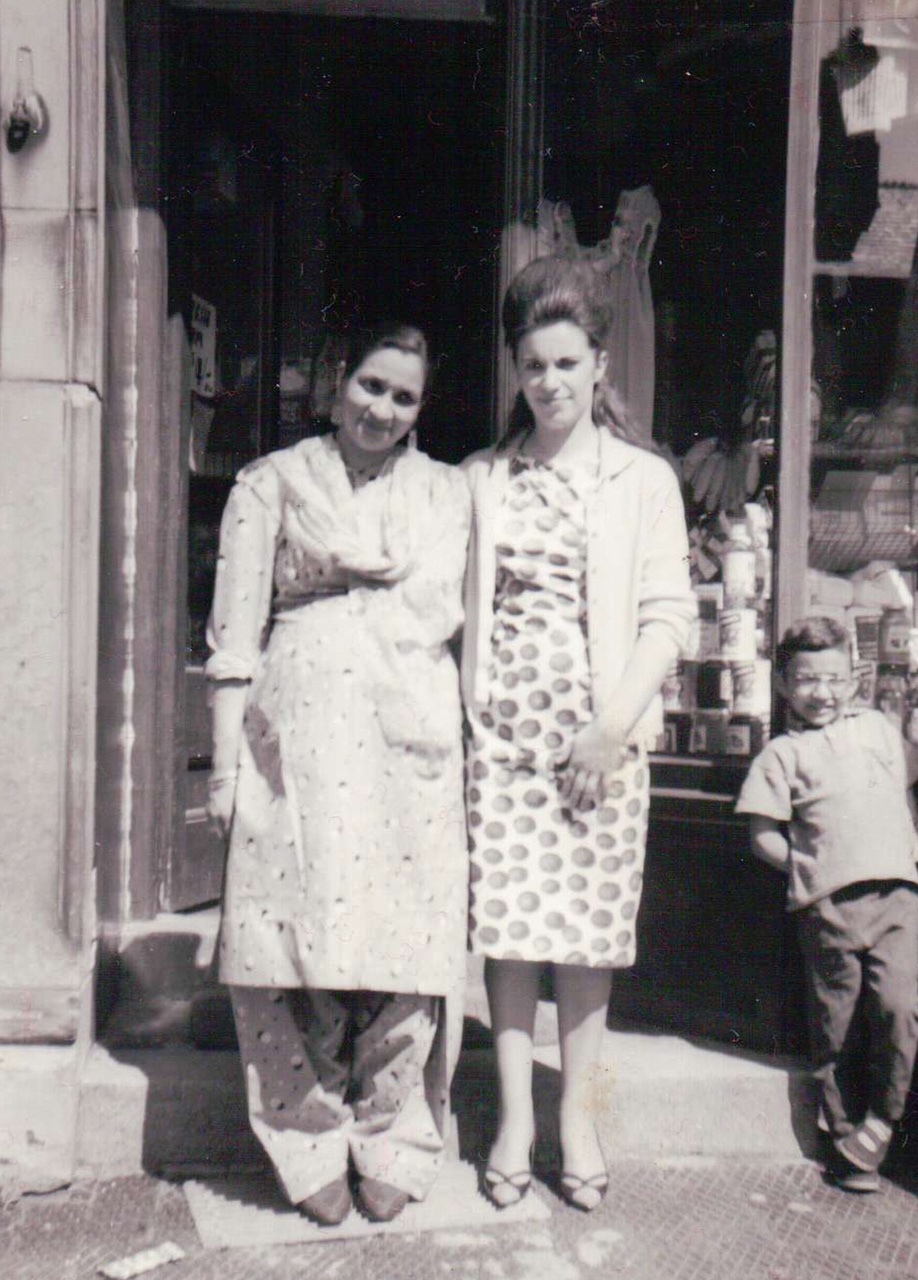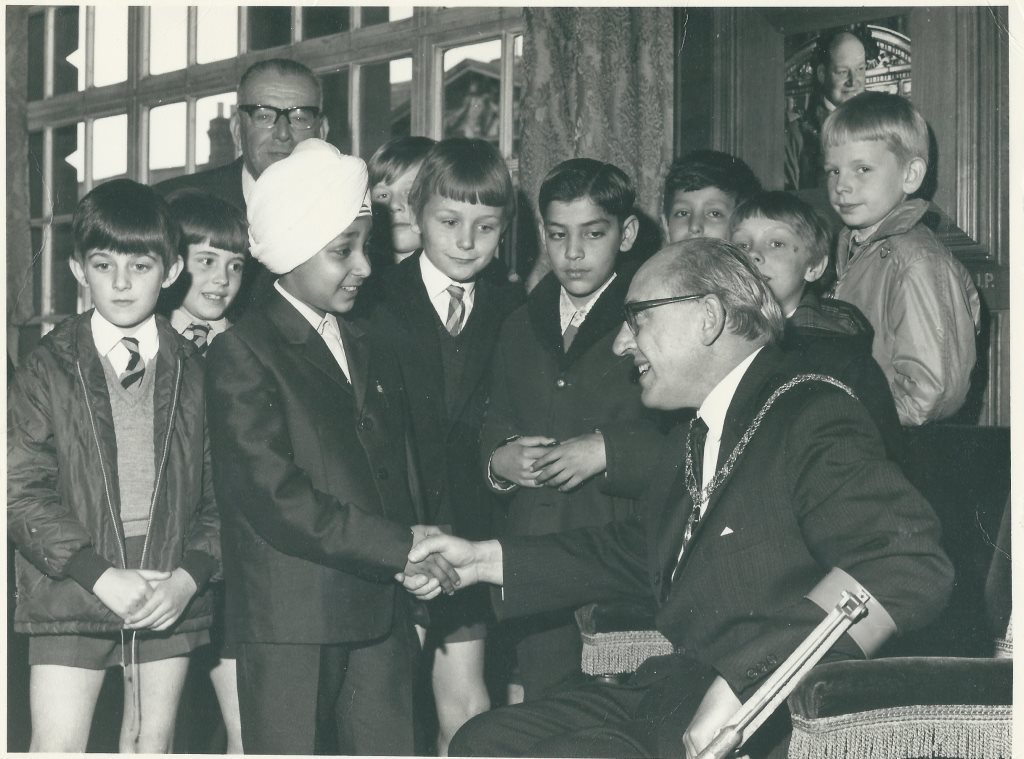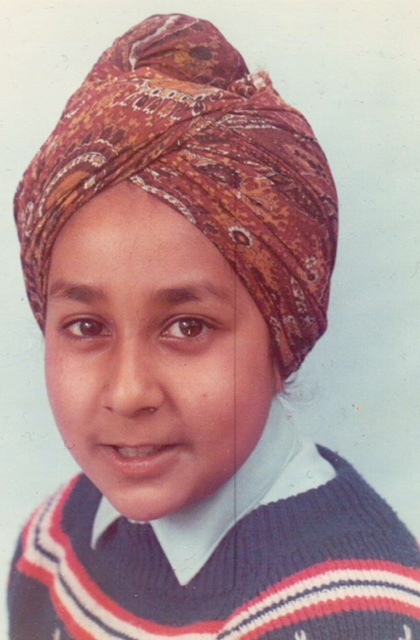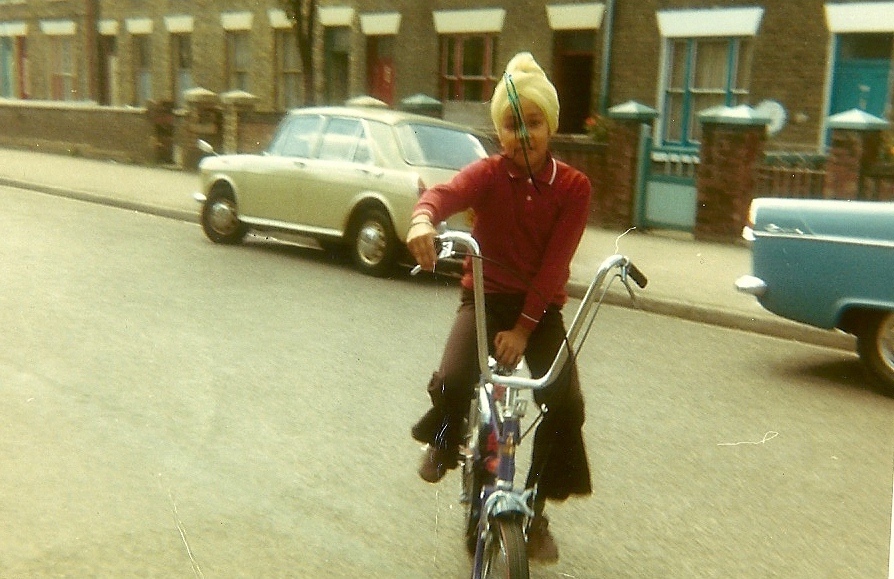 1965: Mum with English shop assistant outside our shop
1972: School prize presentation to me by the Mayor of Peterborough Dr Bracey & Alderman Lister
1973: Dedicated follower of fashion rocking  paisley turban
1974: My Chopper bike one of my best birthday presents  
Family photographs: top from 1970 and bottom from 1986
A coming of age 
At the age of 10 or thereabouts I kind of came of age in that firstly I went from wearing a topknot with a black net covering it to wearing a turban.   My father was really proud I had learned to tie my own turban at such a young age, probably less impressed with the paisley colours I was wearing but he never said.   I'd be a liar if I said it was a religious epiphany that made me start wearing a turban as I didn't quite understand the religious significance even though my parents were devout Sikhs.  I think it was more a case of the turban making me look more grown up and  more"normal" as it did away with the massive topknot.   My turban did make me standout and in less enlightened times it did mean I got some unwelcomed attention from skinheads and from girls who thought it would be funny to try and pull it off.  I know of Sikh relatives who never wore turbans and those who cut their long hair simply to avoid this and have an easier life but I chose to kick against the pricks rather than let them change me.  Forty five years on and I still believe my turban makes me special and makes me stand out, and it has only helped make me the man I am today.

Secondly in the early 1970's I also discovered a love of pop music and to this day it has played an important part in my life, and while I never learned to play a musical instrument I have always loved listening to music.  I think my love of pop music came from watching Top of the Pops, but when Pans People started gyrating I would be told by my mother to turn off what was tantamount to soft porn!   So glad when in 1972 we got our first colour television in the lounge and the old black and white set was moved upstairs into my parents bedroom, this allowed me to watch TOTP in peace...soft porn and all!  I loved the Pick & Mix in Woolworths but I was also intrigued by the record section with its wall of records from 1 to 20 with all the singles in chart order that week.  Finally in the summer of 1972 I walked by the Pick and Mix and used my pocket money to buy my first record.  I actually went in to buy T-Rex's Metal Guru, but it was sold out and so I ended up buying Rock & Roll Parts I & II by Gary Glitter - OK I know its not cool to even say his name and the man is a nasty piece of work but this was a great piece of music in 1972, it featured in The Full Monty and even today I can't not stop my feet tapping when I hear it.  On the upside I went back a couple of weeks later and managed to buy Metal Guru out of the bargain bin as it had fallen out of the Top 20.   So officially T-Rex's was the second piece of music I purchased but these days I consider it to be the first for fear of being stoned to death in public for saying I liked Gary Glitter and I actually bought one of his records
.
Hang the DJ
In 1978 I was in the 6th form at Jack Hunt School in Peterborough and as a sixth former I along with others had been tasked with raising money for charity.  With the phenomenon of Saturday Night Fever and disco dancing sweeping the nation indeed the world we thought we'd organise a sponsored 24hr non-stop disco.  Along with my brother David I ran the disco at the school which comprised some hired lights, speakers and set of turntables.   We borrowed records from anywhere and everywhere, and I also created mixtapes off the Sunday Chart Show on Radio 1 - god my fingers hurt hitting that pause button like a flash to avoid the radio DJ's chat.   The 24hr disco was a massive success in that student sponsorships raised over £3,500 for the Help the Aged charity as was.   But for my brother and I it was a gamechanger in that we had clearly impressed our fellow students with our DJ skills and people started to ask if we could do the disco at their birthday parties.  Pretty soon we had purchased the disco equipment on monthly installments and were taking bookings as Spectra Soundsystem Roadshow.  As the word spread we got bookings from sixth formers at other schools too and I was rapidly assembling an impressive record collection whilst indulging my passion for music and getting paid - happy days indeed!     The discos were going well however bookings were a little too infrequent, but then there came a turning point when we got a booking to do a disco at a village hall in Longthorpe, not far from our school.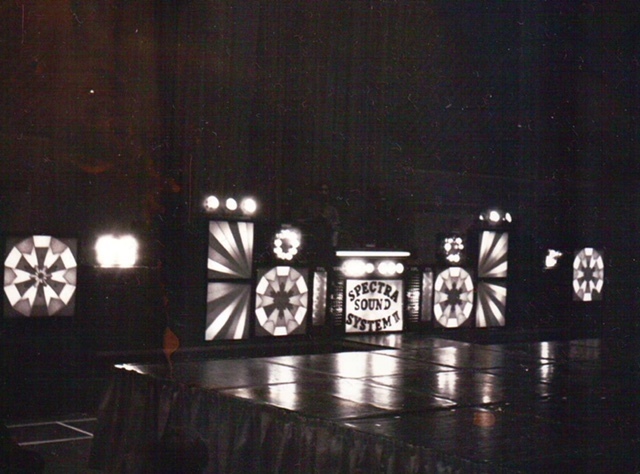 1981: Spectra Soundsystem II Disco Roadshow - Music and Lightshow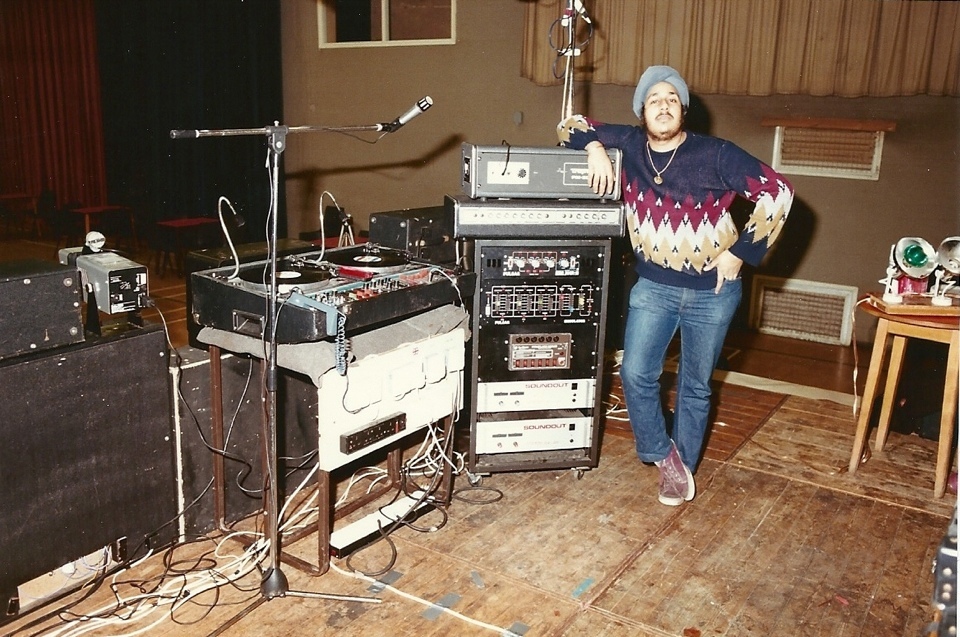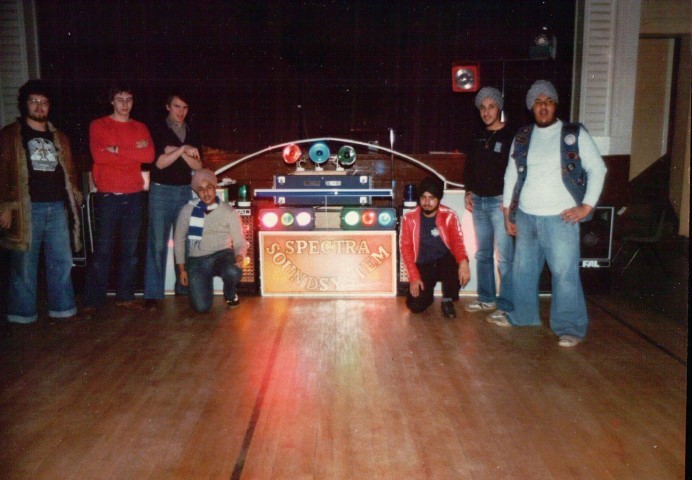 1980: Spectra Soundsystem I Rock Roadshow - The Full Crew
            1984: DJ Del & Disco at Regional College in Peterborough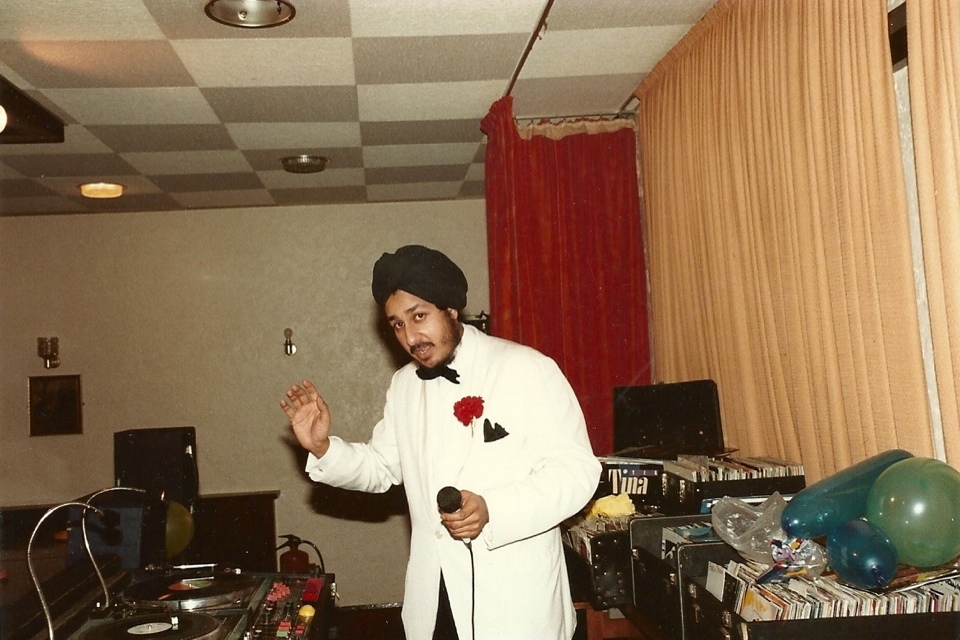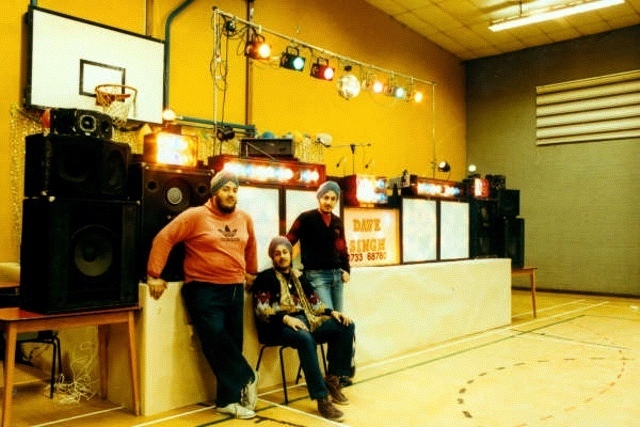 1982: The full rig for Rock Show at Focus Sports Hall, Peterborough
                                1986: DJ in a DJ at Hatfield Polytechnic 
Turning up at the village hall on a Satuday night and setting up all seemed well and as the organiser opened the doors at 8pm and started to let in the crowd.   Top chart music at the time from Kool and the Gang, The Real Thing, Shalimar and The Jacksons to name but a few filled the creaky, smelly old hall.  I think I was the first to notice that the crowd didn't seem to be the usual mix of eager young things in day-glo disco gear but were all a bit older and were wearing jeans and many had crash helmets.  My suspicions were confirmed when a tall guy with long hair and a beard walked across and over the din of the music shouted in my air, "No one likes this shit, have you got any fucking metal?"   By metal he meant heavy metal or heavy rock music, and as it happened the sum total of our metal was four singles, that's 8 tracks if you include the B-sides.  We played those 8 tracks to death and improvised with some old rock and roll and rock ballads, and were glad when midnight came around and we could go home.   As no one had come back to complain we believed we had dodged a bullet and all in all it was a successful night.  But then as we started to load the disco equipment into our father's van outside, 3 guys pulled up on small 100cc motorbikes and walked over to us.   The leader of the pack spoke, "What the fuck are you Paki's doing here?  Why don't you fuck off or else?"  While the threat itself was shocking I'd heard worse, but when the guy pulled a knife out and all of a sudden the threat was now a real crisis.   We liked doing discos but we didn't love them enough to get stabbed to death for the cause.   Thankfully that night my brothers good friend Tim was with us, now he was a white English lad and so he tried to reason with the white lads threatening us.  "We've got no problem with you mate, its just with the Paki's" came the reply.   "Well' they're my mates and if you've got a problem with them, then you've got to go through me", Tim told them.   As the guy with the knife lunged at Tim his chin was met with a perfect uppercut that lifted him off his feet and onto his back on the gravel car park.  What these guys didn't know was that our mate and roadie Tim looked wirey but he was actually a boxer and a pretty good one at that.    Seeing their mouthy mate spark out on the ground the other two backed away and pretty soon they all rather sheepishly got on their souped up mopeds and rode off.     After we had dropped Tim off we went home and decided that maybe this disco lark came with too high a price tag.  "Just imagine if Tim hadn't been there, we might be dead tonight", said my brother.  I agreed, maybe doing student discos was fine but the risk is just too much, so let's sell up the disco gear and knock this whole thing on the head.    Having slept on it we both still came to the same conclusion the next day, but then a bolt from the blue.   

"There's someone on the phone looking to book a disco", my mother said as she handed me the house phone receiver.  When I answered I was met by the jolly tones of the guy who had booked us for the gig at the village hall the night before.   "Everyone had a really good night and as we're looking to rebuild the village hall we are thinking about a weekly disco to raise funds, and we'd like you guys to do the disco".   Before telling him we were planning an early retirement from the disco scene I told him about what had happened in the car park and he was shocked and apologised.  He went on to say that if we said yes then he would make sure those guys would be banned if they showed their faces and he would arrange help for us in terms of setting up and packing away.   I also told him that he hadn't told us it was a bikers and rockers gig and we didn't have the music they wanted.   "Can't you get their music?"  he suggested.  "Yes, but not with the money you paid us", came my quick riposte.   With some negotiation and a doubling of the fee to £100 and a gig every Saturday night in the bag we shook hands on the deal so to speak.   In preparation for that weekend's disco I visited all local record shops and the secondhand record stall on Peterborough market and bought every damn rock and heavy metal record I could lay my hands on.   It wasn't long before we became the regions premier rock roadshow and we made friends with bikers not just because we played their music but we also had longer hair than all of them!  

As this was the age before the rise of the nightclub we then started to hire sports halls and put on our own promotions featuring bands as well as our rock disco, as Indians we knew how to make money out of this thing.   We set up Electric Promotions which put on rock gigs around the East Anglia region including the big gig at the prestigious British Motorcycle Federation Rally (BMF).   We were "The Singh's of Rock", so much so the local newspaper even asked us to compile a weekly Rock Top 20 Chart!  The biker community loved us and were totally blind to our race and religion unlike the National Front (NF) who threatend us and our gigs.  They even turned up one night to one of our events to give us a good kick in but when they were confronted by a gang of bikers with chains and bats they legged it pretty sharpish! 
On the other side of the coin we were also building a cult following amongst Peterborough's student population and colleges around the UK as many students were into indie music which I had a genuine love of and knew what to play unlike your typical medallion wearing DJ.    We played support to a number of bands and artists also including; OMD, The Sisters of Mercy, Ian Gillan Band and a young fresh faced Lenny Henry - we heckled him during his act and he was grateful as it was a tough crowd at the General Motors Social Club in Wellingborough back in 1980.
Who the hell booked a Paki to do the disco?
It is fair to say that in an age before mobile phones, email and the internet many of our bookings came through an advert in the Yellow Pages and a phone call to our home land line.  When we took a booking be it for a private hire such as a birthday party, wedding, etc if the person making the booking hadn't met us they had no idea we were Indian or turban wearing Sikhs - yes our English was that good.  I can remember several bookings where this turned out to be an issue, one was a Young Conservatives Christmas Ball where the organisers were more like The Hitler Youth and mortified at our appearance so much so they passed all messages to us through our two English friends who were helping us that night.  I guess my taking the piss by doing a soundcheck with the worst Indian accent ever and asking my brother what came after the number two during the soundcheck didn't help.  But all's well that ends well and as we knew how to entertain a crowd and keep the dancefloor packed, so we won them over.   Crazier still was the wedding reception I did out in the sticks and having been booked by the groom over the phone, when the bride and her family arrived they went ballistic - "Who the hell booked a Paki to do the disco?" was just one of the shouts I heard as a full scale riot between the bride and groom's family broke out.  I ended up having to play referee (I was going to say the white man - lol), by going across and getting involved.  I literally said about 3 words when they all stopped and quite a few jaws hit the floor - apparently the Paki spoke perfect English and better than most in the room, and without the Fenland accent they all had.  I calmed things down and taking the bride and groom to one side explained it was their day, and they could either remember it with great fondness or as a riot, the choice was theirs as everyone else would follow what they did.   When I asked them what they had picked as their first dance, they looked blankly at me as clearly they hadn't.  Before they started on one another again I made the suggestion of Spandau Ballet's True which they both liked and agreed to.  Once the lights went down and the tempers had been calmed it turned out to be a great night, even the bride's mother who had been the most vocal with some choice racist comments came over and gave me a hug and kiss, told me how brilliant I was and asked if I could do the disco for her wedding anniversary party later that year?   As it happens I did that party and the Christening party for the happy couple's first baby the following year, just proving that you should never judge a book by the cover and educating people is so much easier when you have a microphone and a bitchin' collection of records.   I'd like to think in our own way my brothers and I as DJ's in the 1970's did our bit for community relations in the UK.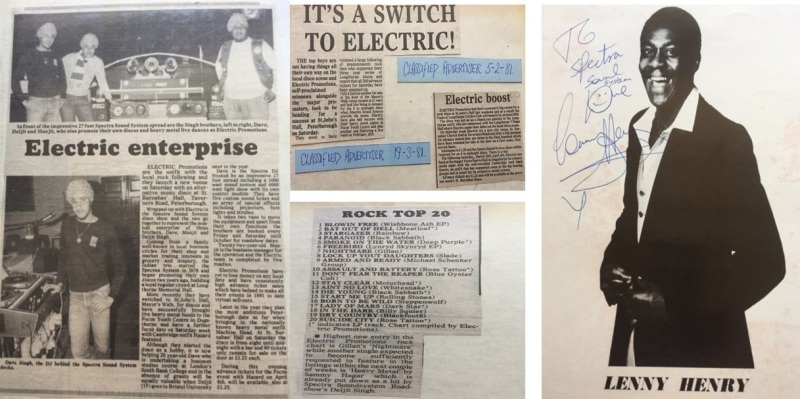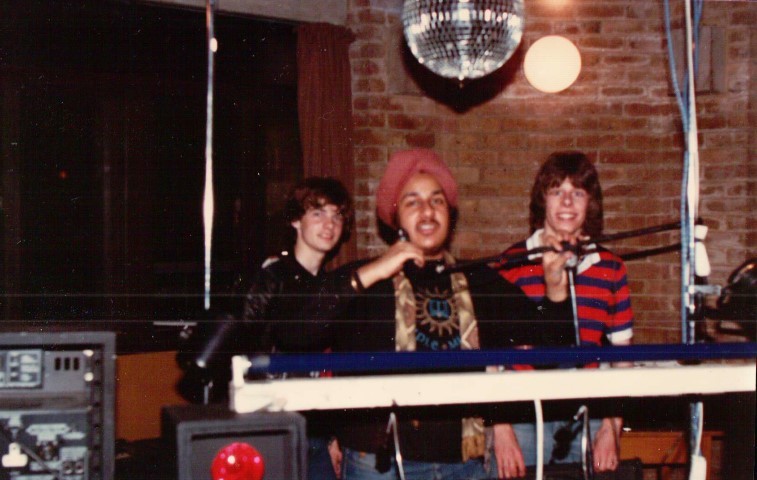 1981: Electric Promotions in print, plus the Rock Top 20 compiled by me. 
 1983: DJ at Ele House, Hatfield Poly
    1980: Supporting Lenny Henry 
At the height of our disco days we had two independent roadshows going out every Friday and Saturday night around town and even furher afield, plus an agency taking bookings for other DJ's as well as our rock night promotions.  Blimey we even started booking coaches and taking groups to gigs in London.  
​Whilst my brother hung up his headphones earlier my DJ days ran from 1979 to around 1990 . In fact I revisited my DJ days quite by accident in 1997 and again in 2002 while travelling around the world in my day job, as I was asked, no press-ganged to DJ at a couple of events in hotels and clubs in Fiji and Brazil by conference organisers - superstar DJ's never die!

​​
​
​
Other than helping me indulge in my love of music my time being a DJ helped me build confidence and develop a penchant for public speaking which has served me well over the years.    Having a slightly strange quick fire sense of humour that looks for the funny in everything is also one of my trademarks, and even saw me do some stand up comedy at The Comedy Store in London in the mid 1980's.  I am sure that these attributes have helped me not just in my career in sales to date but also got me the gig as the 
host of Late Night Banter.   As a Panjabi person recently said to me "You're not a typical Indian or Desi guy are you?"   My reply was, " I'm not sure what that is but I see myself as, 0% Desi, 0% Gora, 100% Me .... a one off".  He said he liked that description and said I should copyright it.
    
By the end of 1970's my comics had given way to reading the NME and Melodymaker each week to keep tabs with what was happening in the world of music, as I was a DJ and therefore in the music business!    While flicking through the music press I liked looking at the ad's for live gigs and when some of my 6th form buddies and I saw a full page advert for "Led Zeppelin Live at Knebworth" in 1979 we agreed this was the gig to "big festival" gig as to date it had only been local gigs with small crowds.    This was going to be the biggest gig of the year anywhere and while the idea of spending the princely sum of £7.50 for the ticket didn't worry me, the idea of telling my parents did, not least because we had agreed to camp out at the site the night before the gig.  How did I tell them that at 17 I was grown up enough to sleep out in a field with 50,000 people?  Thankfully my mother agreed to it so long as I didn't drink or do anything "naughty" - not likely with 49,999 people watching!   As it happens this wasn't my first live music experience but it was definitely the best, not just the whole sleeping out under the stars with thousands of rock fans with a total peace and love vibe, but the gig the next day with 200,000 people in attendance - no health and safety in those days.    OK maybe the toilet facilities which were basically huge holes in the ground and wooden box of a seat over the top left me a little traumatised but I loved live music and from there on in I couldn't wait to get to as many gigs and see as many bands as possible.  My final memory of this event was leaving the gig with thousands of people late at night and walking miles to the train station before finally getting a train from Knebworth station to Peterborough at around 4am and arriving back in Peterborough around 5am.  Although I had a house key the doors were deadlocked by my father so my only option was to climb over the garden wall and sleep in the garden shed for a couple of hours until my mother was awake and could let me in, altogether a bizarre and strange end to my first big gig experience.


While I loved the classic rock of Led Zeppelin, Pink Floyd, Queen, etc, I soon found a new love - punk rock music that had emerged around 1976.  My listening to this music led to my brothers giving me the nickname Sid after the late Sid Vicious.   While I didn't go a bundle on all the spitting, safety pins and bondage trousers I loved the fast and furious songs that were less about being the best disco dancer or greatest lover and more about being misunderstood and feeling like an outsider, which I always felt I was.  I watched Johnny Rotten with his I hate Pink Floyd t-shirt and whilst I didn't share his dislike of the mega rock bands filling stadiums I could see how punk filled a void and in some cases created a new opportunity for self-expression, and this I liked.  I was lucky enough to see live the likes of, The Clash, The Stranglers, The Damned, The Buzzcocks, The Skids  and Elvis Costello on my doorstep in Peterborough, it is fair to say I was the only Sikh, in fact the only non-white person at all of these gigs apart from the bouncers that is.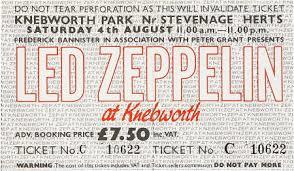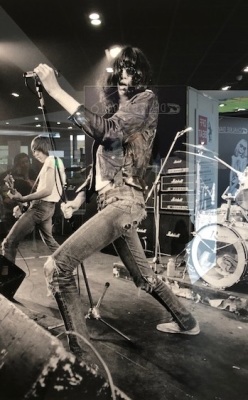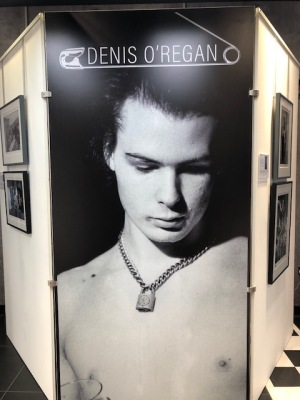 1979: Led Zeppelin at Knebworth Ticket - check out the £7.50 price! 
        1970's: My Punk Rock Heroes Top to Bottom (L-R) - Joey Ramone, Sid Vicious, Ian Dury, Joe Strummer, Debbie Harry and Iggy Pop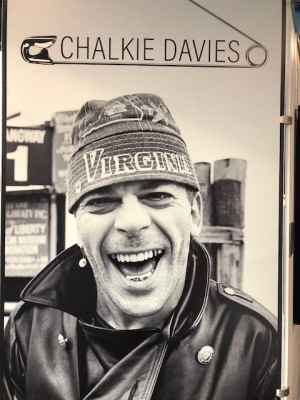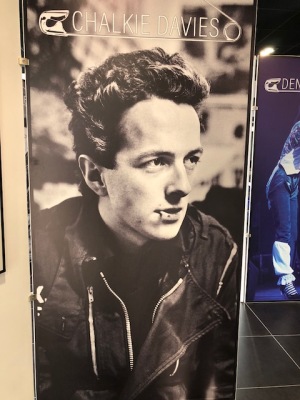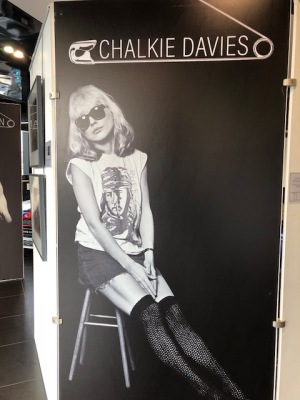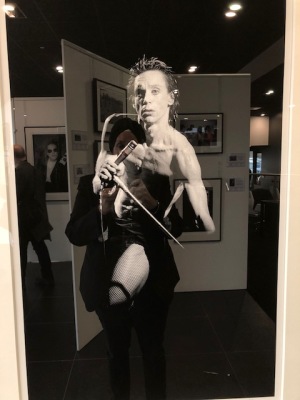 Licence to thrill thanks to my turban​​



Finally with A-Levels finished and a place at Hatfield Polytechnic to study Applied Biology to degree level secured, I was hoping for a bit of rest and relaxation.   But then as my father was self employed and like my brother I would probably not get a student grant I would have to find my own money while at college.  So I lined up a summer job at a local factory that freezed and packed vegetables, as a Pod & Stick Operator - don't ask!   But then one evening something strange happened as we received a phone call from someone wanting to book a disco.  However instead of the usual questions about what music do you play? and how much do you charge? I got;  "Is your name Singh?, Are you a Sikh? and Do you wear a turban?"  I answered affirmative to all of the questions with a view on hanging up as this sounded like a wind-up.  But before I could do so the voice on the other end said, "I'm from Eon Films, and we're filming a new James Bond movie around Peterborough and we need someone who can tie a turban on the lead villain in the film - could you help us?"  My brother and I ended up going to the hotel we were told to the next day and landed the gig to tie turbans on the head of lead villain Gobinda played by Indian actor Kabir Bedi and a number of stuntmen in the James Bond film Octopussy.   So during the summer of 1982 I spent time with the late Sir Roger Moore, Kabir Bedi and a bevy of Bond girls at the steam railway just outside Peterborough.  I was paid the princely sum of £50 a day for what literally was around 5 minutes work in tieing a turban before wandering around the set or sitting in Kabir's trailer.  I got to speak with Sir Roger Moore on a number of occasions during the 3 weeks of filming and he was a lovely guy with a wonderfully dry self deprecating sense of humour.    The grey turban Kabir wears in the film is actually my school turban and the studio bought a further 3 turbans off me courtesy of my mum which ironically they took back to India as the turbans they bought over there were not particularly good!  - I did tell them India is not the best place to buy turbans, Southall is much better.    In November 2017 some 35 years after the film was made I was reunited by Skype with Kabir Bedi in Mumbai before a special screening of the film Octopussy in London, that bought back some real memories.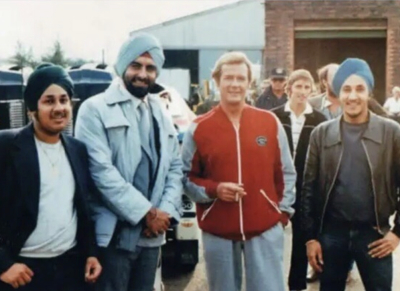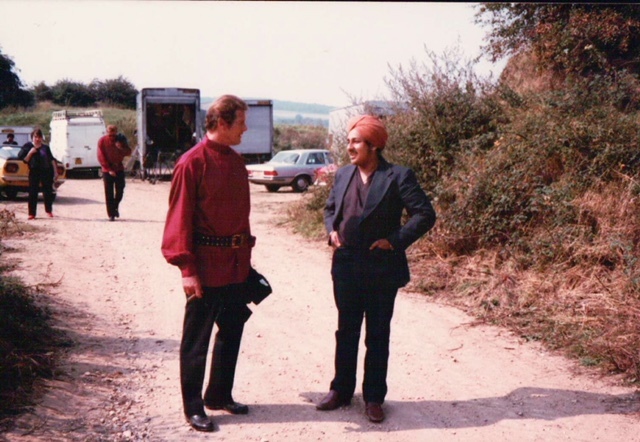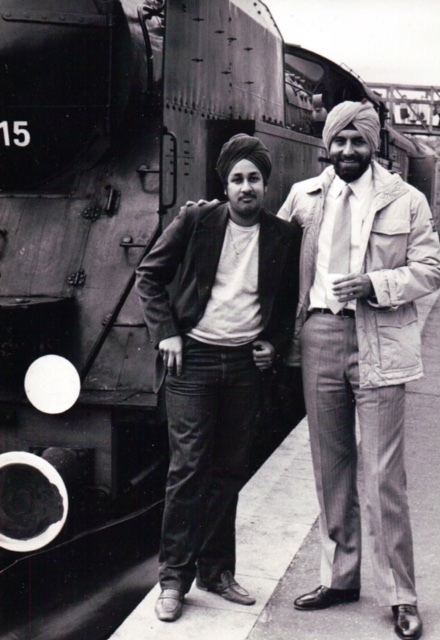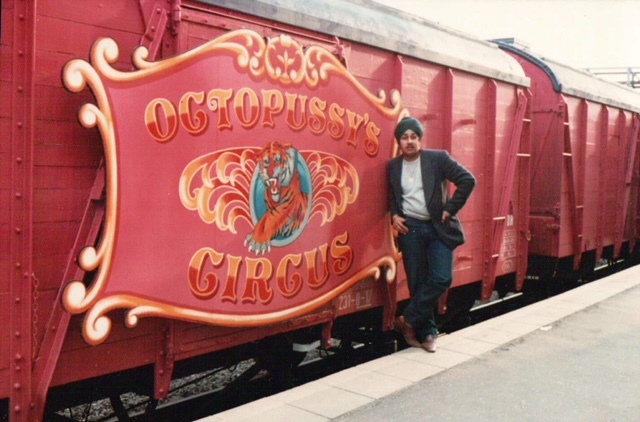 1982: On the set of Octopussy at Nene Valley Railway in Peterborough, with turbans to tie 
1982: Me chatting with James Bond Roger Moore

between takes as I had an access all areas pass 
 1982: Hanging with Bond villain Kabir Bedi and he's actually wearing my school turban!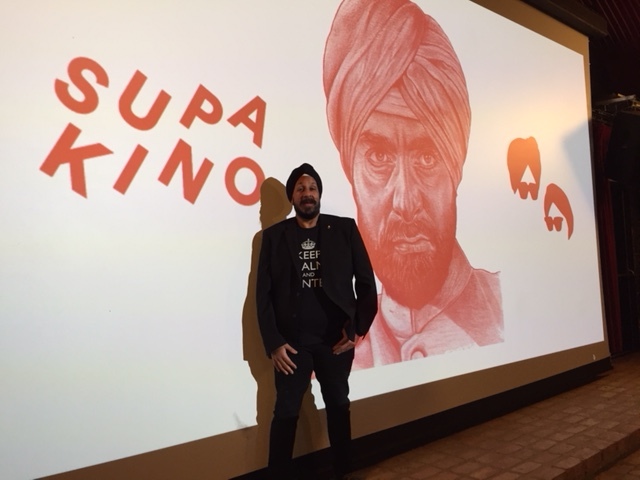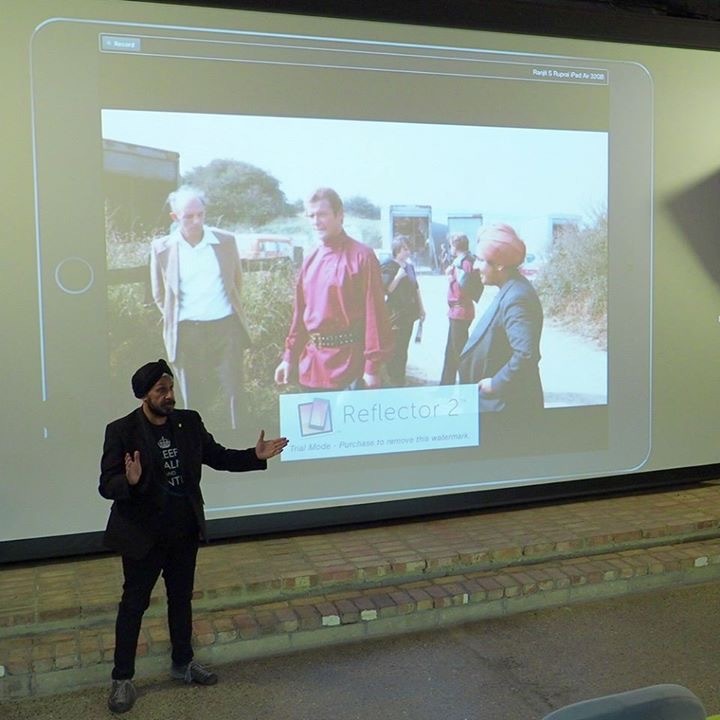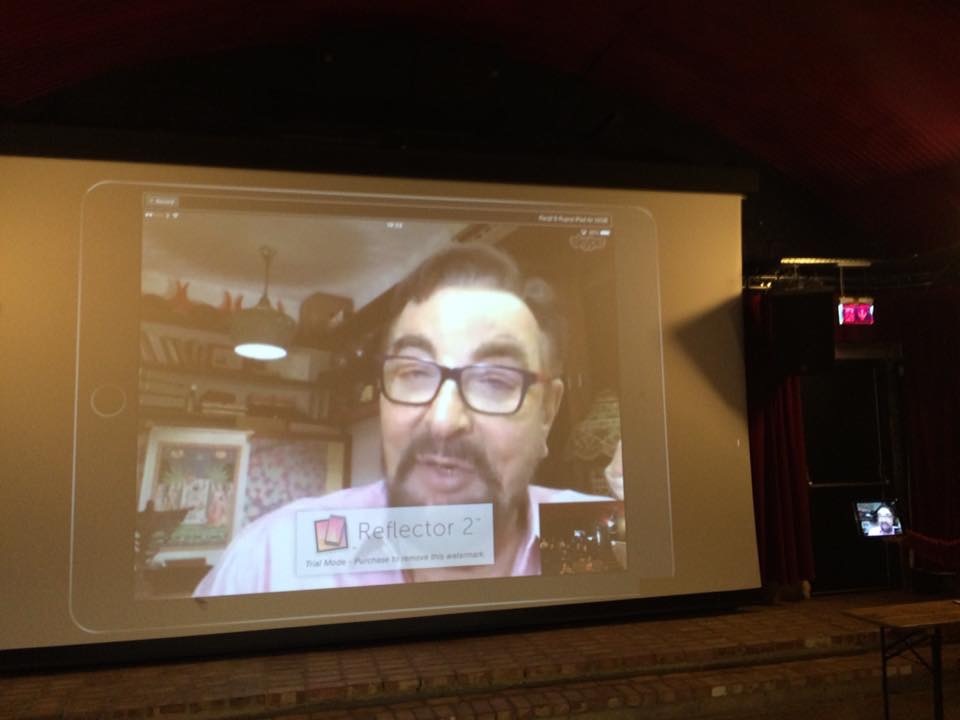 Click to read article on this event
2017: Turbans Seen On Screen in London with special screening of Octopussy with guests 
2017: My telling the story of how I got the gig to tie turbans on the James Bond film Octopussy   
 2017: My reunion with Kabir Bedi via Skype from Mumbai - 35 years since we last spoke.   
Meanwhile something wasn't stirring in the lab
​​

​Prior to graduating from Hatfield Polytechnic or as it is now the rather more impressive University of Hertfordshire with a specialisation in Genetic Engineering I had spent time working in the real world at laboratories at The Institute of Cancer Research in London and The Leicester Biocentre for Whitbread Breweries.  These experiences taught me the very valuable lesson that I wasn't cut out to work in labs for the rest of my life as I was very much a people person and not someone who could spend days and weeks working in isolation manipulating DNA in test tubes.   So after I finished my studies I took up a role in sales, starting with advertising space then to pharmacueticals, basically a legalised drug seller.   After a couple of years of this I moved into the I.T. sector and software sales, and 28 years on I am still doing this and loving it.   I thoroughly enjoy the challenge of helping businesses uncover their issues and then identifying the best solutions to fix the problems.  Apart from giving me a pretty decent living and earnings over the years my time in this industry has allowed me to travel to 6 or the 7 continents and see some amazing things, and what's more someone was actually paying me to do this! 

​

There is a light that never goes out

Indian culture dictates or at least it did in the 1980's that I should've been married by the time I was 18 as my siblings were married at around this age, in fact my eldest brother at 16 I think!   As I went to college I avoided matrimony until I was 24 at which point I personally felt with a degree, and a job I was now ready for marriage.   I wish I could say it was all hearts and flowers but unfortunately it was more like a Bouquet of Barbed Wire, but without the gratuitous sex, and violence!  Well before a year of marriage had passed we were separated and then going through a divorce.  It would be wrong of me to apportion blame here on this very public platform, but lets just say it wasn't my fault!   But seriously I was genuinely disappointed at the breakdown of my marriage, but this was a minor blip on the ladder of my life as around this time my best and closest friend Hanif or Hank as he was more commonly known was tragically killed in a car crash.   I felt in some way responsible as he had bought tickets to see the band Everything But The Girl in London but as I wasn't keen on the band and didn't want to go he took his girlfriend Gulzar with him.  She was studying pharmacy at UEA in Norwich and as the gig finished late and she missed her train home he decided to drive her back from London to Norwich, and late at night in fog on the A11 his MG sports car collided head on with a lorry.  Hank died instantly at the scene, Gulzar was taken to hospital but died a day or so later.   Although both were Muslim they were from Sunni and Shia backgrounds so neither families approved of their love for each other.  I know for a fact they loved one another as whlile they were apart Hank pined for her and never so much as gave another girl the time of day.  Not long after they died in 1986, The Smiths released their finest album The Queen is Dead.  Upon hearing the track "There is a light that never goes out" I know that I cried as that song could have been written for Hank and Gulzar and that line, "If a ten ton truck kills the both of us to die by your side, the pleasure the privilege is mine ...... there is a light that never goes out".  It still remains one of my all time favourite songs in fact it is probably the ultimate love song but is overlooked as it is tragic as opposed to fun.  I had at that time never known the all consuming love that Hank and Gulzar had experienced.   Hank was at my wedding in 1986, it was one of the last times I ever saw him, in the photo below taken at my wedding he is standing among a group of my college friends and next to my wondeful friend from Hatfeld, Fiona.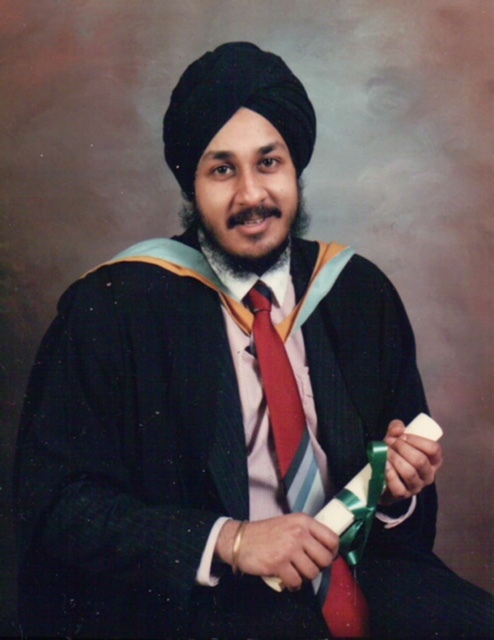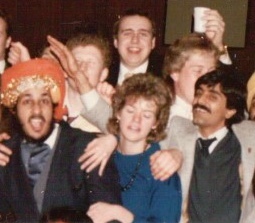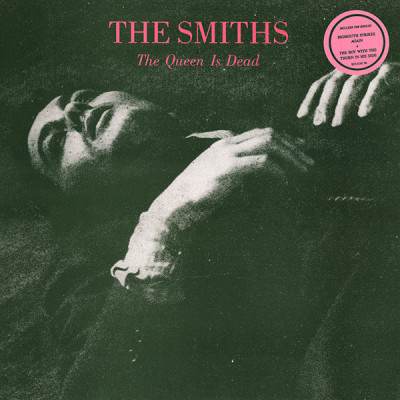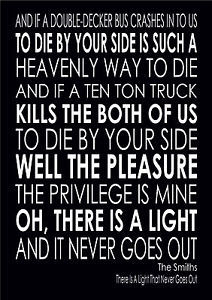 1986: Wedding Day - 1st time around   
1986: Music with meaning - to me   
1986: Lyrics with meaning   
​​All's well that ends well
In 1989, three years after my first wedding day and two years on from my divorce I married again and I found my life partner second time around.  My wife Jaswinder Kaur (Judy) and I have been married now for near on 30 years and in 1991 we were blessed with children and I mean children as we had twin girls.  I know becoming a parent and the whole birth thing is supposed to be a wonderful experience but for us it still ranks as one of the worst nights of our lives.  No, it has nothing whatsoever to do with the Indian thing of having a girl or in this case two daughters as our twin girls are a blessing, but on May 20th 1991 when they decided to arrive 6 weeks prematurely and were given a 50% chance of survival I have never known such anxiety, pain and helplessness.  Weighing literally a couple of pounds each they were tiny jaundiced wrinkles of skin and bone in plastic boxes with tubes and wires.  Any parent that has been through the experience of a premature baby will know what that feels like and if you don't then listen to the song "Wires" by the band Athlete it pretty much sums up the mood and emotions as experienced by their lead singer.   Thankfully by the grace of god, amazing medical staff at the premature baby unit at Peterborough Hospital and the fighting spirit of our girls Lachami and Simranjit after 6 weeks in incubators they were sent home like full-term babies.  Almost three decades on they both now have kids of their own so as well as parents Jas and I are grandparents too and loving the experience.....possibly because we can rectify the mistakes we made with our own kids and secondly we can give them back at the end of the day - lol!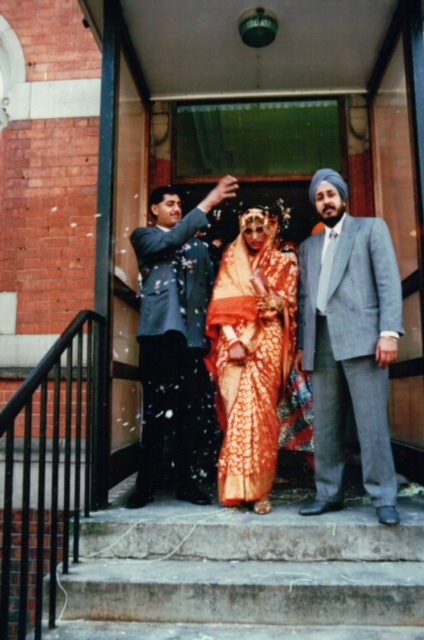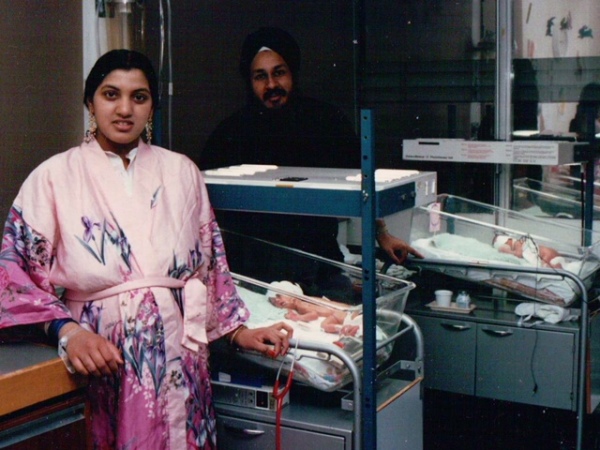 1991: In baby ICU with our twin girls who arrived 6 weeks early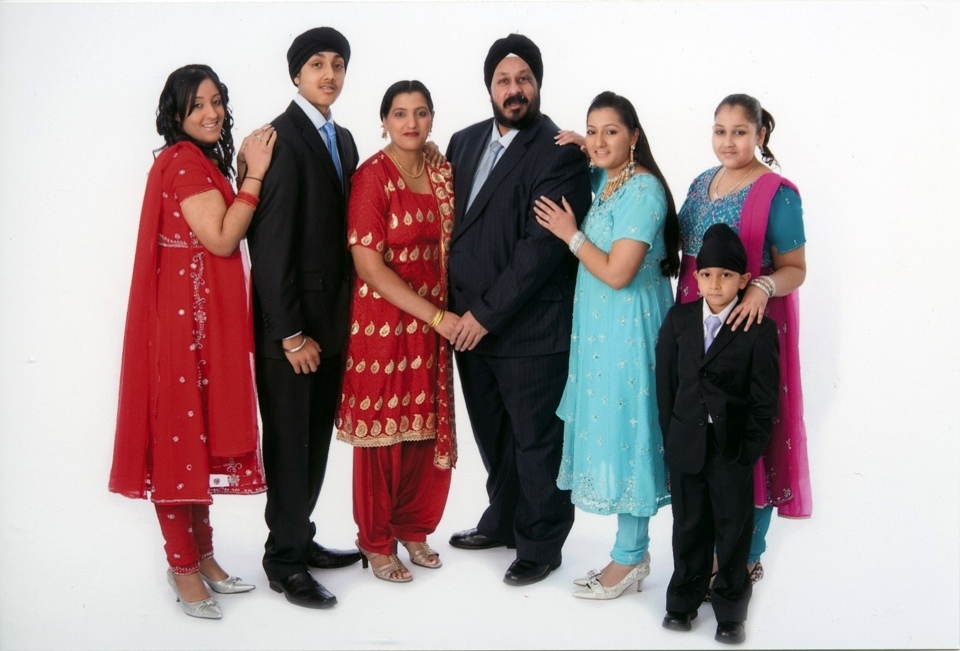 1989: Wedding Day - 2nd time around, this ones a keeper   
  2011: Family Portrait - Parents & Offspring!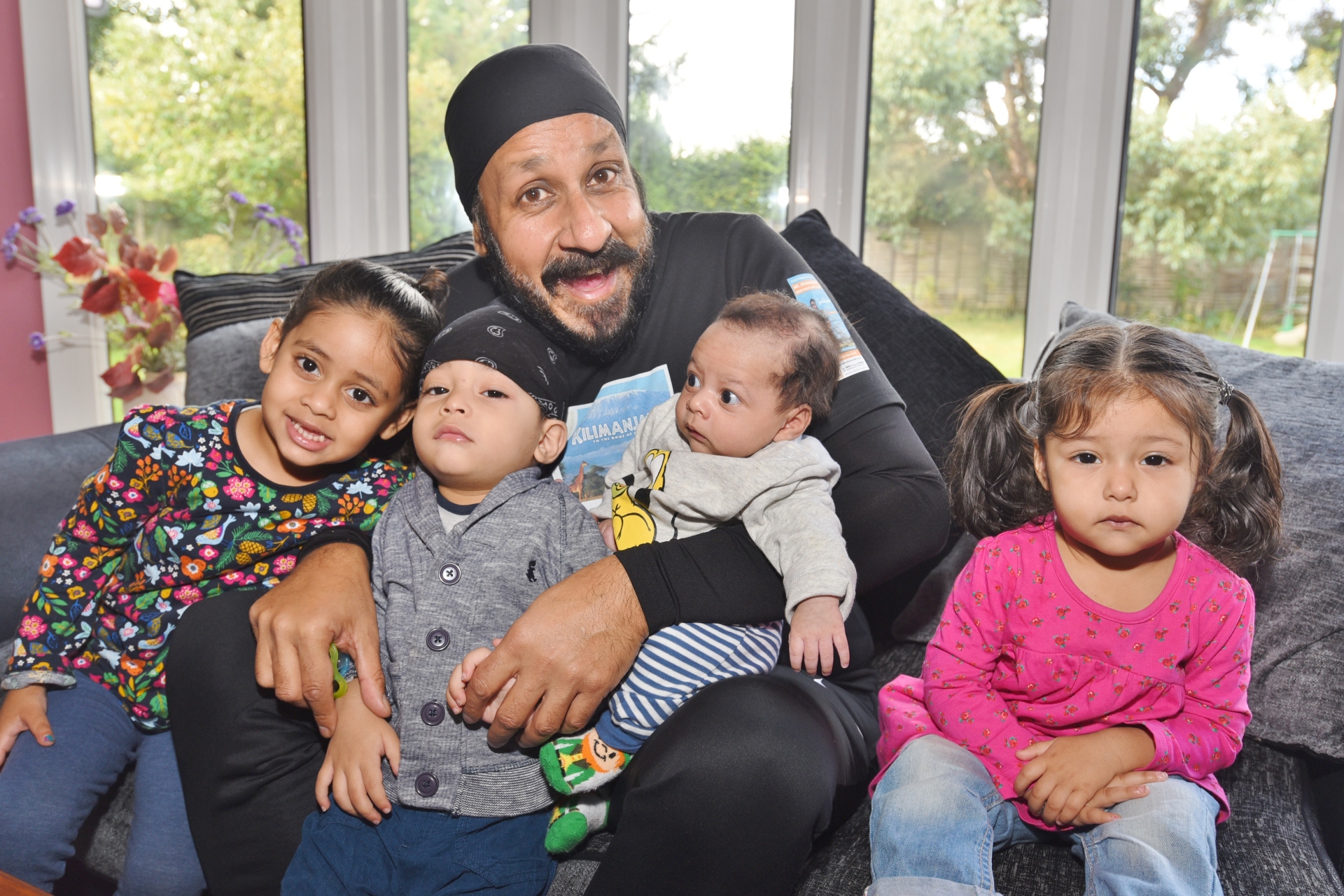 2016: Me with my grandchildren before my Mt Kilimanjaro climb   
​

L
et the music play ....from DJ to Club Owner
It was while I was in Chicago as part of my I.T. business globe trotting that I visited a venue designed across two floors that had bands playing downstairs and a disco upstairs, there was something for everyone and the place was packed.    So with an idea in my head and the world readying itself for a new millennium, along with my youngest brother I embarked on a new business based side project to my job in I.T.    We took over an old office furniture warehouse in Peterborough and converted it into a nightclub and live music venue - The Park.    The Park opened for business on the night of 10th December 1999, but as we only had a licence until 11pm it pretty much died on its arse as people wanted to drink and dance into the early hours and not be turfed out so early.   We therefore had no choice but to apply for a late licence and even though a couple of other local bars and nightclubs objected we trounced them and got our late licence, and we had lift off.  To help combat late night violence and anti-social behaviour I founded and chaired the Peterborough CentreSafe scheme with my own money that radio linked venues with CCTV and Police, and reduced night crime by around 30% in the city. I even took the anti-binge drinking, anti-drugs and anti-violence message to kids in local schools after they chose me to come and speak to them. 
Hooking up with a local music promoter Chris Lovell who had been putting upcoming bands on in pubs, The Club With No Name , took up residency at The Park and over the next 9 years featured some great bands....a few you might even have heard of.   The Park helped give bands including; Kaiser Chiefs, Kasabian, Keane, Biffy Clyro, Enter Shikari, Frank Turner and others their first break.  It also played host to established bands and artists including; The Fall, The Damned, The Beat, Hugh Cornwall, UK Subs, 999, Hed-Pe, New Model Army, Bad Company, Michael Schenker Group,   Wheatus and others.
In terms of dance music for the nightclub section of The Park my brother and I were big fans of the House and Trance scene, that whole Ibiza, Judge Jules, Ministry of Sound vibe, but then all the other clubs in the city were doing the same.  In order to fill what was effectively a 1000 capacity club across two floors we had to find a niche and we did so by pushing the emerging Garage and R&B music scene.   I personally was never a big fan of the genre in particular the whole gangsta-rap thing but clearly a lot of people liked the urban music scene, so we nailed our flag to that mast and it proved a good choice.  From 1999 The Park became the premier urban music venue in the region so much so we hosted BBC Radio 1Xtra launch and live broadcasts, played host to DJ's including; Trevor Nelson, Tim Westwood, Chris Goldfinger and David Rodigan on rotation.  We also had some great live acts perform including; a very young Tinie Tempah, Coolio, Sisqo, N-Dubz, So Solid Crew, Gregory Issacs, Aswad, Chaka Demus and Pliers and many others.     Unlike other clubs our two floor venue allowed us to also play host to a number of niche and minority music forms such as Drum & Bass, Hard House, Bhangra, and even Polish Hip-Hop and Portugese Salsa nights.   
The Park was a great experience but because of 24 hour drinking licences becoming common for all pubs and bars, and the smoking ban the number of clubbers started to dwindle and in 2008 we finally sold the business and got out, probably at the right time as soon after even the big mainstream clubs started shutting their doors signalling the beginning of the end for club culture in the UK.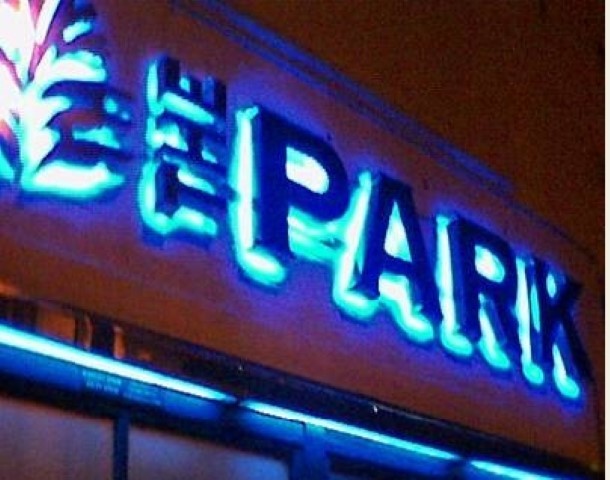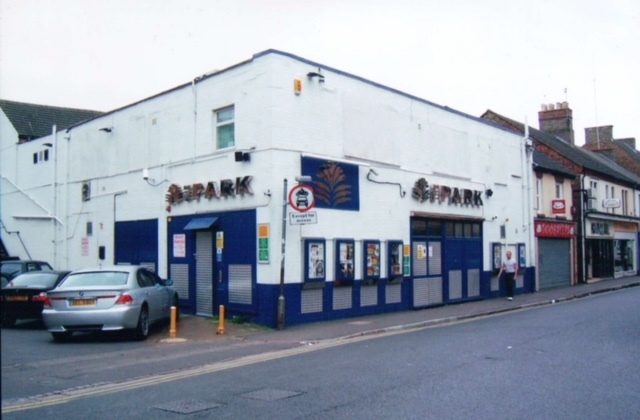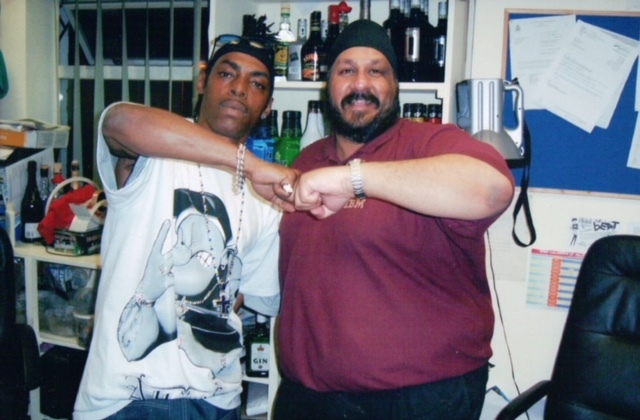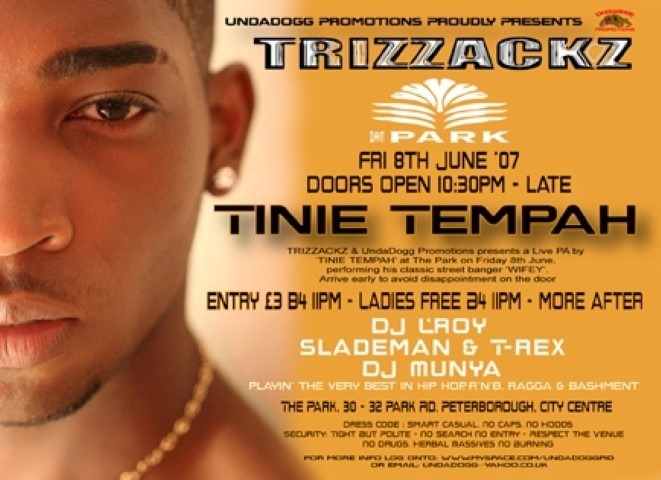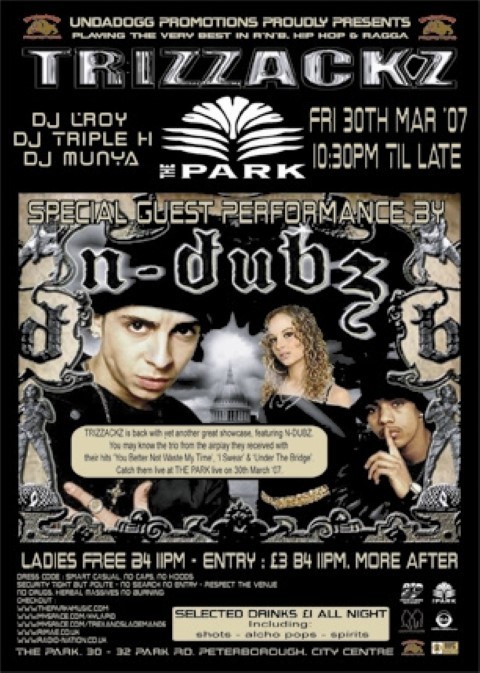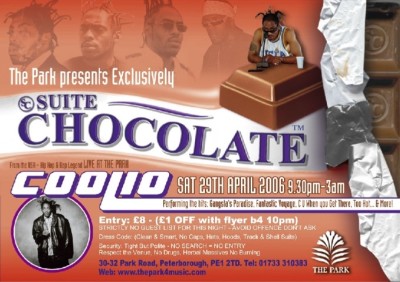 1999 - 2009: Club Music - The Park hosted some of the best Urban Music club nights in the UK with Suite Chocolate and Reggae Room.  BBC Radio 1Xtra picked the venue for a launch party outside London and artists including; Coolio, Tinie Tempah, N-Dubz, Gregory Issacs, Chaka Demus & Pliers, Sisquo and Aswad all performed at The Park.
​

1999 - 2009: Live Music - With Club With No Name, The Park gave a live stage to bands including Kasabian, The Fall, Kaiser Chiefs (Parva), Biffy Clyro, The Damned, Sigue Sigue Sputnik, Bad Company, HedPe,  The Beat, Wheatus, Keane and hundreds more

 .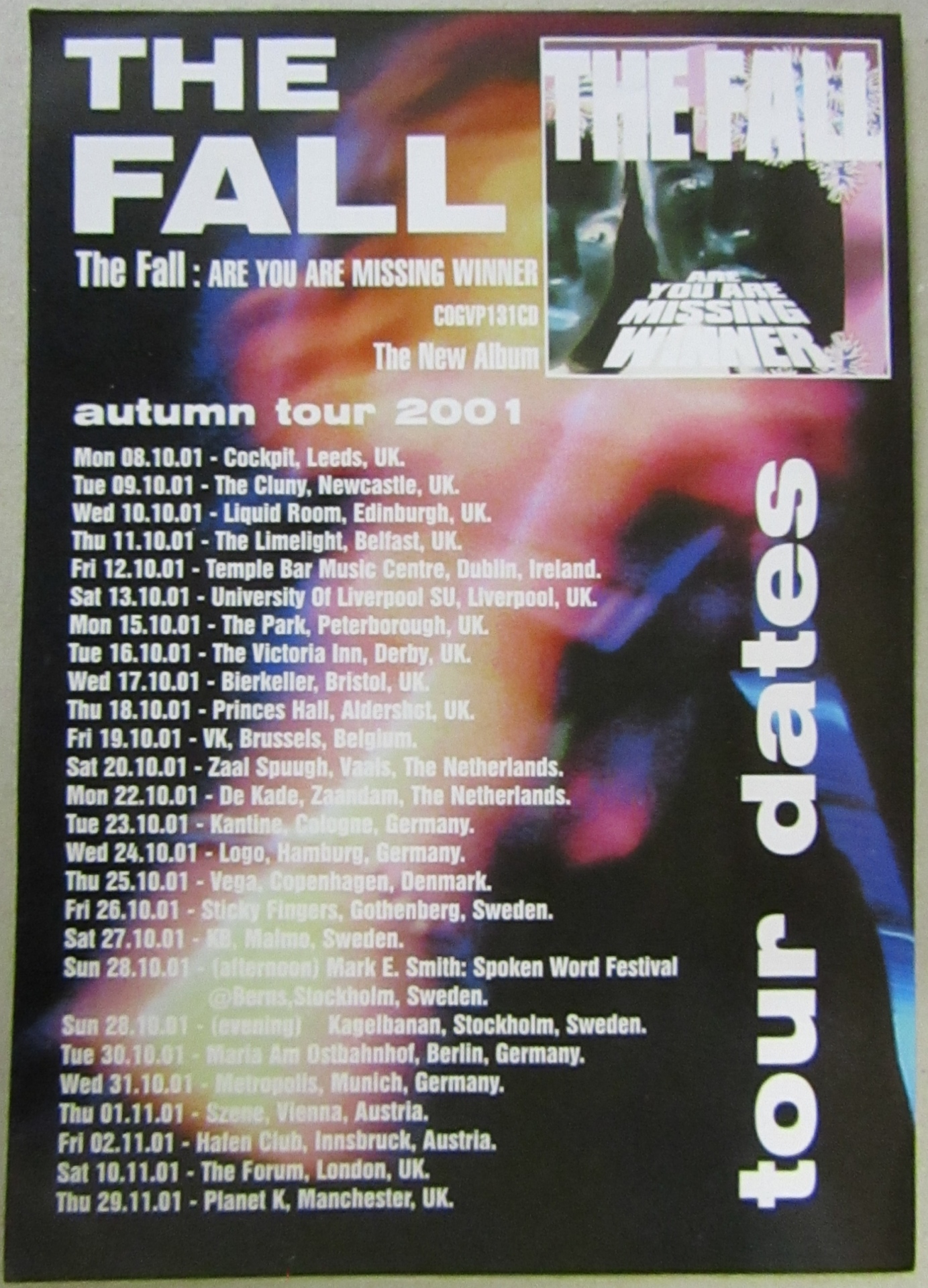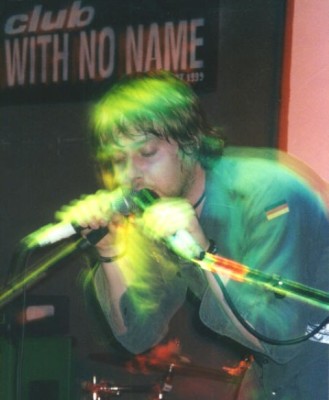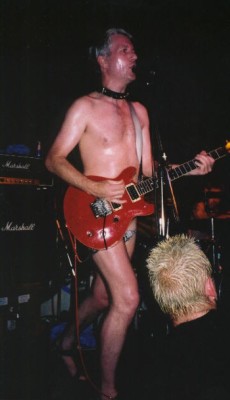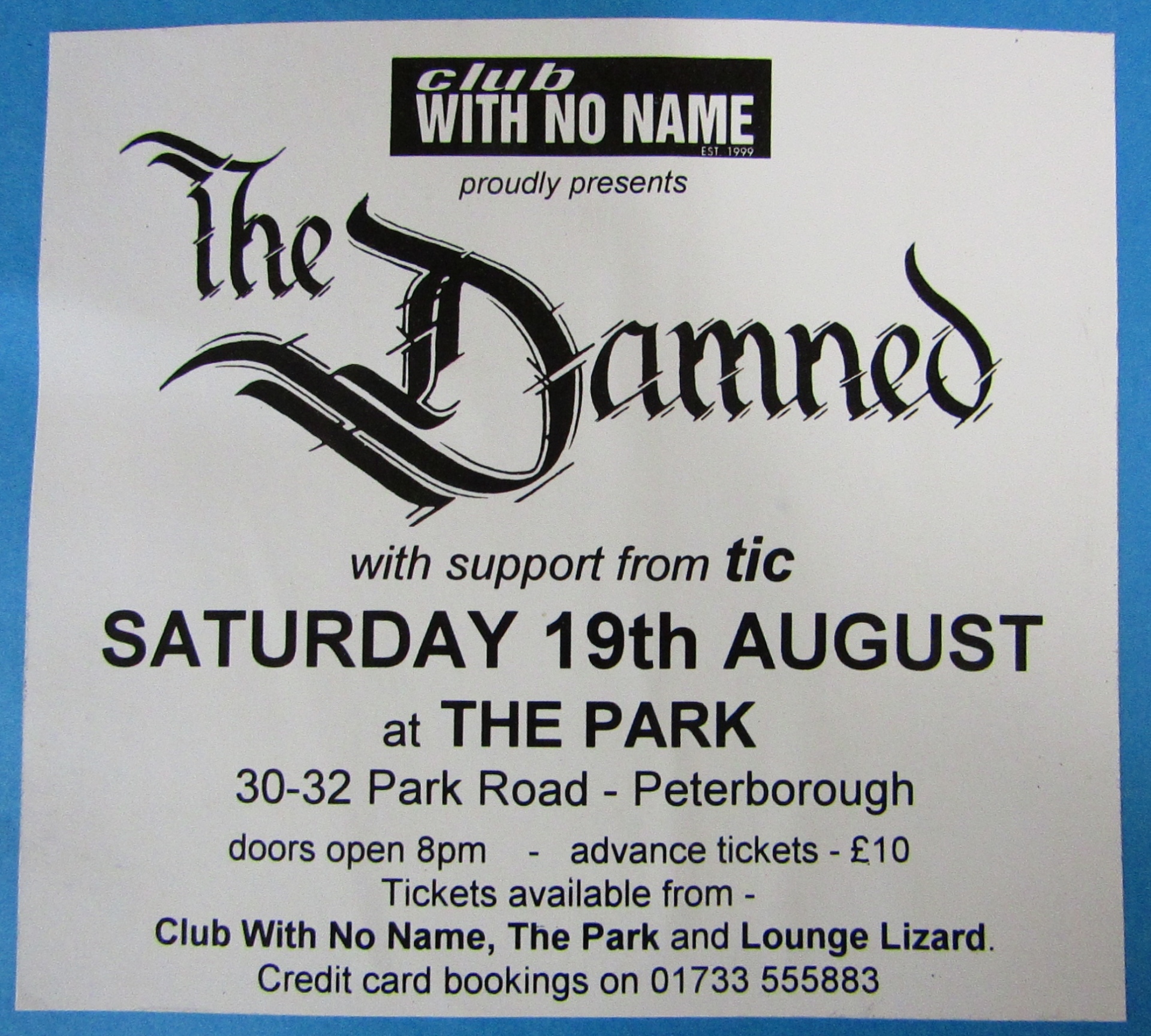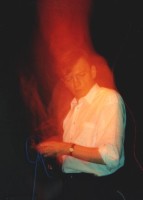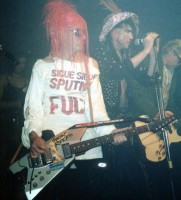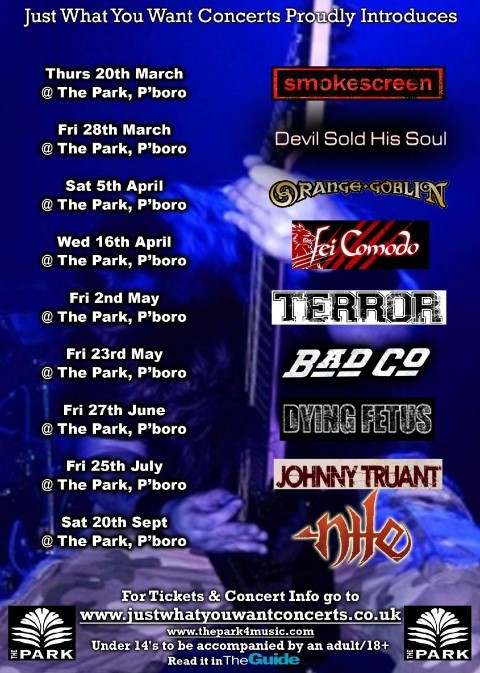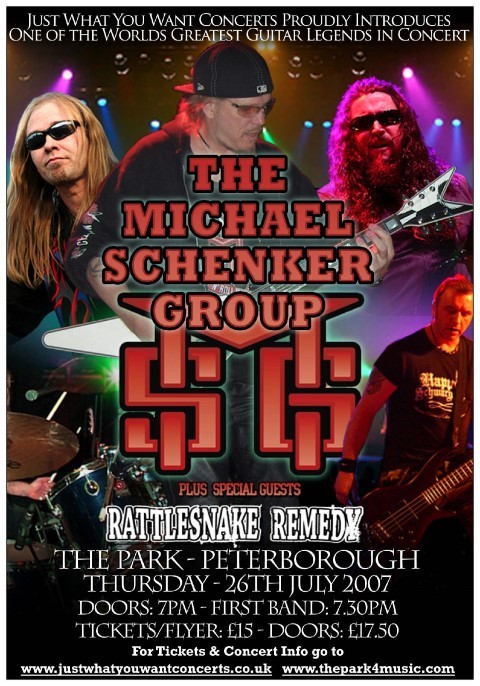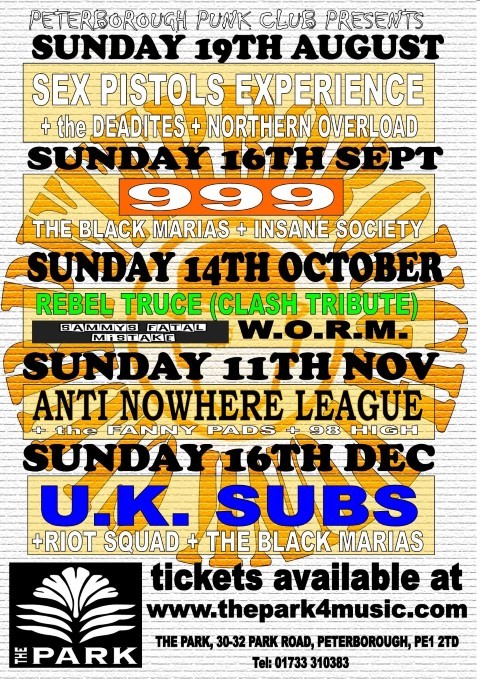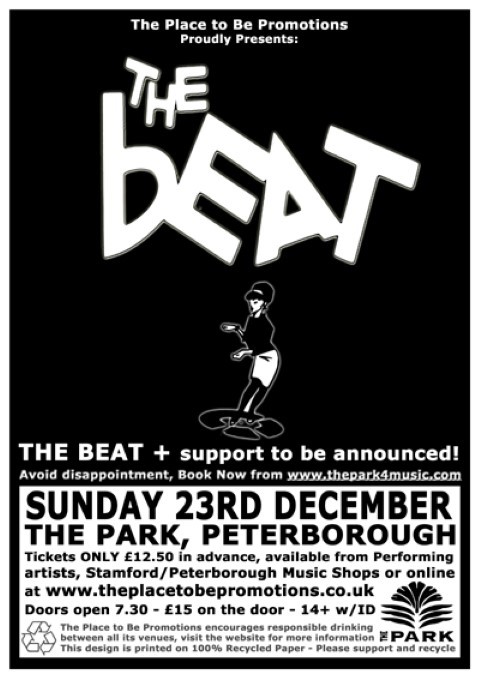 Peterborough Sikh Temple Project



​As a Sikh born in Peterborough my family always had a strong connection to the local Sikh Temple (Gurdwara).  In fact my late father Gurdial Singh Rathore was the first President of the first Gurdwara in the city which opened in 1974 on Cromwell Road, the same road I was born on and we lived on for some 30 years.   I took a healthy interest in temple matters and in 1999 it was finally agreed that our ever expanding Sikh community had outgrown the current site and we desperately needed a new bigger facility with proper car parking, plus Sikh families had all moved out of the area.    A special temple sub-committee was set up to identify and purchase a new site, but after almost 4 years of looking they had found nothing that was suitable in terms of location or budget.   Frustrated at this situation I challenged the powers that be and was told, "Have a go and let's see if you can do any better?"   

Well long story short I did do better as left to my own devices I found a site on a city centre industrial estate that no one else had seen and it was both local and also within our budget, a snip at £290,000 for the freehold.    Unfortunatley as the site was on an industrial estate the then temple management committee of which I was not a member was refused change of use and planning permission.    As I knew this site was perfect and we wouldn't find anything better I actively became involved and through not inconsiderable effort on my part managed to get the decision reversed at a full council planning meeting.  To this date I still believe it is one of my best ever presentations, effectively to a committee of 20 city councillors tasked with making a yes/no decision.  I was up against a very forceful councillor who was acting for local businesses against us being granted change of use and planning permission, and also a barrister hired by local businesses to articulate their objections.   After the objectors had made a very compelling case for refusal I genuinely believed my task was a thankless one.   But knowing that I was representing some 120 Peterborough Sikh families, and carrying on my shoulders the hopes of several hundred people both young and old I delivered a flawless counter arguement.  It is fair to say that as I was doing God's work I definitely had some divine help, and I mean that as ideas and thoughts popped into my head as I spoke that I really hadn't thought of.  When it came to a vote there was 1 abstension and the remaining 19 councillors all voted yes, and we got our change of use, planning permission and the green light .
  
Having got our permissions we purchased the building in Royce Road, Peterborough only to be told there was a covenant on the land to say it couldn't be used for anythng other than industrial purposes and the same council that gave us our change of use and planning now wanted £40,000 to lift the covenant!   As the temple was a charity and we weren't looking for public funding of our project I was most aggrieved at the mercenary stance taken by the council.  In the end with lots of pressure applied to the right people and the odd threat of going to the papers they reneged and dropped the fee to £5,000 - I even got them to split this 50:50, so we ended up paying £2,500 to get the covenant lifted.   With divine inspiration I even managed to save the community £11,500 by discovering that Stamp Duty wasn't payable as the site was an Urban Regeneration Location, plus a further £5,000 from the seller due to a structural issue I raised with him that actually cost us £250 to fix!  My work was done and now it was down to others to build it.

The building project started in August 2003 and with a total capital expenditure of around £750,000 all paid for and funded by the Peterborough Sikh community (Sangat) Gurdwara Baba Budha Ji, Peterborough opened its doors to the world in 2004.   Whereas our previous temple in Cromwell Road was essentially two houses knocked into one and only had off road car parking for 3 cars, our new temple was designed and built for the communities needs and has off road car parking for around 50 vehicles.   Even in 2019, 16 years after the Gurdwara first opened I cannot help but be filled with both pride, joy and achievement as I sit inside during the Sunday Service.   I more than most know what hurdles and obstacles that had to be overcome and knowing that I played a small part in bringing this project to fruition for future generations is probably my biggest legacy.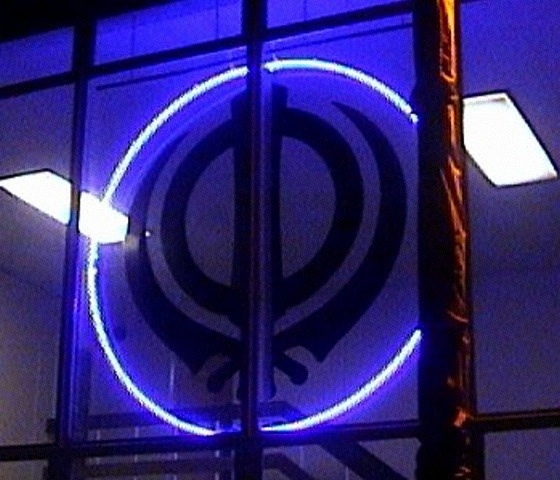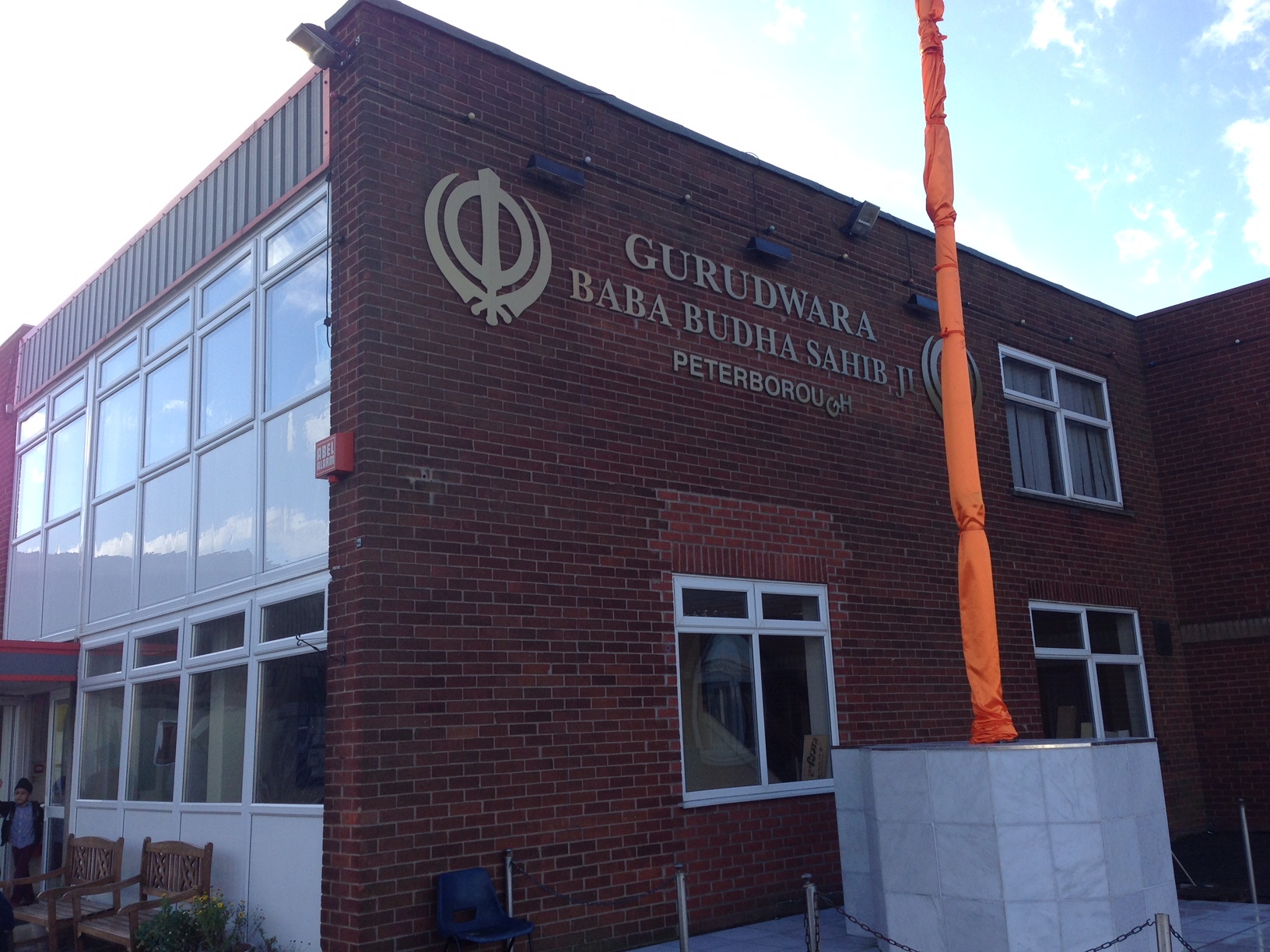 2004: Gurdwara Baba Budha Ji in Peterborough opens on 10th July - Waheguru   
 2003:  Getting planning permission for new Gurdwara as reported by the local newspaper

  
Health is your wealth ...... a timely wake up call

In early 2014 at the age of 52 during a full medical I was given the news that if I was to continue on my regime of poor eating habits that included overeating all the wrong things and eating late at night whilst pursuing a sedentary lifestyle there was a high probablity that I would become diabetc within a year or so, and maybe even have a stroke by the time I was 60.   More earth shattering was the news that I might actually die before I got to 66, the age at which my father died if I followed my present course.   In order to come off the multitude of pills I was taking to lower my blood pressure and cholesterol I was told I needed to lose weight, and not just the odd stone or two, but around 8 stone.   As someone who had lost weight but failed to succeed on every diet during the previous 25 years it was suggested to me that gastric or bariatric surgery might be the best option for me.  

As I researched the various forms of weight loss surgery to combat my morbid obesity because of a weight of 24St 5lbs (154.5Kg) and a BMI of 53.3, I had to attend the funeral of an old school friend Lakhbir Singh.  Although he had died from a heart attack that was not obesity related here was someone who I had grown up with and who was the same age as me, so looking into the coffin of someone of my own peer group had a very profound affect on me, especially as I watched his wife, children and grandchildren grieve.  So returning home that afternoon I sat with my wife Jas and told her that I simply had to have this surgery if I was to avoid an early death, and what is more we would have to pay for it as the NHS wouldn't.   I explained to her that the surgery I felt I needed was a gastric sleeve, effectively an irreversible surgery that would see a large part of my stomach cut out and removed and the remaining portion sewn up to form a narrow sleeve.  This would basically mean I would only be able to eat small portions for the rest of my life but I would experience a rapid weight loss and hopefully a huge improvement in my health.  I also had to explain that as an invasive surgical procedure there was the risk of death during surgery.  With all things considered I said it was something that I had to do, and Jas said she would support me.


My journey to change my life took place on the last day of September 2014, it was a journey without fanfare as the only other person who knew I was taking this journey was my wife but due to a family situation she was unable to accompany me on the first part of my journey.  Even my kids had no idea, and my work colleagues believed I was off somewhere nice on holiday as I'd booked 2 weeks off work.  I had paid £10,000 and booked a date for surgery at a private hospital in Sheffield.  So with just a small overnight bag I boarded a train all by myself and travelled to Sheffield the city that bought us The Full Monty, Pulp and great cutlery and I checked into The Claremont Hospital.  A couple of hours of waiting and I was now getting nervous as in all my years I had been lucky enough to avoid hospitals outside the odd trip to A&E, and had certainly never gone under the knife or had to stay overnight in a hospital.
Finally the moment was here and having made a quick phone call to Jas to say I was alright and ask how my mother was as Jas was caring for her after she herself had been discharged from hospital days earlier. I consider myself reasonably strong but on this occasion hearing my wife's voice full of emotion and worry at my having invasive surgery with all its risks I have to confess I had to wipe away a few tears too.  There was no time to dwell as I was taken down to theatre and the anaesthetist explained what was going to happen and I was given the first part of the anaesthesia by injection and asked to count backwards from 100, I got to around 86 and I was out. The gastric sleeve procedure to basically remove ¾ of my stomach and help me control my morbid obesity was to take around an hour followed by a couple of days recovery in hospital before I was to go home to recuperate for a further 2 weeks.  As I re-entered the realms of consciousness through hazy eyes I could see a number of anxious faces crowded around looking down at me, and although they tried to speak to me I wasn't able to understand what was happening.   As I found out later what was happening my oxygen levels were crashing through the floor, as I was still bleeding internally and losing blood fast. The team at The Claremont couldn't wait so they forcibly anaesthetised me again and took me down for an emergency blood transfusion and second surgery. I had lost around 6 pints of blood into my body cavity and was told later I was minutes from dying had they not found the bleed and fixed it in addition to a sizeable blood transfusion. I finally came round after my two back to back surgeries in quite a lot of pain and some fairly high doses of morphine were needed to fix the pain but they also had the effect of knocking me out.


Jas had been phoning frantically and the nursing staff followed my instructions that in the event of complications they didn't tell her and left it to me….if possible.  They weren't happy but the white lies gave me enough time to come round and make the call and explain what had happened. Her first reaction was to tell the kids and come up to see me but this would mean telling my mother too and as she was still poorly I told Jas that as I was out of danger she should hold off.   My 2 day post-surgery stay became a 4 day stay and my surgeon wanted me to stay in over the weekend a total of 6 days, but with family asking questions and my longing to get home I forced through a discharge on the basis I was being picked up by family that afternoon.  As it happens I got out the hospital phoned a taxi and got to the train station and bought a new ticket home.   I pressed a folded towel hard against my stomach to dull the pain as the slightest movement made the staples in the 6 "bullet holes" in my abdomen pull and stretch causing immense pain.  The young Pakistani taxi driver who picked me up could see my distress and to save me walking quite a distance from the rear of the station as the front was all dug up with roadworks, he asked a policeman if he could get through the roadworks and the policeman seeing me in the back agreed.   I thanked the young taxi driver and asked him to keep the £9 change from the £20 note I gave him, he refused at first saying he would do this for anyone, I said I knew he would but I wanted him to take the money, "Thank you uncle, I hope you are better soon", he said as he helped me out with my bag.  Thankfully it was a direct train journey of just over an hour and half and a few caring people on the train including a lovely old lady asked if I was OK and if I needed anything as the painkillers I took in the morning were now wearing off.  Getting to my destination I was so glad to see my wife and my daughters who had come to pick me up and get me home.

​At home and propped up in bed Jas went next door and called my mother, who up until now had been told I was away on a business conference. Clearly when she came in and saw my gaunt look and I explained what I had had done in terms of the surgical procedure she broke down in tears. This was always going to be hard to do and I knew there would be a damn good telling off coming my way and it duly came, not just from my mother but from siblings too who all came round after they heard of my "self-mutilation".   The words I still remember from those conversations, "Bit extreme", "Hope you don't regret it", "Couldn't you just have done a diet and a bit of exercise".  My recuperation took closer to 6 weeks and my employer Frontline Consultancy were very understanding albeit in shock when they found out my holiday was spent in hospital and not on a beach.  A severe chest infection from two back to back surgeries left me unable to taste even the bland watery soups and drinks I had to live on for the first month and I wondered if I had sold my soul to the devil – hell I thought, would this be my experience of food for the rest of my life?  Thankfully it wasn't, as antibiotics sorted the chest infection and my taste buds kicked in and the watery soups gave way to softer tastier foods albeit the maximum I could eat was about 6-7 small teaspoons of food. Even with such minute portions of food I suffered no hunger pangs and consequently the weight started to fall off at a rate of around 14lbs / 6kg per month, and without any exercise, as I was told to do nothing for at least 6 months until my wounds fully healed.
  
After 6 months and down some 85lbs / 36kg something happened that even the doctors hadn't told me about, I basically found this huge reserve of energy, like someone had stuck 2 new Duracell batteries into me!  So much so that I started to walk 2-3km each night after dinner and then 5km and onwards to 10km pretty much every night.  Yes I had become a "walkaholic" I would find any excuse to walk, and I was now only using my car to drive to work out of town and not for any solo journeys in Peterborough.   I also decided to re-acquaint myself with the good old bicycle something I had last done around 36 years ago when I was still at school.  So I bought a cycle and started to go out around the city at the weekends, realising how amazing the cycle path network behind the tree line next to the city's main roadways really is.  By the time 12 months had elapsed I had had lost over 10 stone - 140lbs / 66kg which exceeded my target weight loss of 8 stone - 112lbs / 50kg.   But the best thing was that after 12 months I was now no longer taking any medication for lowering blood pressure or high cholesterol levels. I was now not only looking better, sleeping better and able to fit into regular clothes, but I was also feeling really good about myself and far less stressed.



Transformation from Fatboy Not So Slim to BariatricMan 




In October 2018 I celebrated the 4 year anniversary of my game changing indeed life changing surgery,  My weight  was still down circa 9.5 stone, (133lbs) and my BMI classed me as overweight as opposed to morbidly obese. Outside of the weight loss I have literally gone from being a couch potato to a bit of an Action Man, as in the last 4 years I have climbed Mt Kilimanjaro, for the Sue Ryder charity, Mt Snowdon, Scarfell Pike and completed Tough Mudder.  I also successfully ran my first half marathon, The Great Eastern Run in Peterborough, and like my other activities this one was for charity too - Cancer Research UK.  I did this not only for my late father and father in law who both died from cancer but also  for my friend Darren who at 46 years of age is in the fight of his life against bladder cancer.   In 2018 I committed myself, committed being the operative word to pushing myself even harder and further with my running and all for a good cause.  My QHF Marathon Challenge saw me run a 1/4, 1/2 and Full marathon in 2018 - Brighton 10Km in April (Quarter Marathon - 6.5 Miles), Loch Ness Marathon in September (Full Marathon - 26.2 Miles), Peterborough, Gt Eastern Run in October (Half Marathon - 13.1 Miles).  In doing this I raised money for a less well known charity, HEAL (Health & Education for All) a charity helping orphan children in India. 


While my family and friends are proud of my physical challenges for charity, I am more pleased with the fact that in the last 4 years through my own not for profit website  www.bariatricman.com  I have been able to advise, help and mentor a number of people, mainly guys, many of my own age who were morbidly obese to lose weight, and improve health through bariatric surgery.  Being told by grateful families that my intervention may have helped save the life of a husband, father or son is priceless and I am so pleased my own experience is now helping others.   In fact it was the story of my fight to overcome my own obesity that led me to The Sikh Channel in July 2017 and opened the door to Late Night Banter on The Sikh Channel, and this website.

"Life's been good to me so far".
​
Climbing off the couch and  climbing Mt. Kilimanjaro in 2016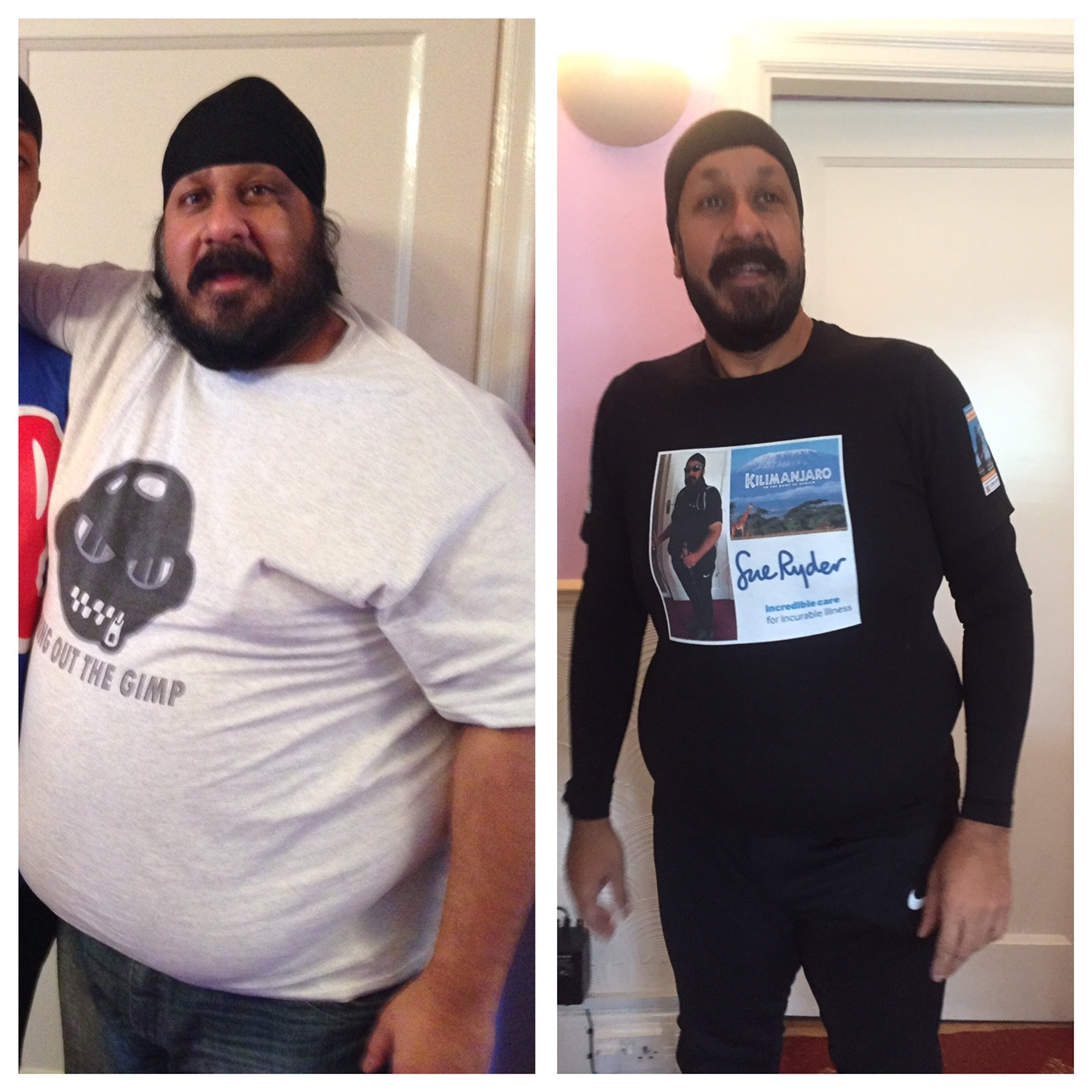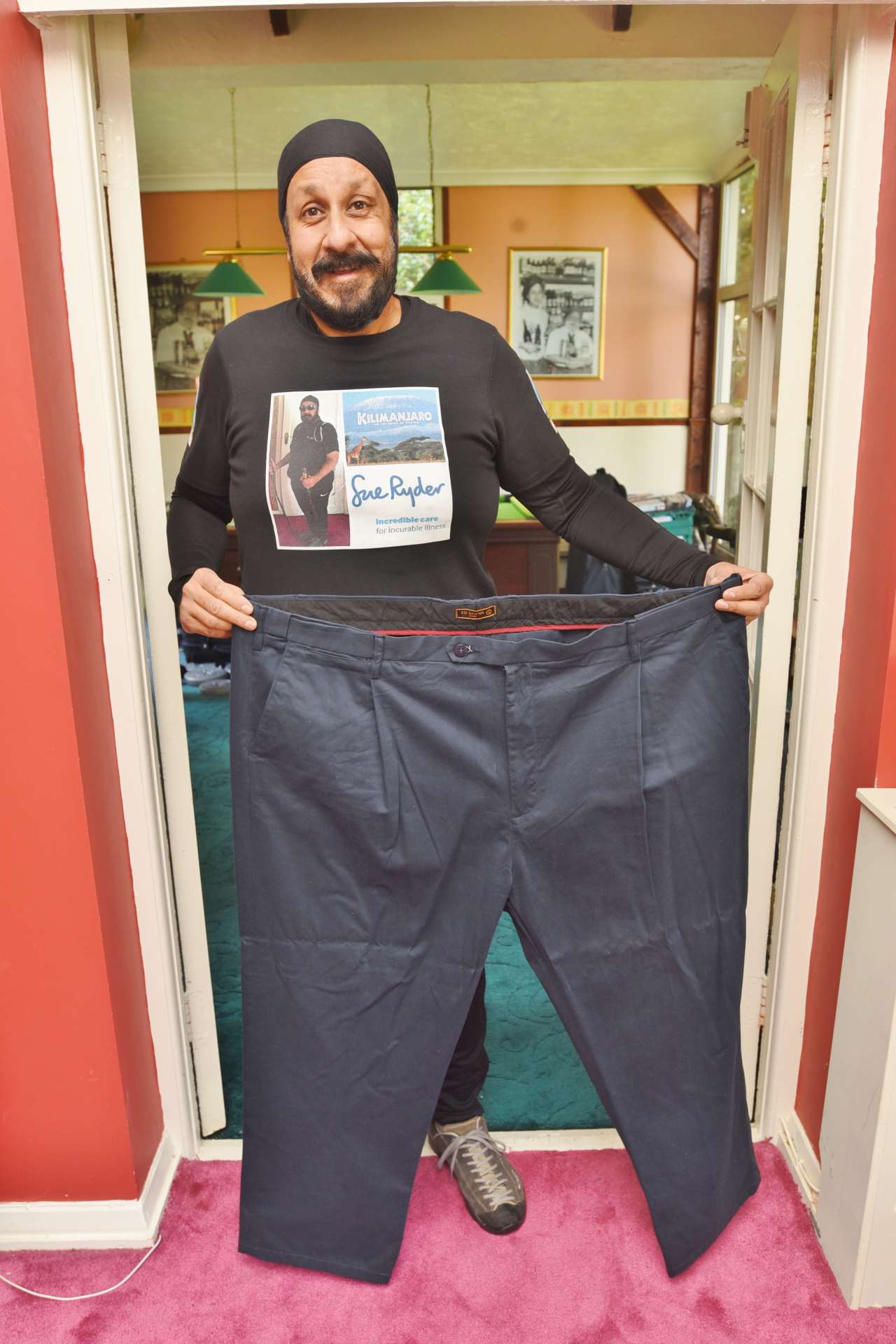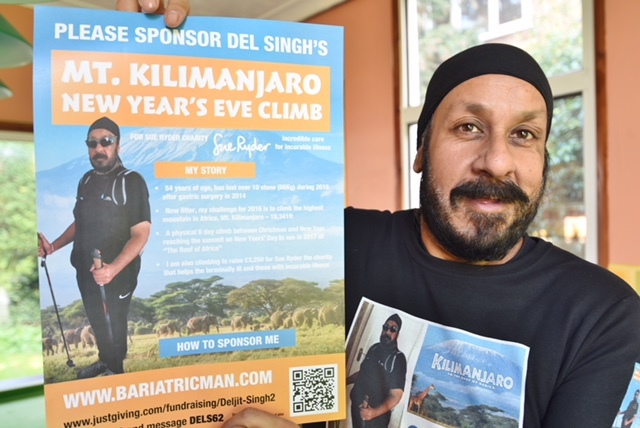 2015: 1 Year after my gastric sleeve surgery and the huge trousers I used to wear

  
 2016: Mt Kilimanjaro climb for Sue Ryder preparation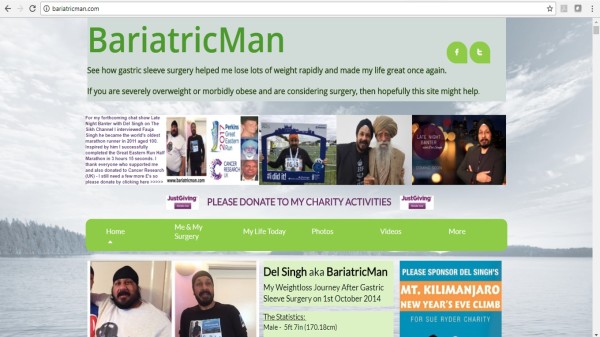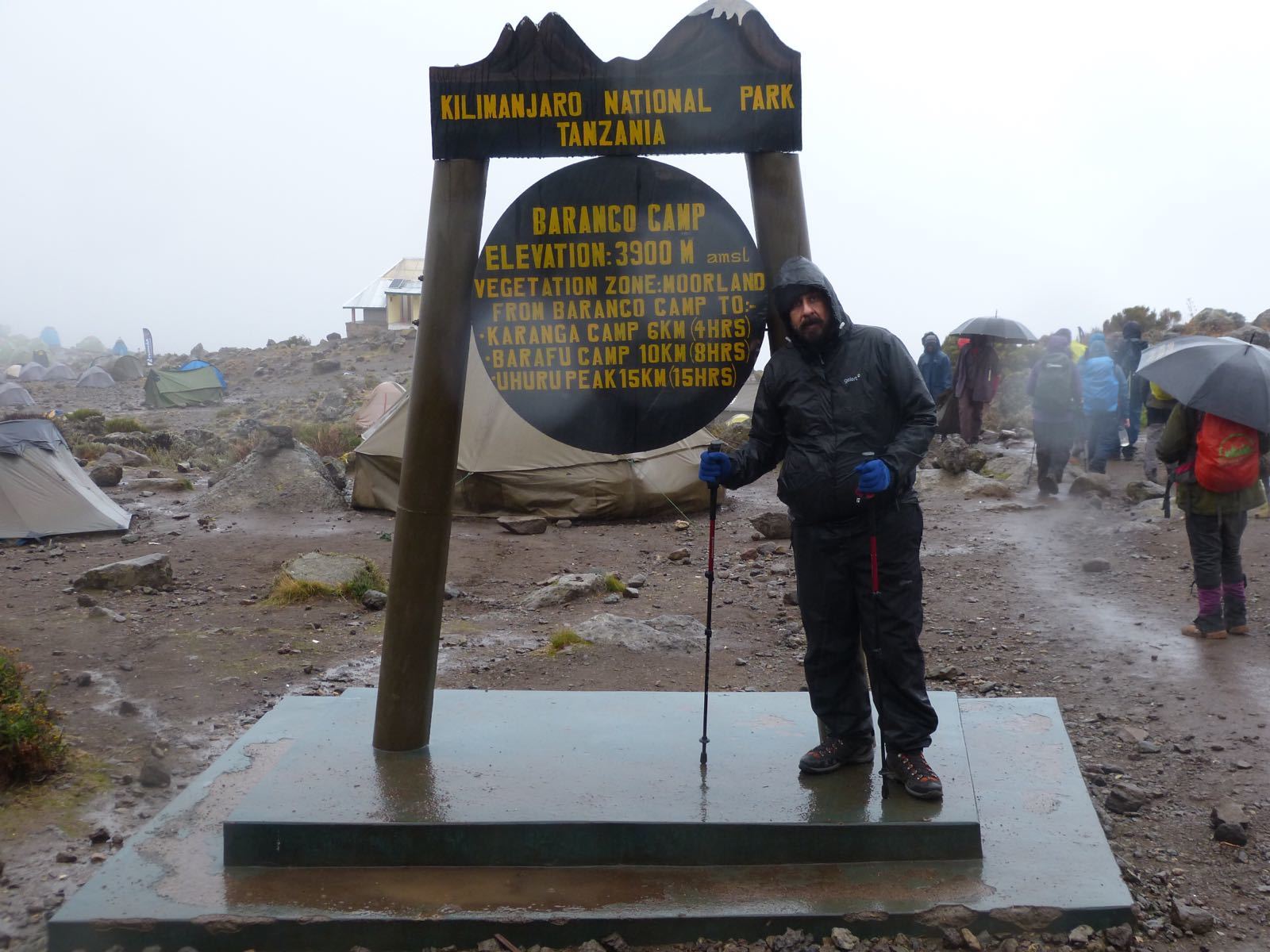 2015:  Setting up a not for profit website to help others battling obesity & considering surgery

  
 2016: Mt Kilimanjaro climb Baranco Camp - 3900m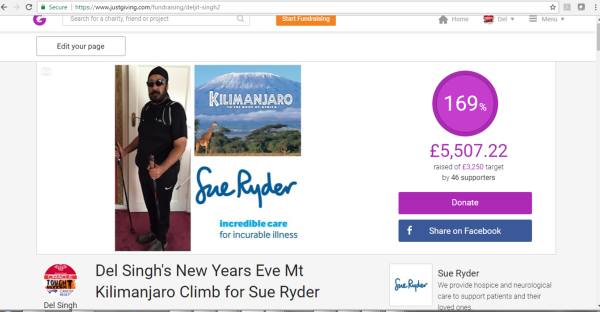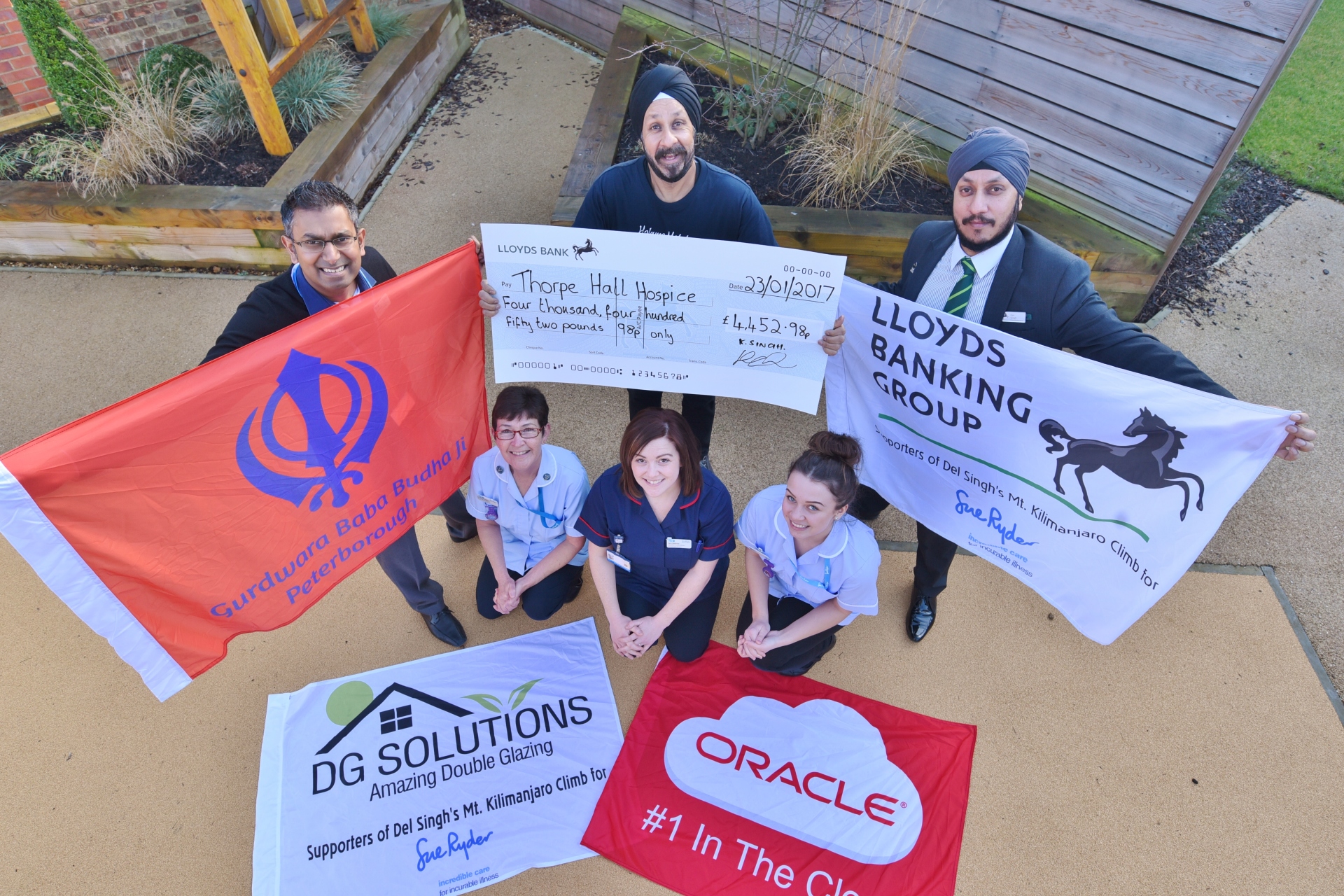 2016:  My Mt Kilimanjaro JustGiving fundraising page

  
 2017: Mt Kilimanjaro cheque presentation to Sue Ryder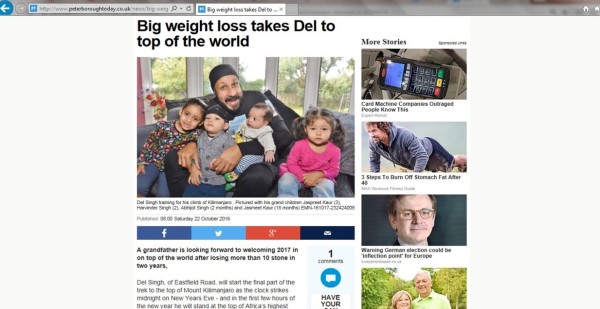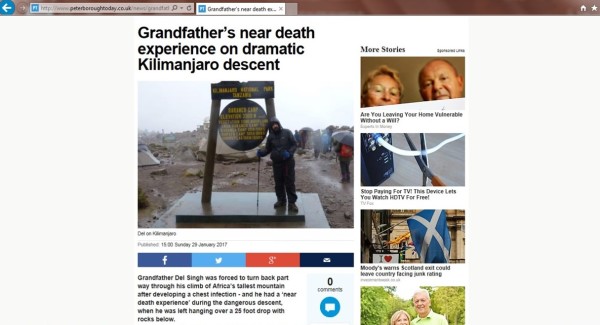 2016:  My Mt Kilimanjaro climb preparation as reported by the local paper
 2017:  Post Mt Kilimanjaro climb as reported by the local paper

  
Walking and cycling my new passions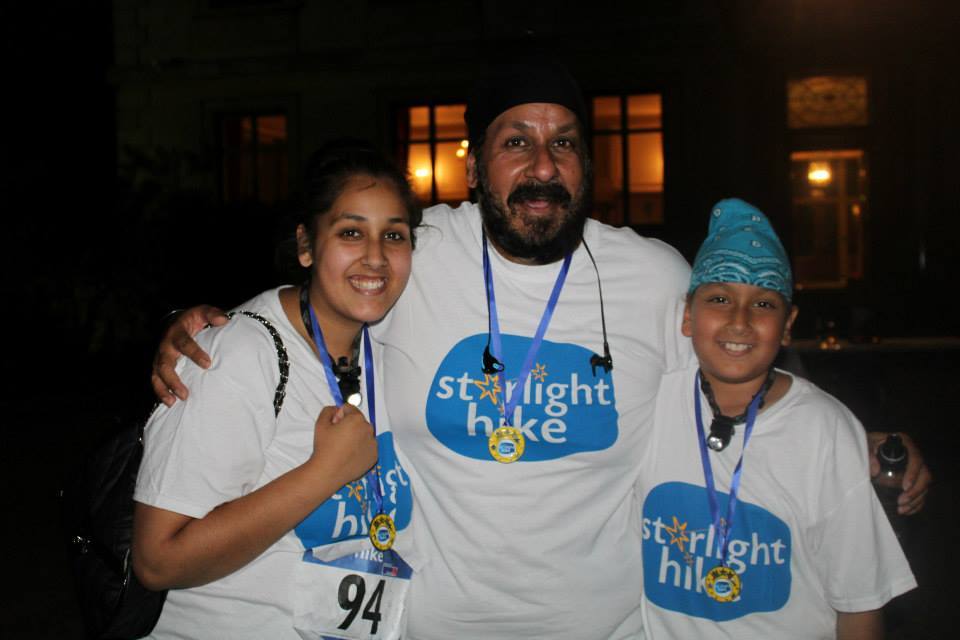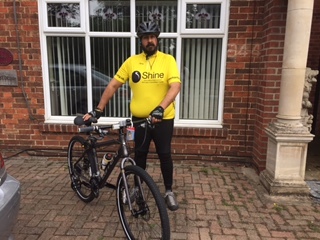 2016:  Starlight Hike for Sue Ryder with Neelam & Gurmeet
 2015:  My first charity bike ride for the Shine charity
Gt Eastern Run - Running my first 1/2 Marathon & Tough Mudder in 2017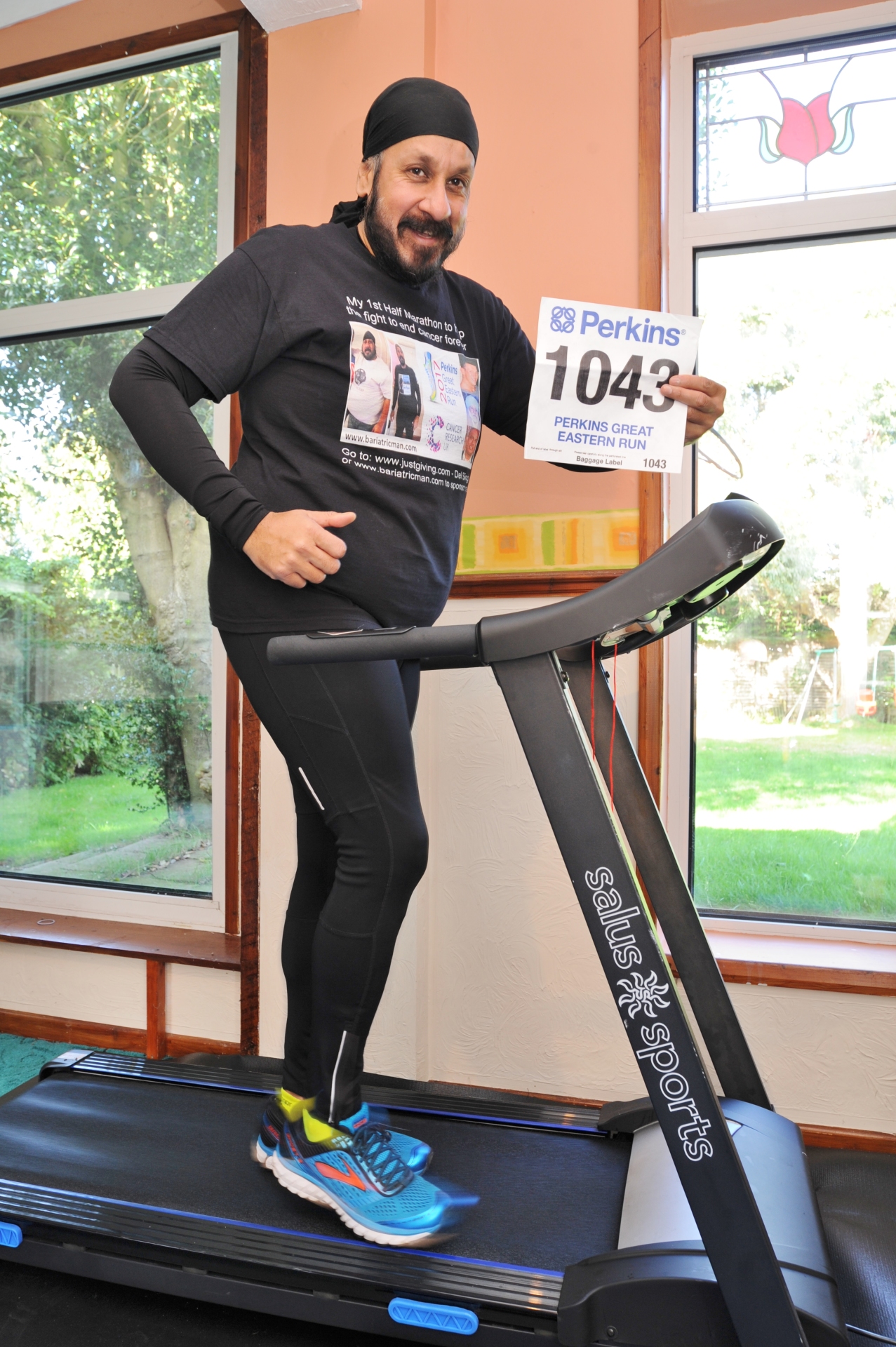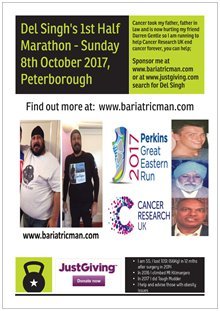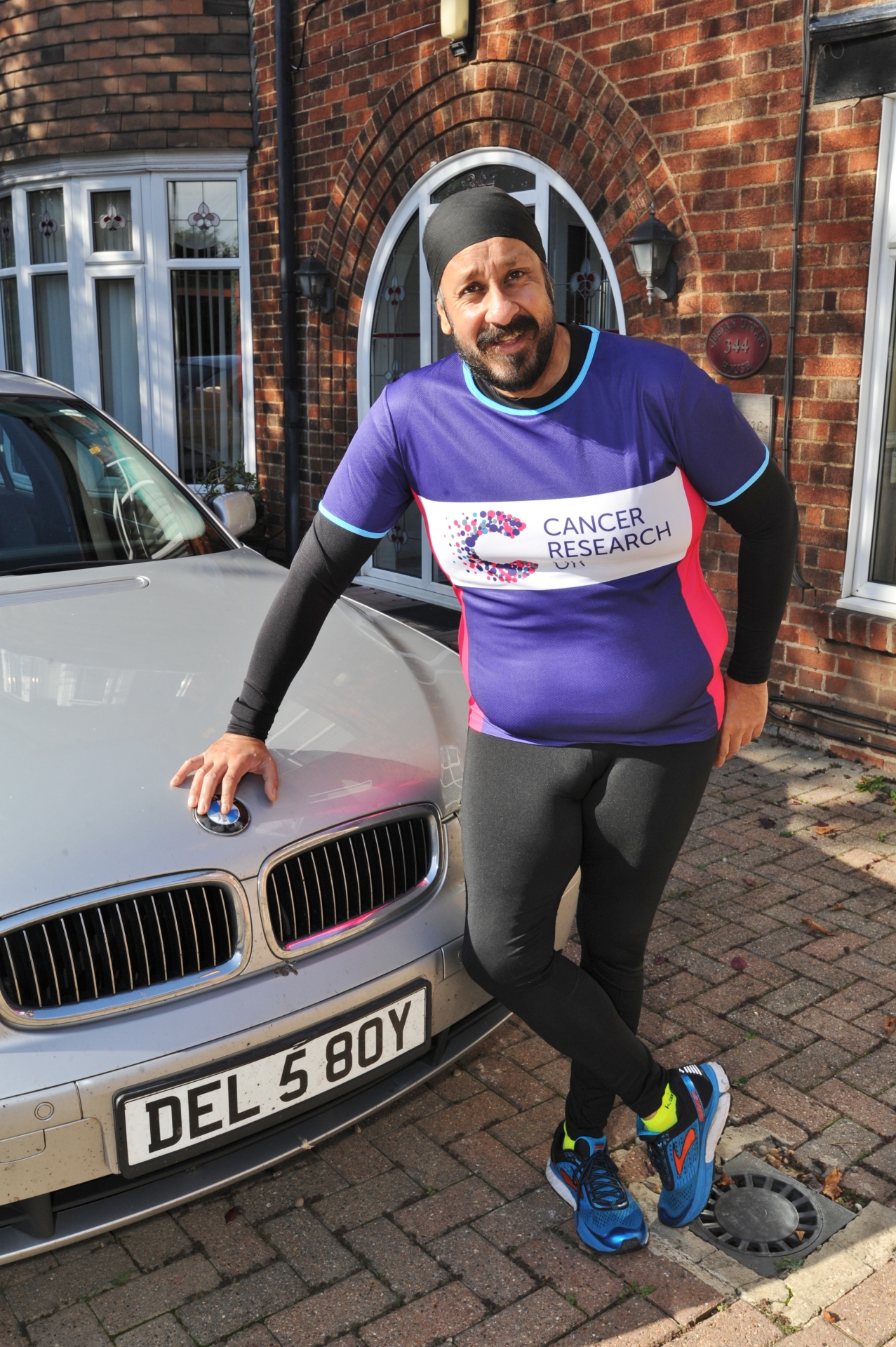 2017:  Training for my first 1/2 marathon
 2017:  Running for loved ones with cancer
 2017:  Supporting Cancer Research UK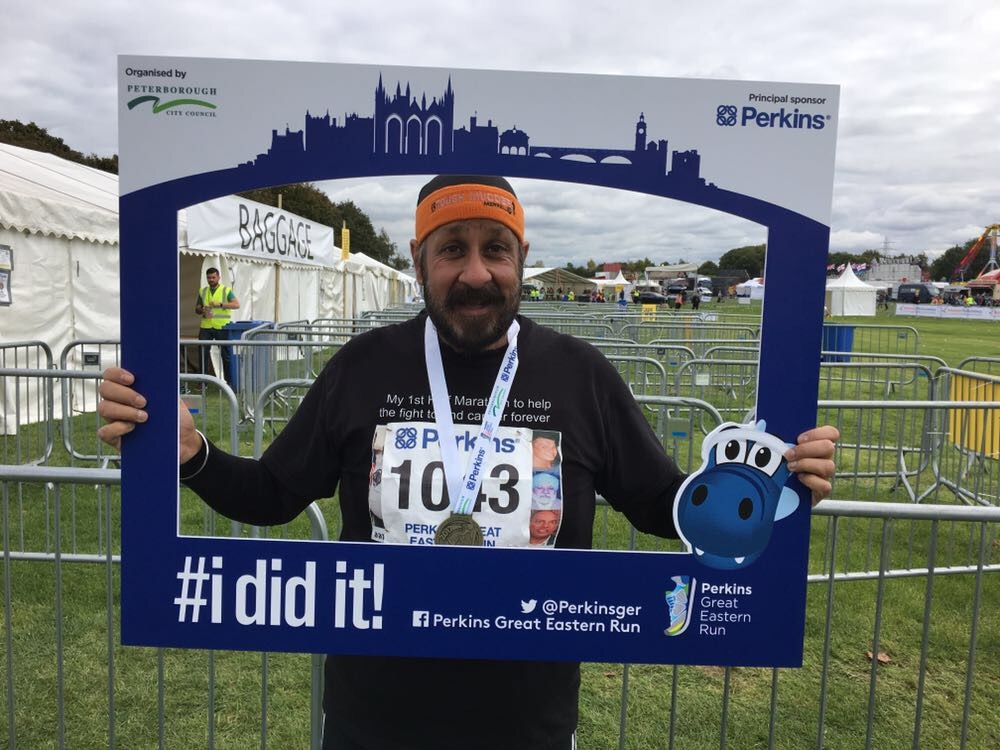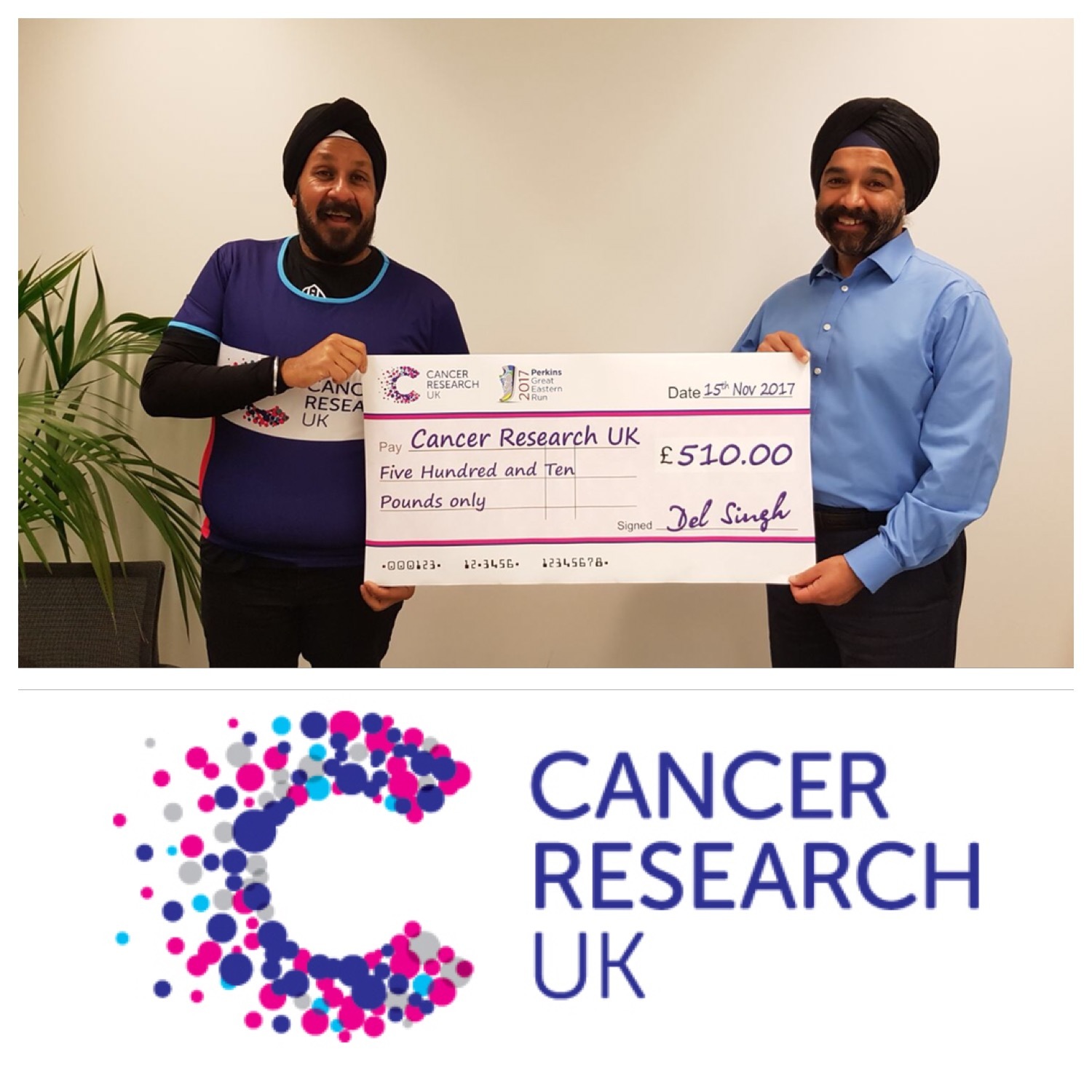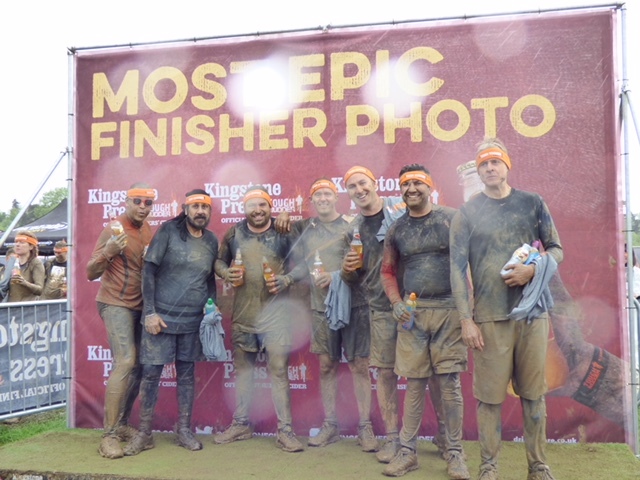 2017: Finished Gt Eastern Run - 13.1 miles

my first 1/2 marathon completed
2017: Meeting CEO of Cancer Research UK

Sir Harpal Singh Kumar , interview & cheque
 2017: I finished Tough Mudder with Team Oracle for charity and 

with torn knee ligaments
London Winter 10K Run 2018 for Cancer Research UK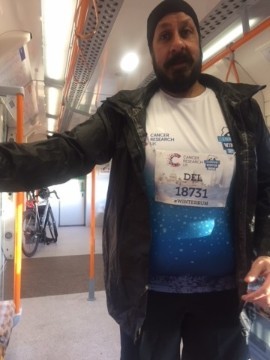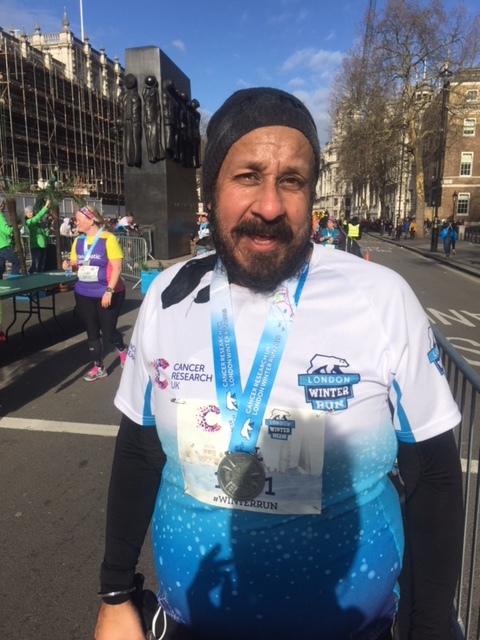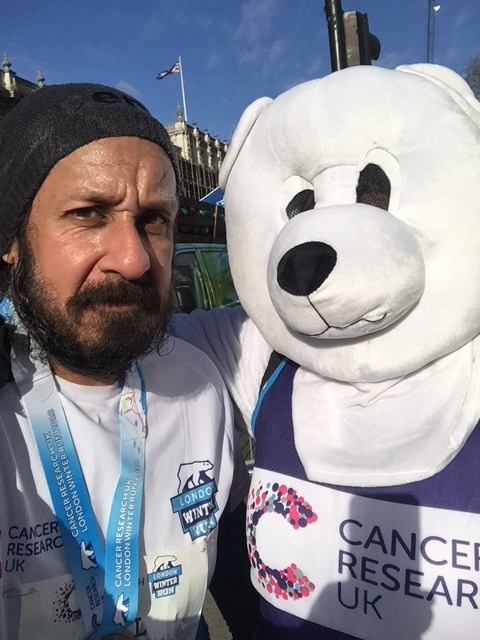 2018: My first London Winter 10K Run for Cancer Research - I finished in 1hr 18mins with help from a polar bear! 
QHF Marathon Challenge - Running a 1/4, 1/2 & 1 Full Marathon in 2018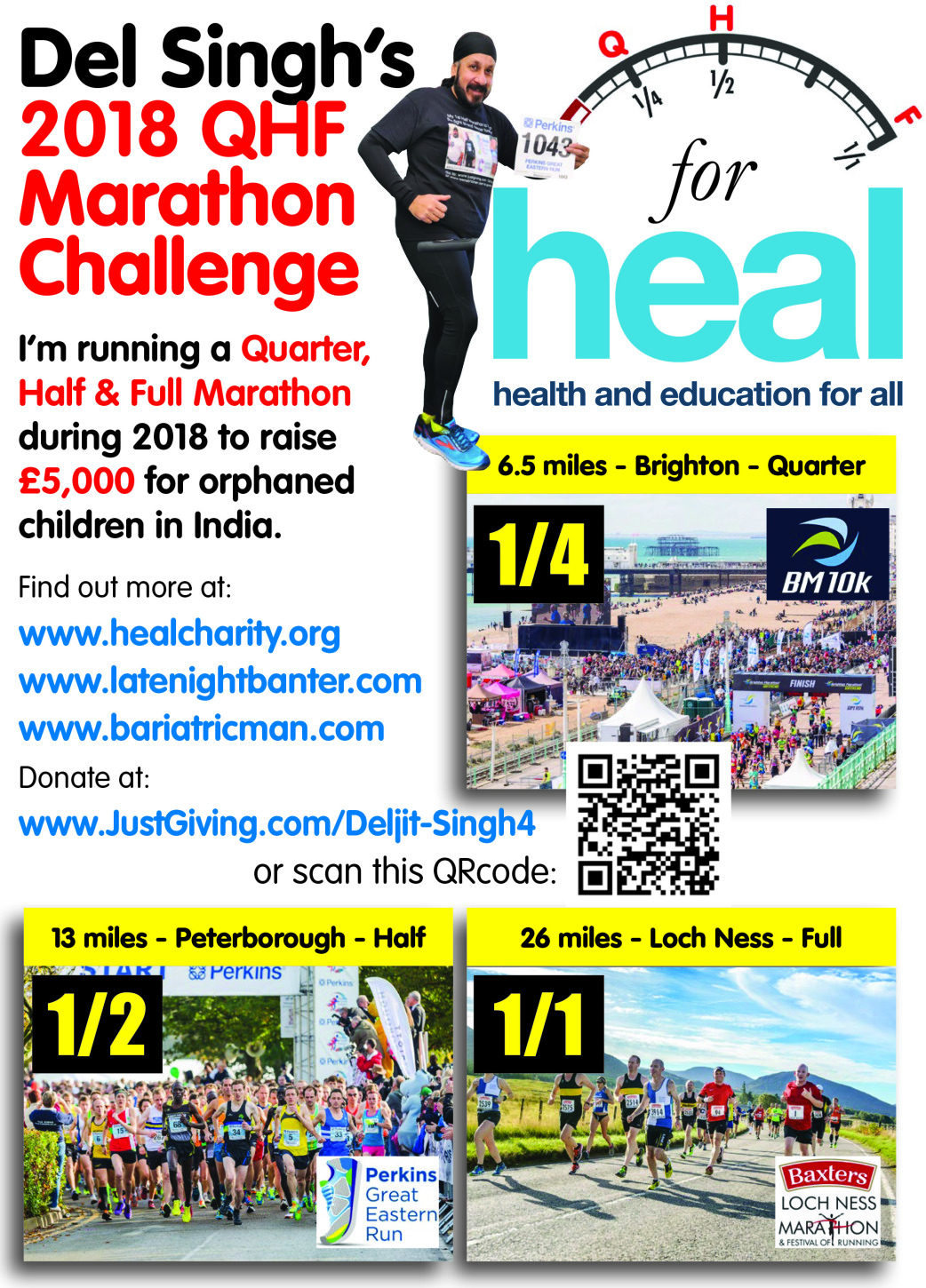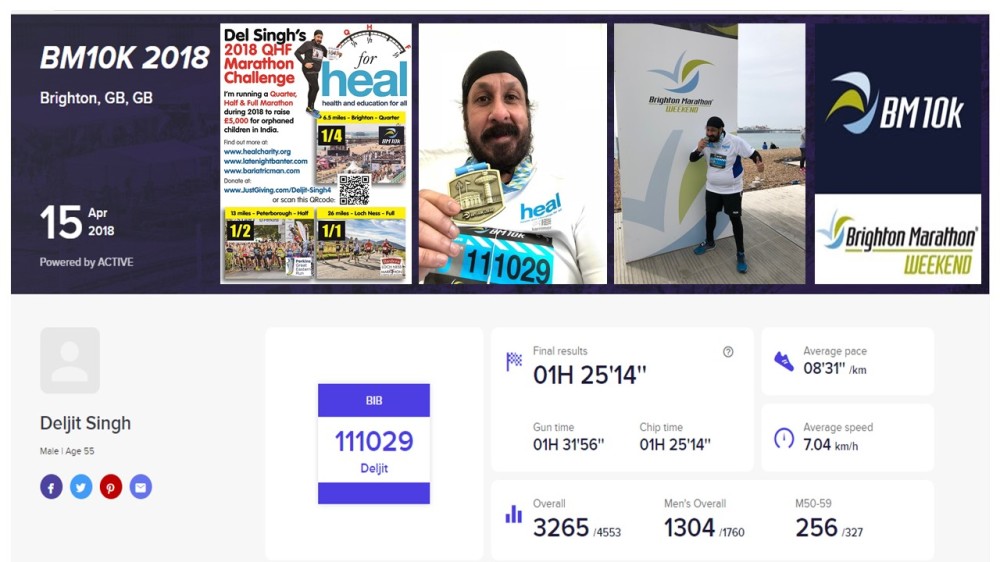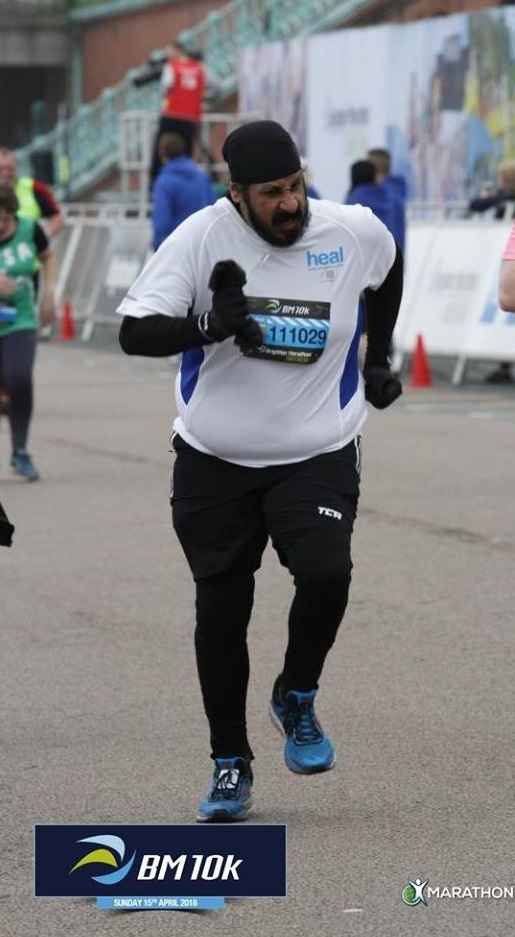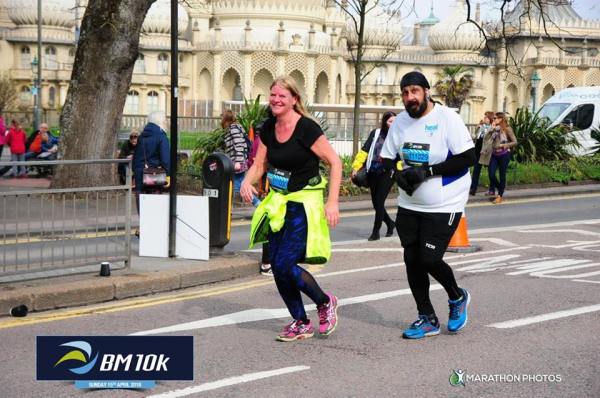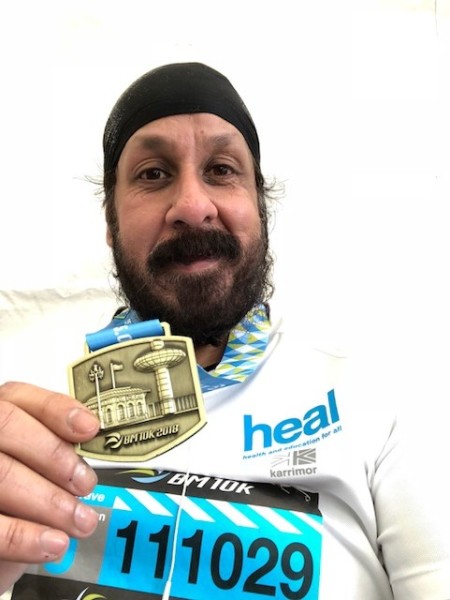 2018: Brighton 10K Run - 1/4 Marathon (6.5 miles) of my QHF Marathon Challenge for HEAL Charity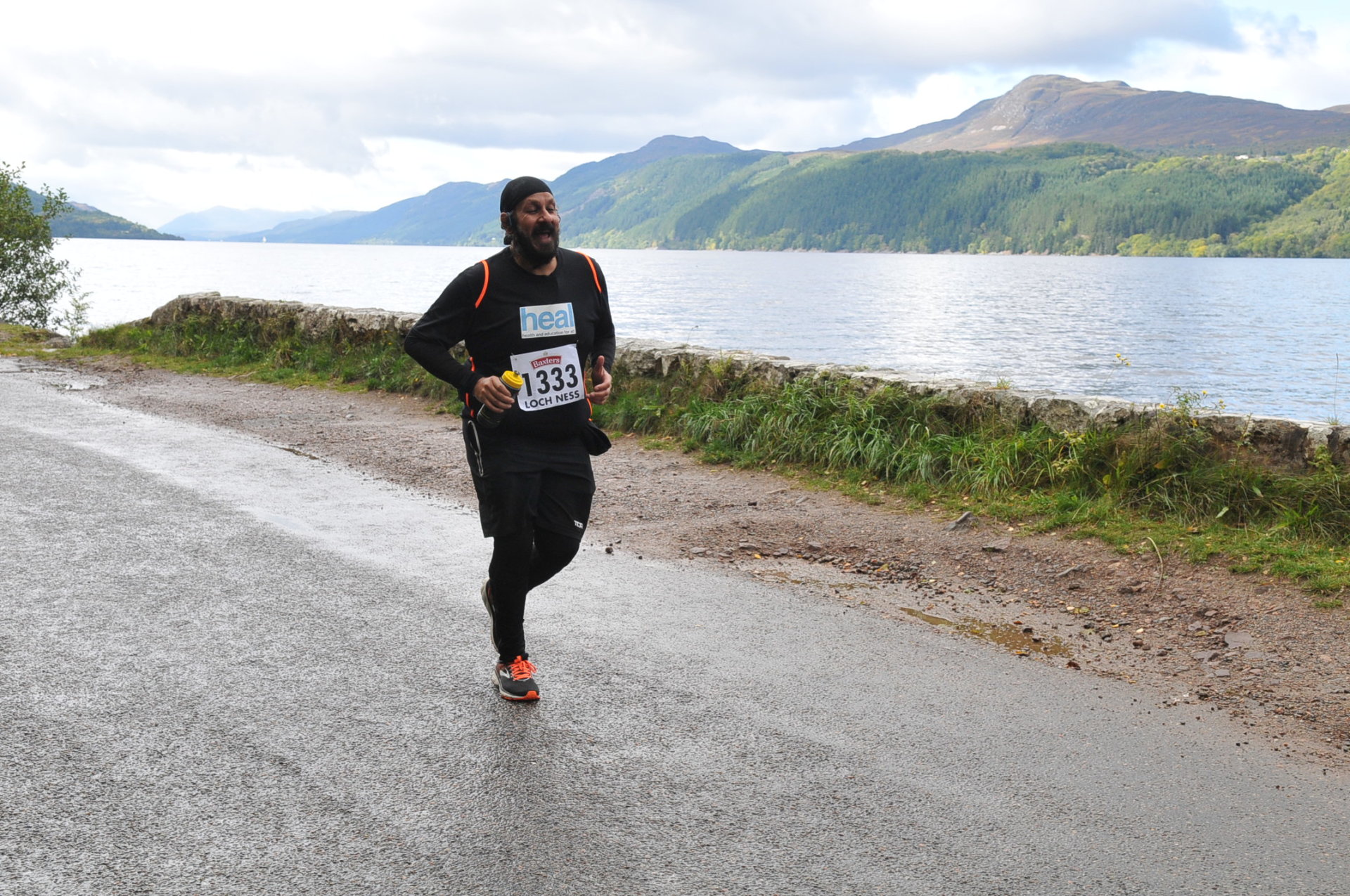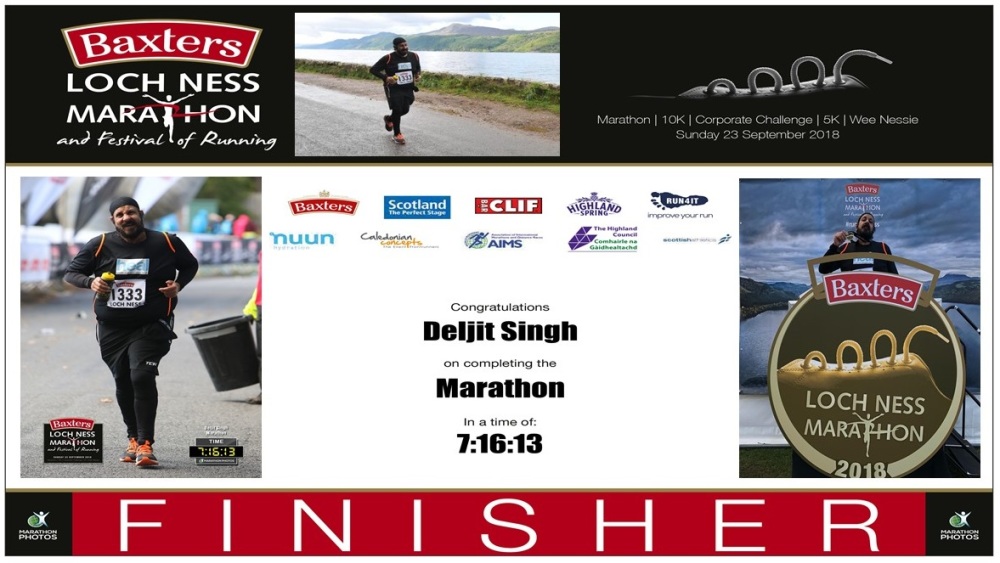 2018: Loch Ness Marathon - Full Marathon (26.2 miles) of my QHF Marathon Challenge for HEAL Charity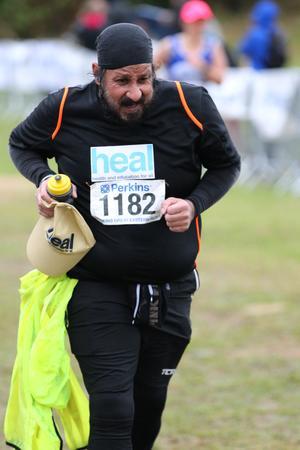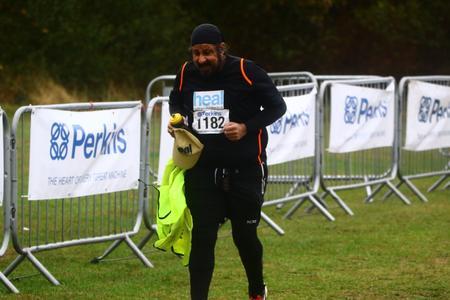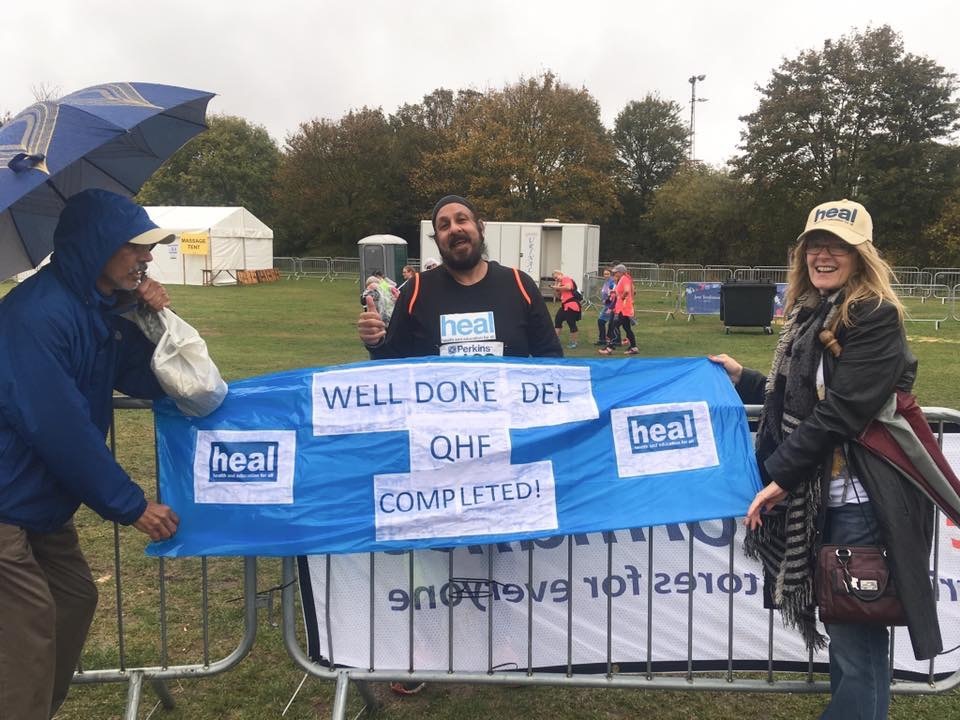 2018: Great Eastern Run - 1/2 Marathon (13.1 miles) of my QHF Marathon Challenge for HEAL Charity 
Sikh Channel  Late Night Banter Chat Show  & Telethon to Raise £100,000 in 24hrs for Inderpal Singh's Cancer Treatment
In July 2017 I'd been invited onto The Sikh Channel Breakfast Show to tell viewers about my weight loss journey as obesity is prevalent amongst the Sikh, Punjabi and Asian communities.  The idea was to educate and inform which I felt I did based on the hits on my website www.bariatricman.com after the show and emails too asking for advice.  The female presenter Sukhi Kaur was very professional but the male presenter kept interrupting me and kept taking the interview in his own direction - most unprofessional.  Like I said the interview did reach quite a few people, but more than this the team at The Sikh Channel were impressed with my style and delivery so much so I ended up being offered my own chat show on the channel - Late Night Banter with Del Singh. 
What should have been 4 x 30 minute shows morphed into 1 hour shows and I ended up doing around 24 shows over 12 months and 2 Seasons of Late Night Banter, plus this online presence.   The show was different from everything else on the channel and it struck a chord with viewers right around the worldas many contacted us with great positivity - who knew there were Sikhs watching a far as field as New Zealand, Africa and Ukraine!

In mid 2018 I was made aware of a young Sikh father Inderpal Singh who had been fighting cancer and was given one final chance of life saving treatment in Israel but his family needed to raise £100,000 for his treatment.  Kam Singh and the team at the Sikh Channel took up the challenge.  As I was working on Late Night Banter at the Sikh Channel I went along to help by answering telephones.  However with Kam's voice failing and a telethon happening live I was asked to get in front of the camera and help get people donating.    The telethon appeal was originally allocated a one hour slot but as the donations poured in and we were all determined to try and get to the £100,000 target the show was extended and after three hours we'd done it with the help of very genrous donors over £100,000 had been raised in literally 24 hours.   The money was used for Inderpal's treatment but sadly as his illness was very advanced and his body so weak from 5 years of cancer treatment he didn't survive.  I like thousands was mortified by this news but grateful for all peoples and communities who came together to help give him a chance.
Having come up with a project to encourage the UK's population to learn more about Sikhs by visiting their local Gurdwara (Sikh Temple) I enlisted the help of The Sikh Channel to get Visit My Gurdwara off the ground.  Having done all the heavy lifting including setting up a website www.visitmygurdwara.org from scratch, it was disappointing when The Sikh Channel team failed to fulfil their end of the deal they had commited to in order to  complete the project. 
As Late Night Banter Season 2 had pushed the envelope in going beyond the usual Sikh guests the channel and others of that ilk featured with regularity, I had lined up a diverse list of interesting guests for Season 3.   Unfortunately as The Sikh Channel weren't able to commit to me and the show I made the decision with a heavy heart to call it a day.    Whilst I was disappointed by the lack of professionalism by some at the channel I have to say that I am truly grateful to all those who did help create some unique and entertaining television that was enjoyed by thousands right around the world.   I have been approached by other channels/platforms to revive Late Night Banter but for now I have too much on my plate - who knows maybe I'll revisit it again!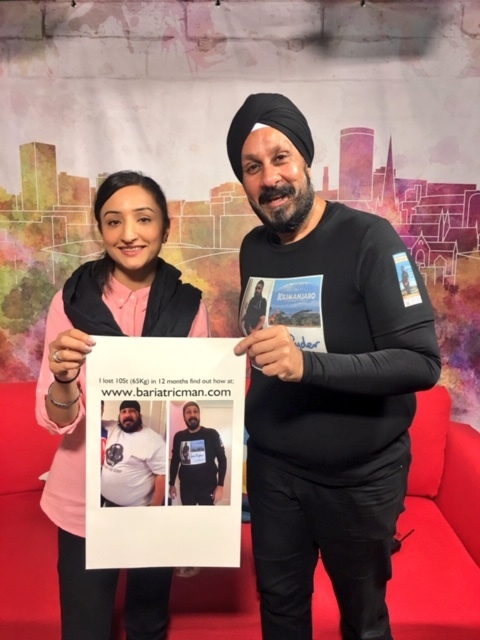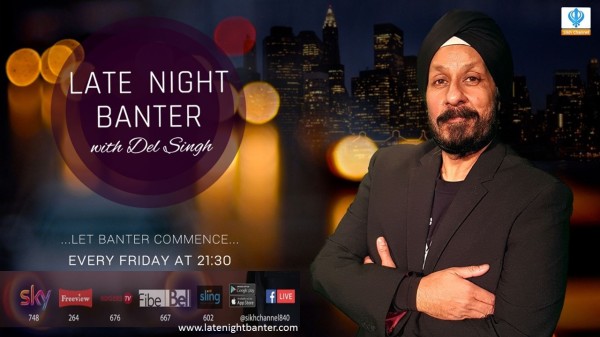 2017:  Late Night Banter Chat Show Airs on TV and Online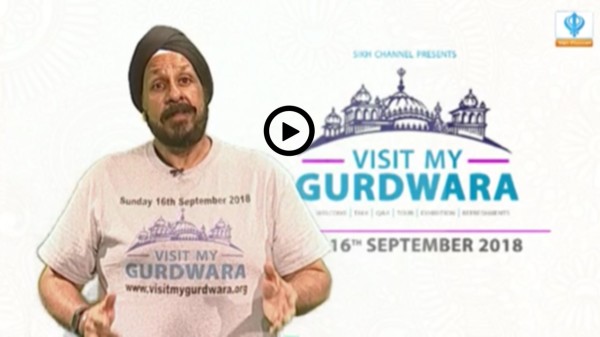 2017:  Sikh Channel Breakfast Show with Presenter Sukhi Kaur
 2018: Video for Visit My Gurdwara Project to educate UK about Sikhism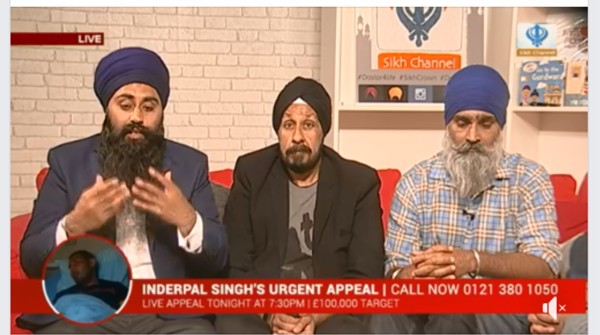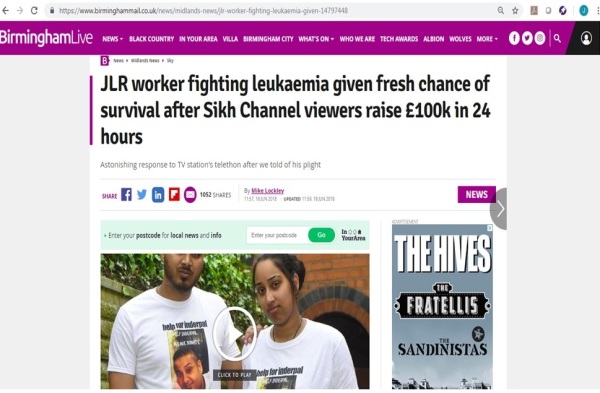 2018:  Sikh Channel Telethon to raise £100,000 in 24hrs to save a life
 2018:  Birmingham Post report on the Telethon to raise £100,000 in 24hrs 
Big 3 to beat the Big C  London Marathon Challenge - Running a 1/4, 1/2 & 1 Full Marathon for Cancer Research UK in 2019
After surviving my first full marathon in 2018 I decided to chance my arm and enter the ballot to run the Virgin Money London Marathon in 2019.   The fact that each year 400,000 people apply to run this world famous marathon but only 40,000 are successful I wasn't confident of getting a ballot place.  Imagine my surprise when I received notification to say my ballot application had been successful and I had a place for the London Marathon 2019 all sorted.  The fact I had a place to do the big one, maybe I should do a couple of smaller runs in the capital all for my chosen charity for 2019, Cancer Research UK.   Thus was born Del's Big 3 to beat the Big C, capital marathon challenge, which would see me run the CRUK 10K London Winter Run in February, the Vitality Big Half London Marathon in March and then the Virgin Money London Marathon in April.
I received strong support from Cancer Research UK because obesity is now seen as the biggest cause of cancer after smoking and my beating morbid obesity story is seen as a powerful message in the fight against obesity.  I have now accepted a role as Ambassador for CRUK to lobby Government and businesses including the food industry to do more about fighting obesity especially in the young .  I have also been asked to join the organising committee for the first Peterborough Relay for Life by CRUK which is scheduled for 2020, which will have relay teams running for 24 hours to help raise money and beat cancer sooner. 
Since organising my 3 London races I have now entered the ballot for the Great North Run 2019 and been awarded a place and also a place in the Great South Run 2019 in Newcastle and Portsmouth respectively.  So hopefully if all goes to plan it will be Del's Big 5 to beat the Big C - OK, its not as catchy but I get the chance to try and raise more money for CRUK right up until October.
In respect of my fundraising for CRUK I came upon the idea of reviving the Suite Chocolate urban music club night that we ran at my Peterborough nightclub The Park between 1999-2009.    What better way to celebrate the 20th anniversary of The Park with a one off charity club night featuring my good friend and DJ Mr Chris Goldfinger.  The event is booked for Easter Sunday 21st April at Radius in Peterborough and I am hoping we can raise money to help me get close to or even exceed the £2,500 target I set.
Suite Chocolate 2019 - Club Night to Raise Funds for Cancer Research UK in Support of  Del's Big 3 to beat the Big C  Challenge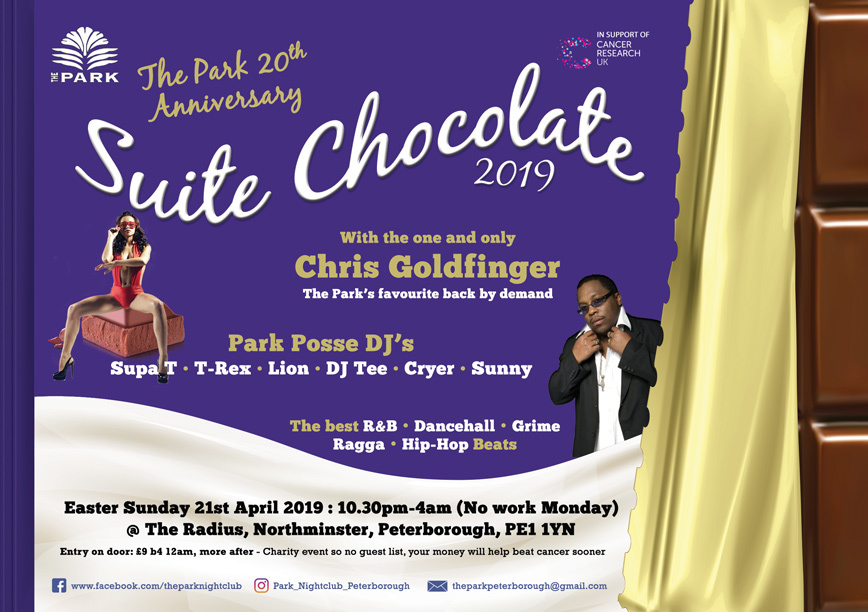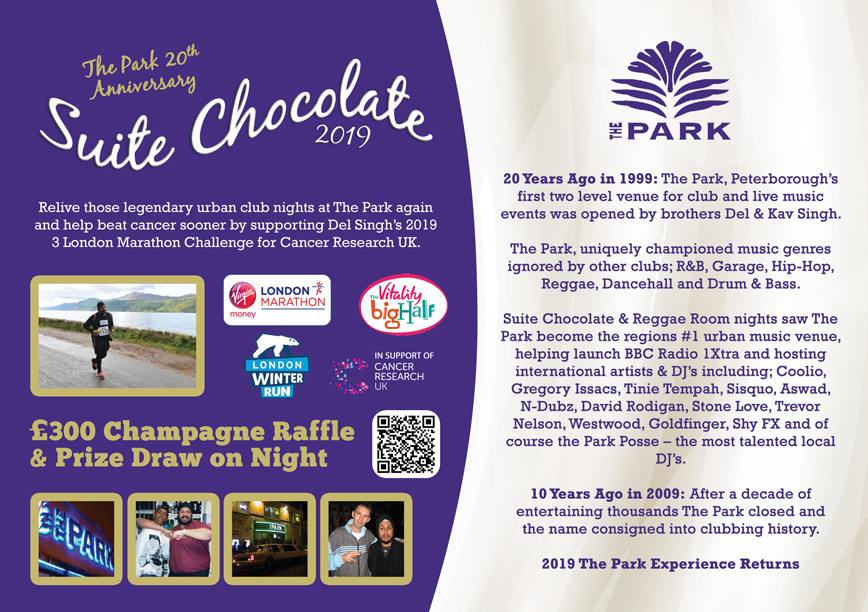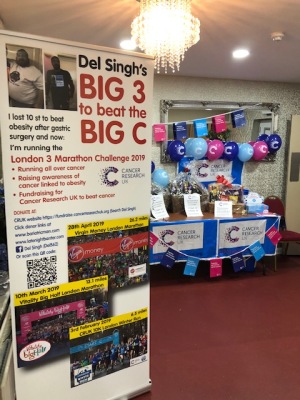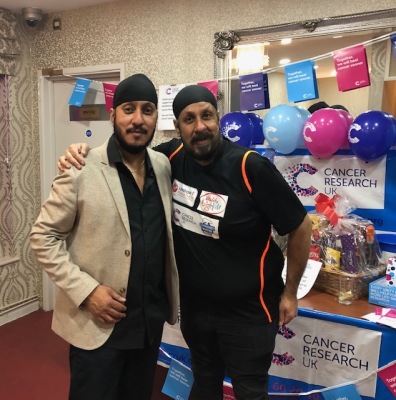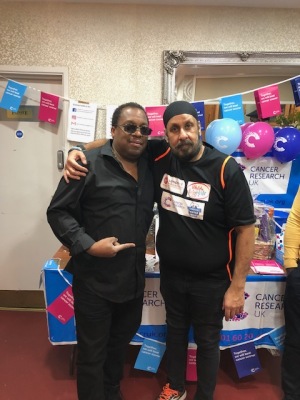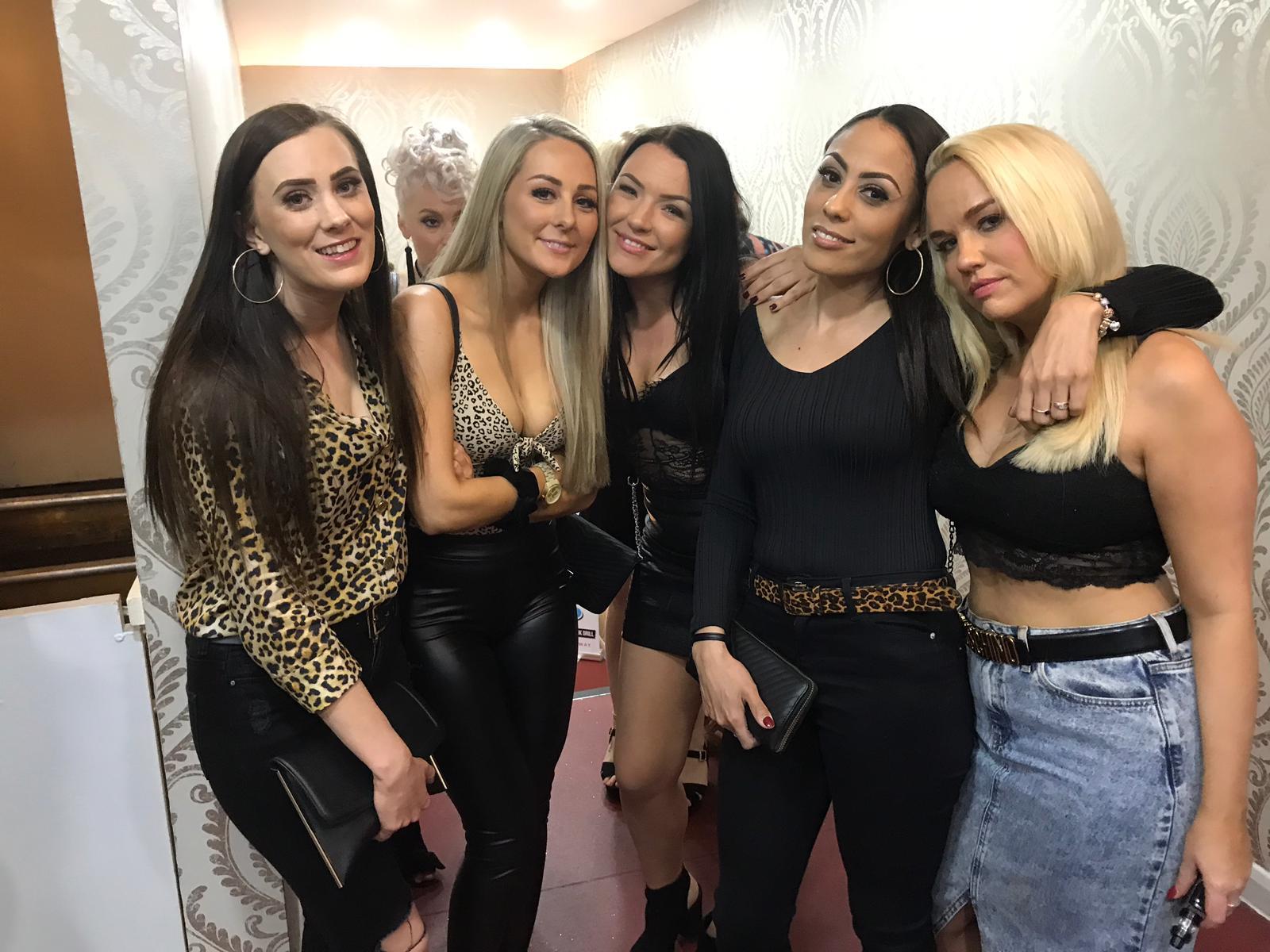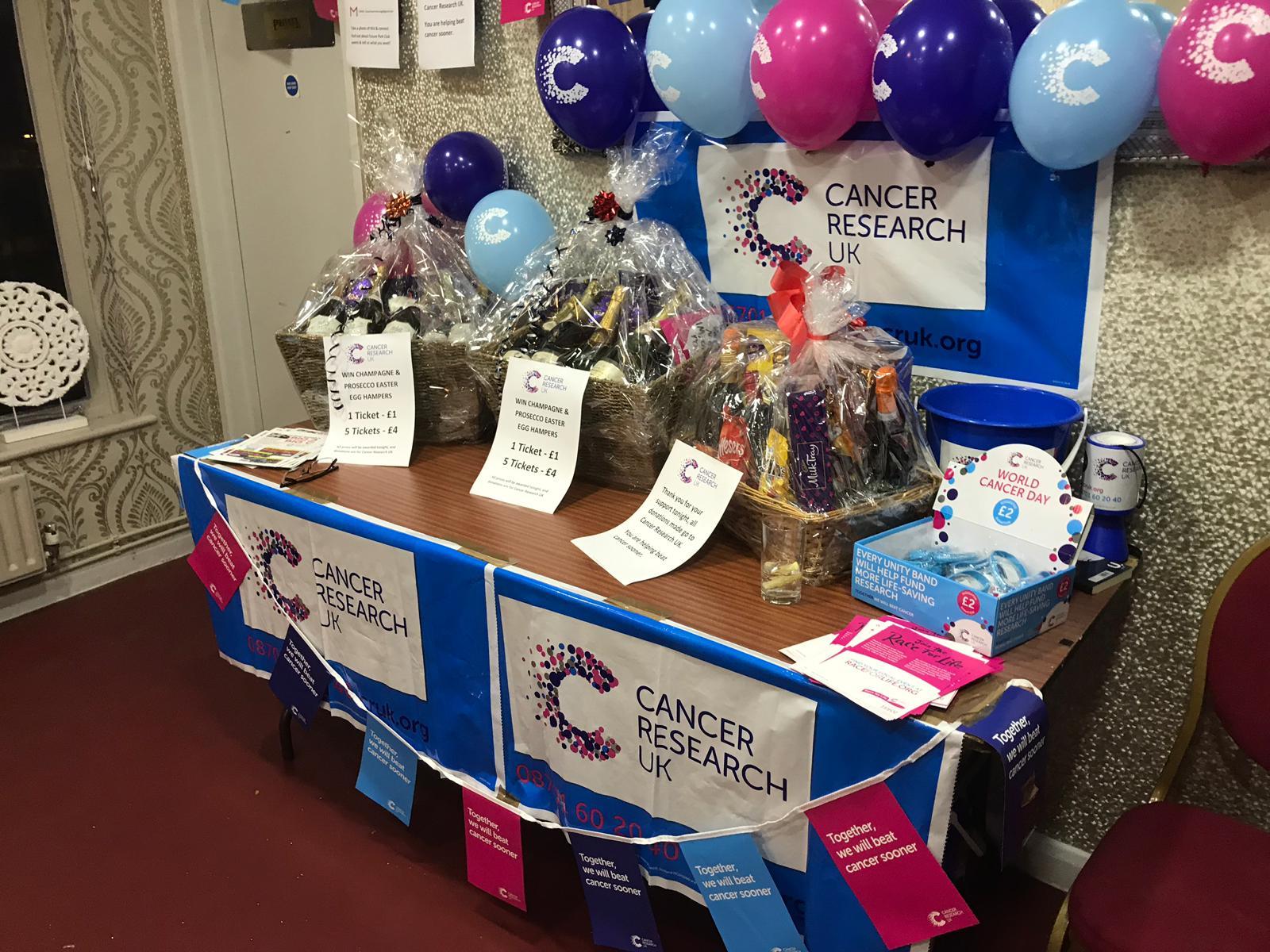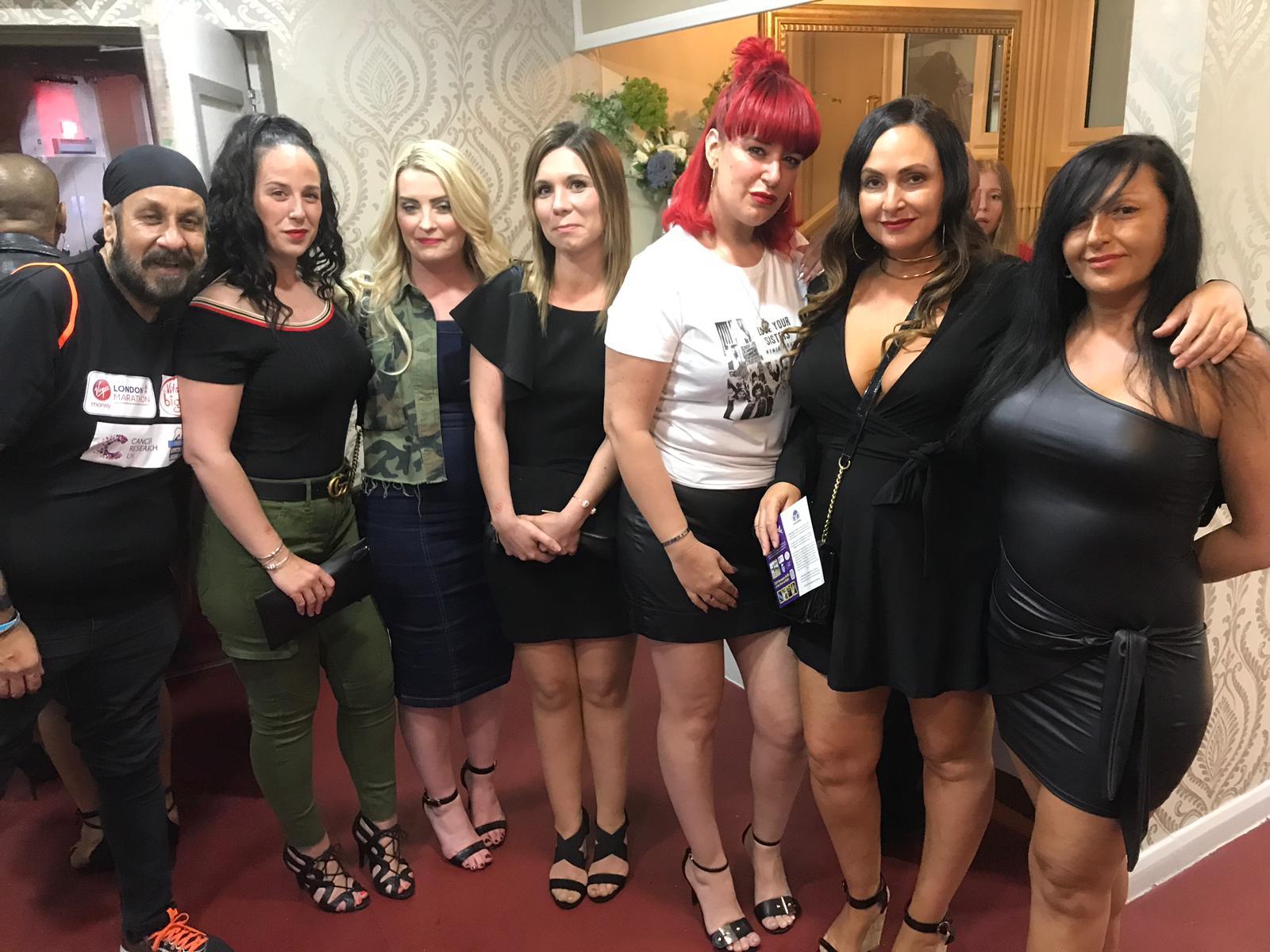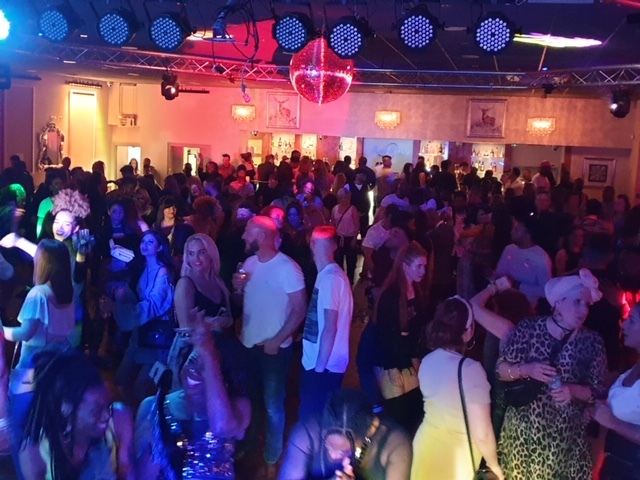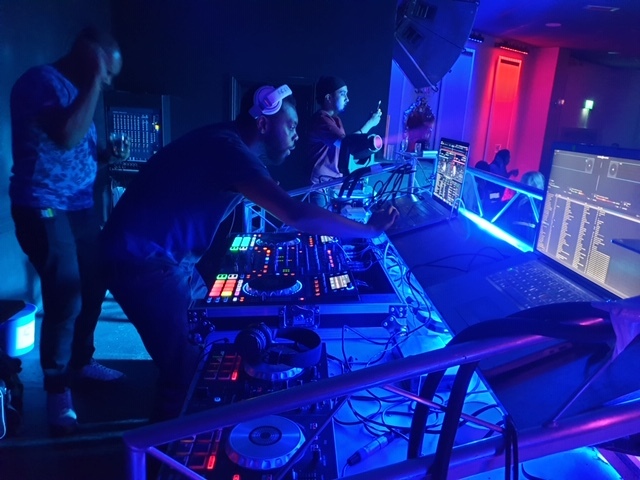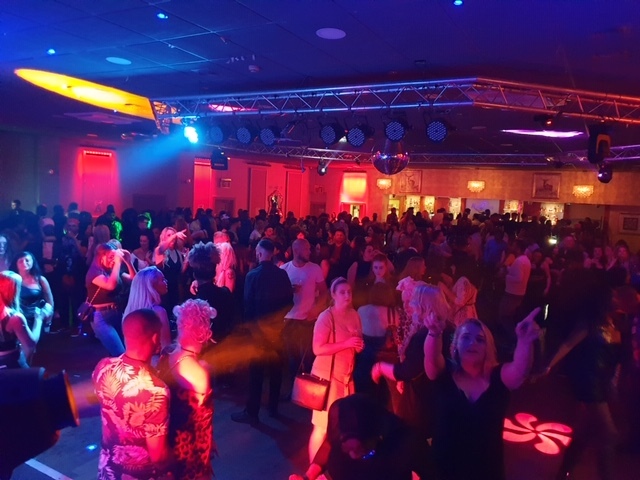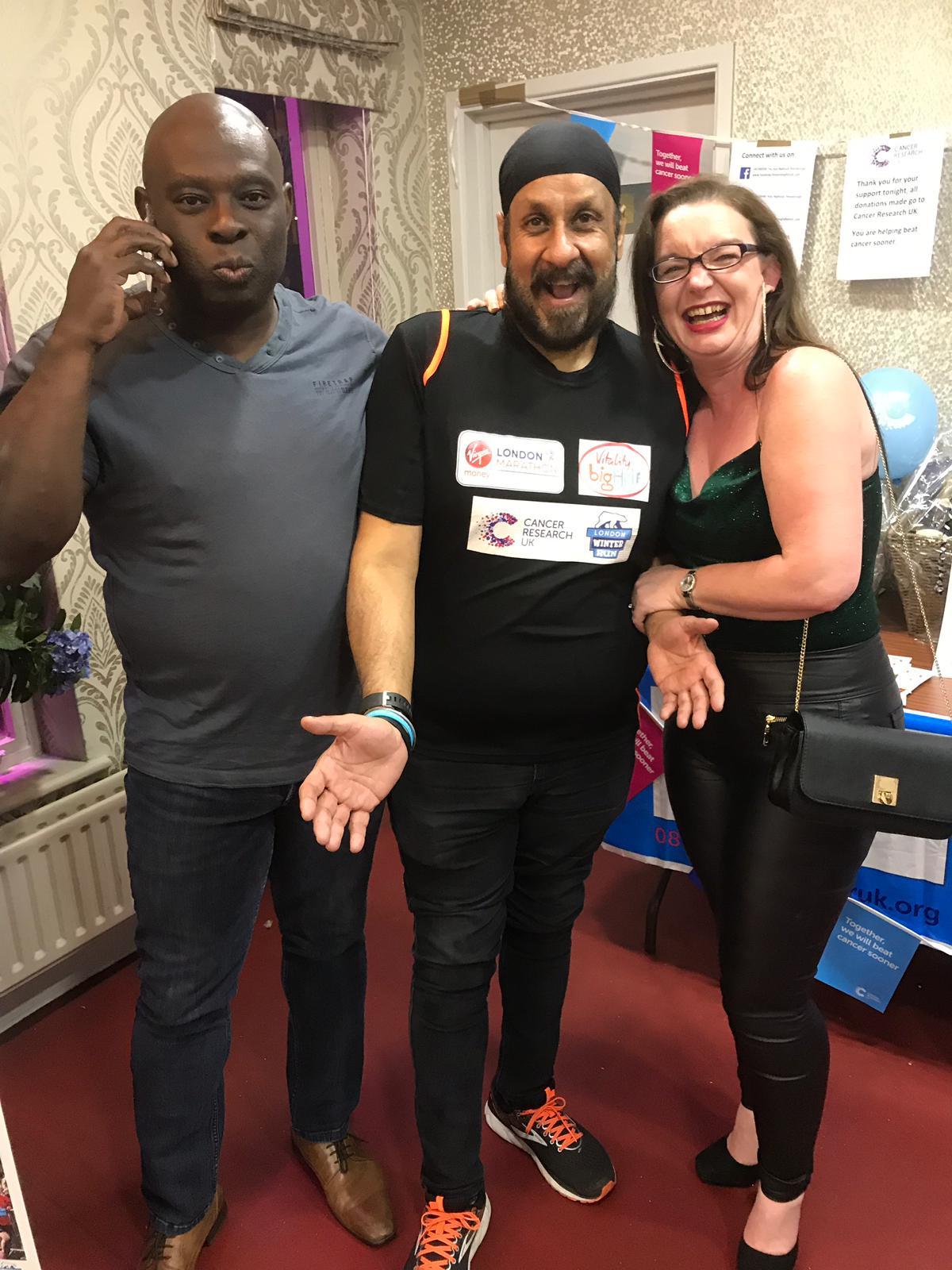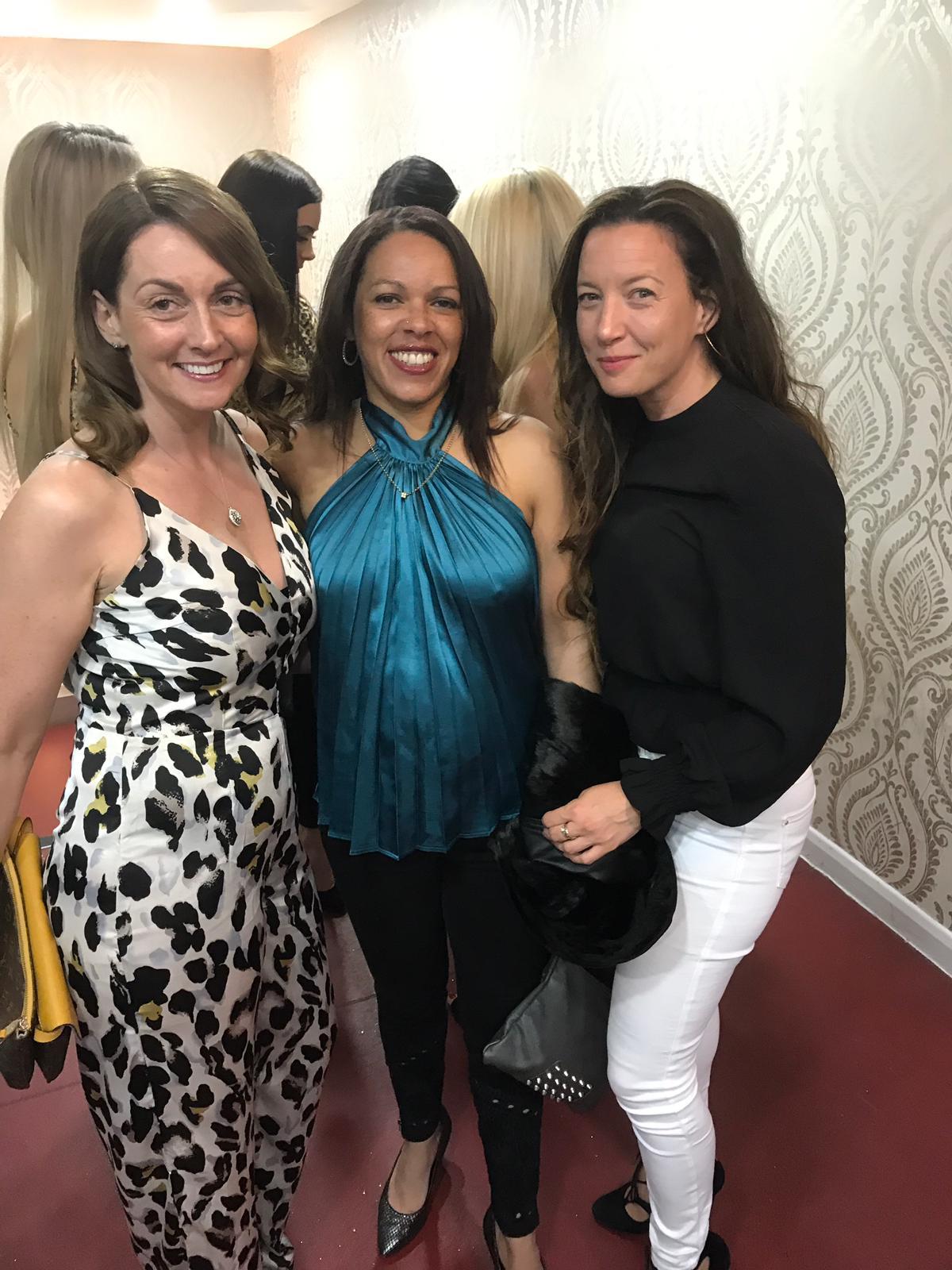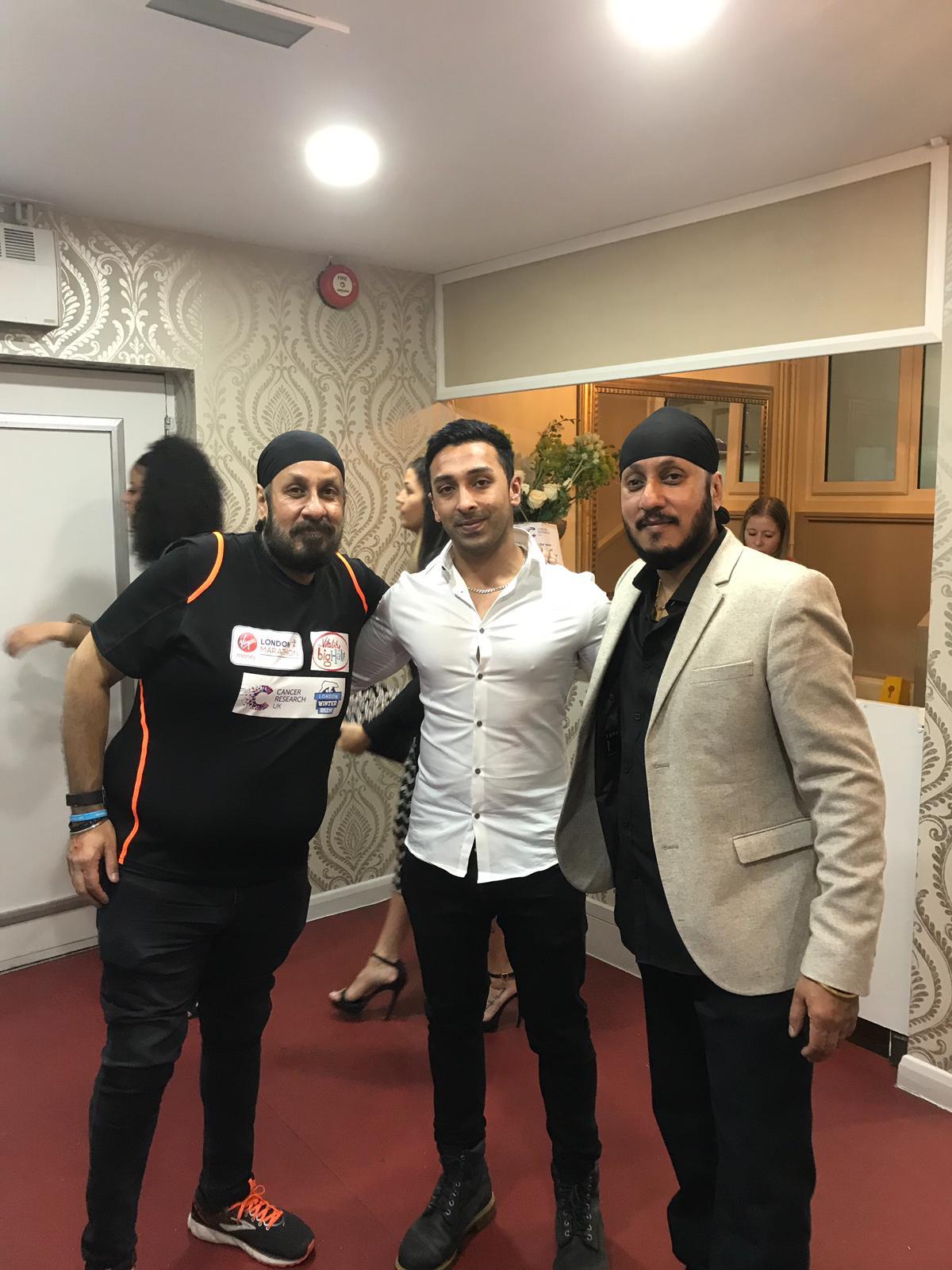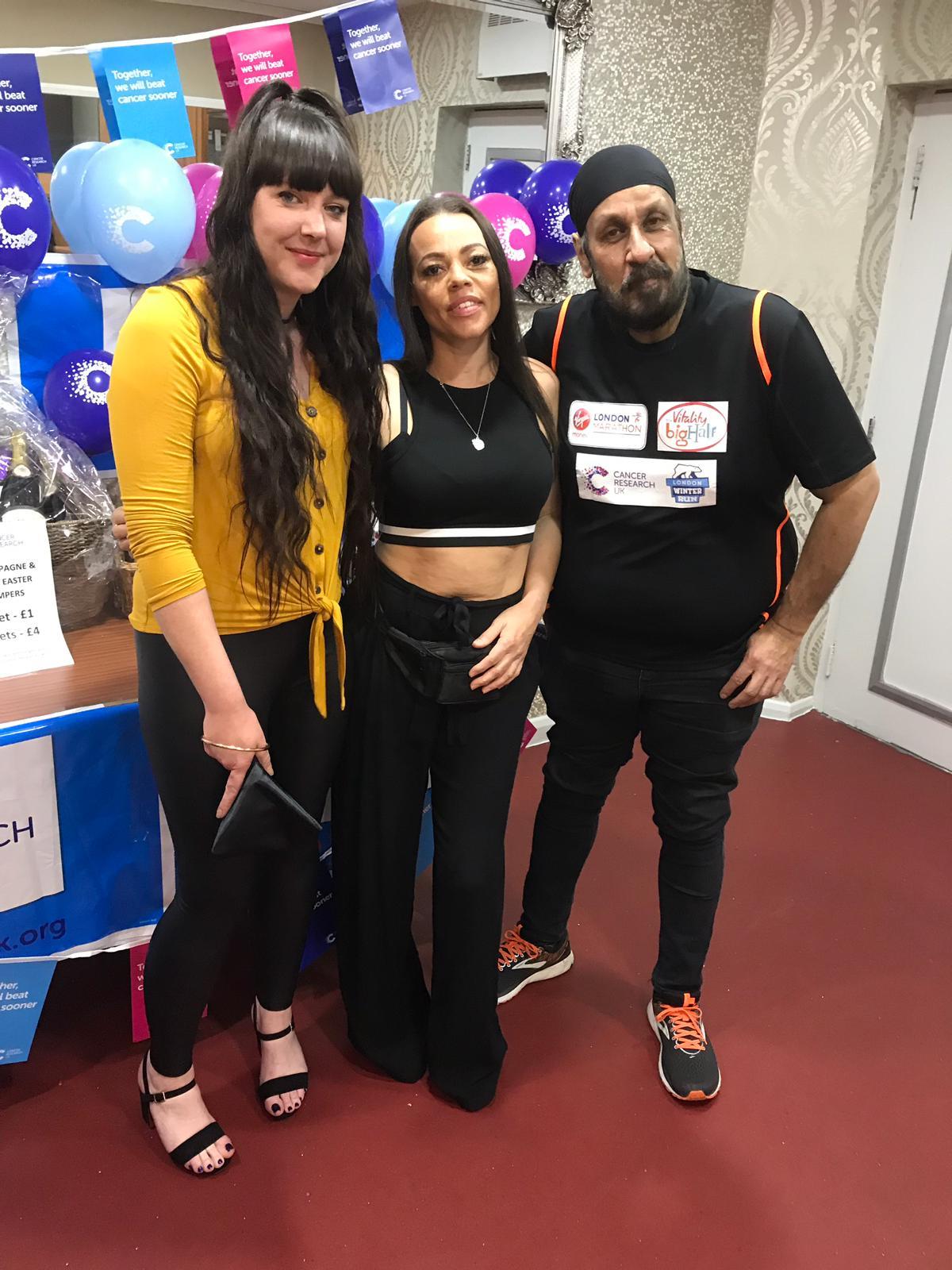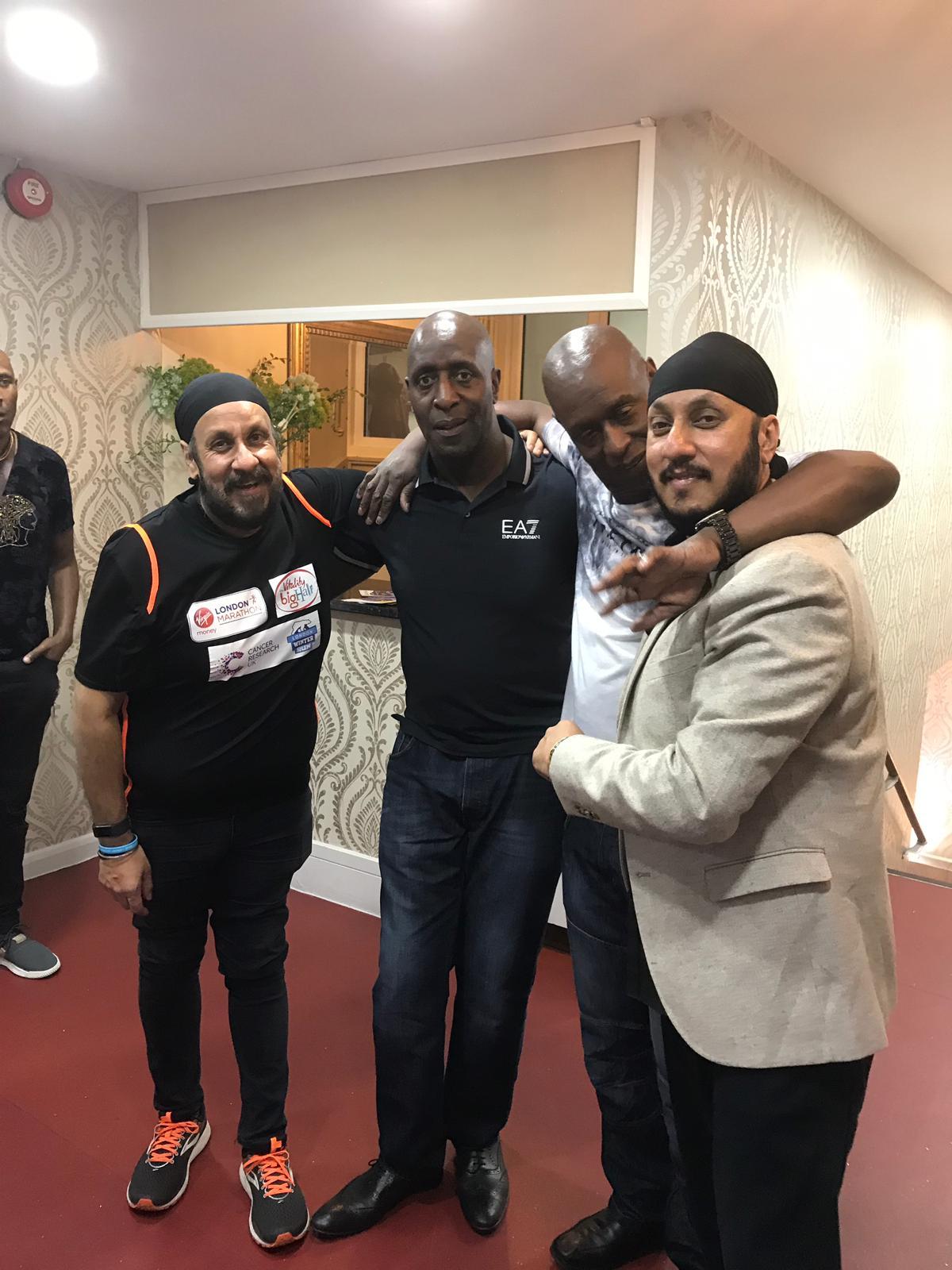 2019: Suite Chocolate - The Park 20th Anniversary Night to raise money for Cancer Research UK  
Big 3 to beat the Big C  London Marathon Challenge: -  London 10K Winter Run (Sunday 3rd February 2019)
Big 3 to beat the Big C  London Marathon Challenge: -  Vitality Big Half London Marathon (Sunday 10th March 2019)
Big 3 to beat the Big C  London Marathon Challenge: -  Virgin Money London Marathon (Sunday 28th April 2019)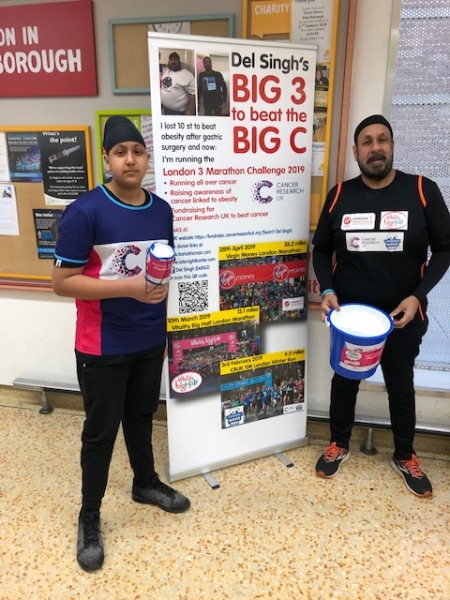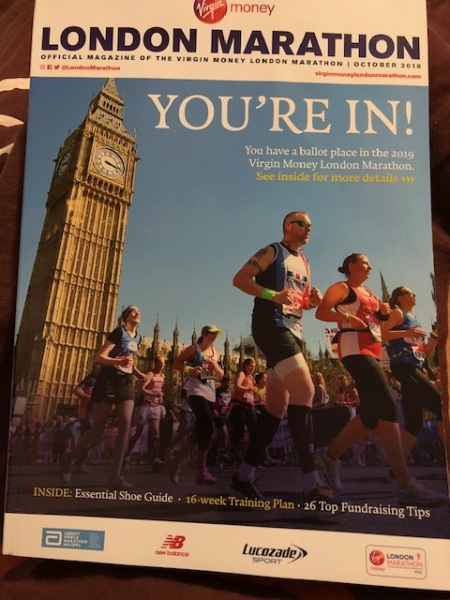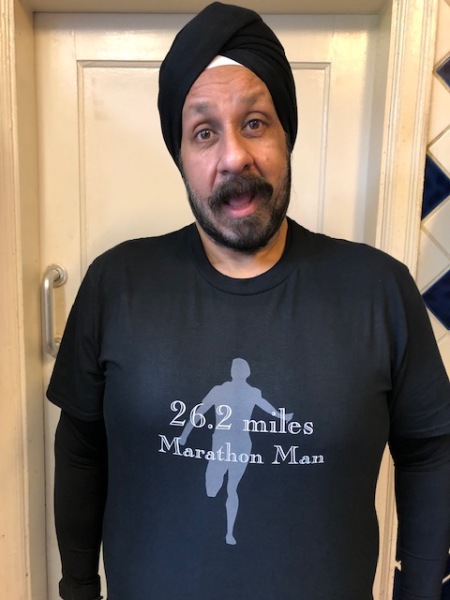 2019:  Charity tins at Tesco with my son Gurmeet
 2019:  Virgin Money London Marathon 2019
 2019:  Getting set for London Marathon 2019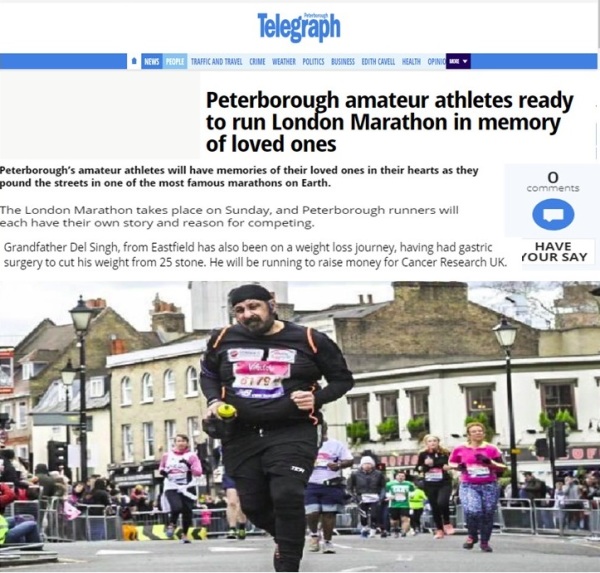 2019:  Peterborough Telegraph Newspaper coverage of my London Marathon challenge - click to read online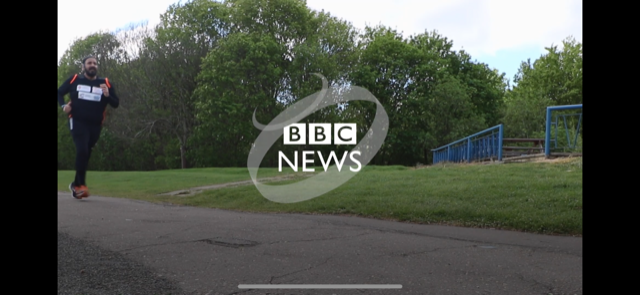 2019:  BBC Cambridgeshire Video of my London Marathon challenge - click to watch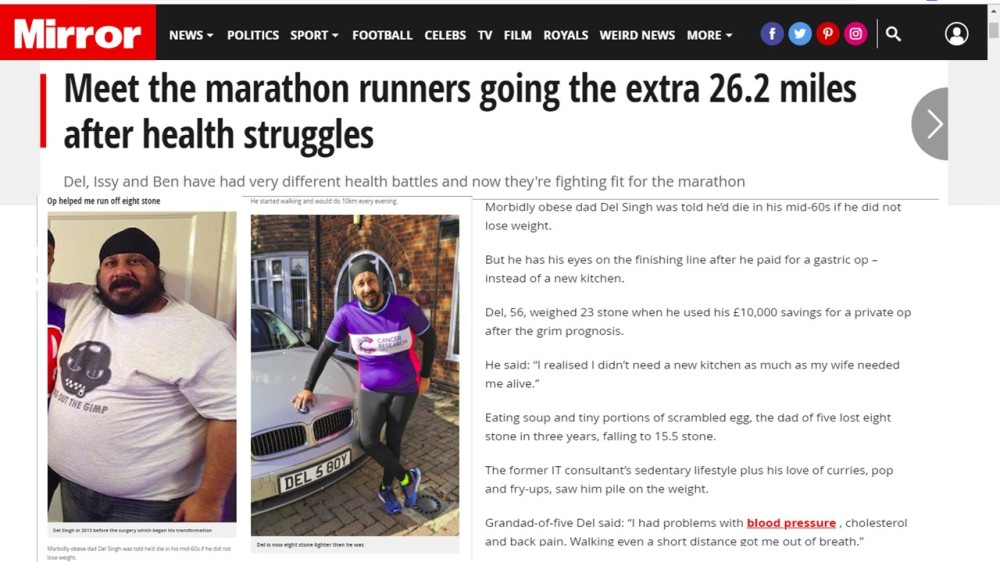 2019:  Sunday Mirror Interview Online Edition - click to read online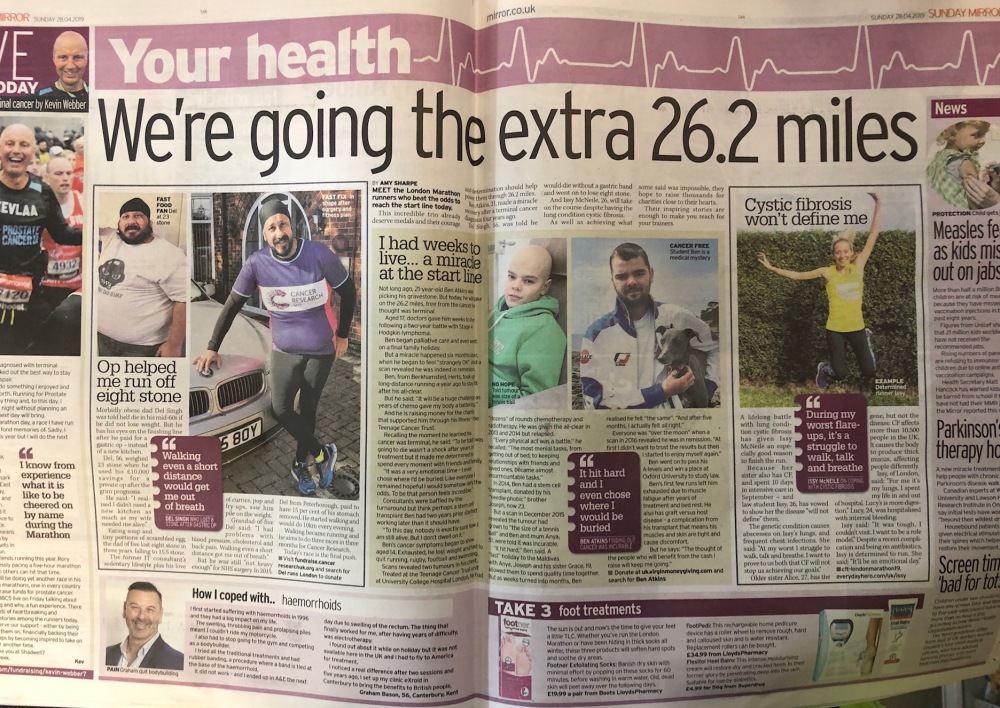 2019:  Sunday Mirror Interview Printed Edition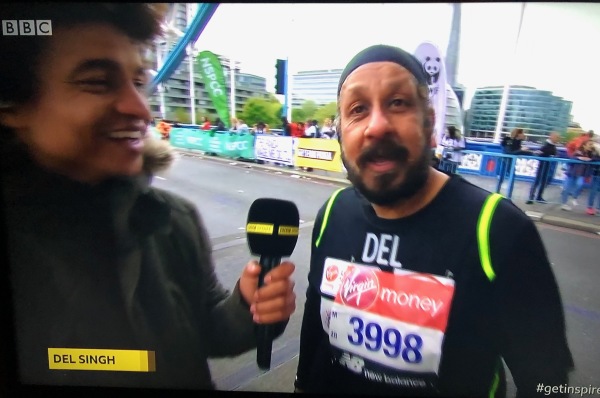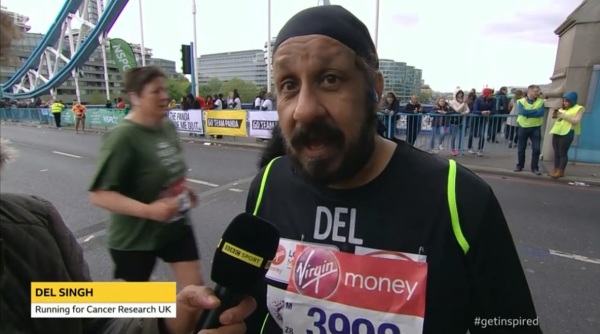 2019:  BBC TV Interview at London Marathon on Tower Bridge - Click to watch online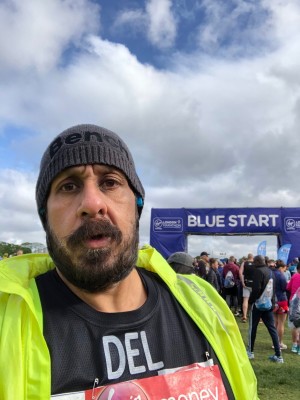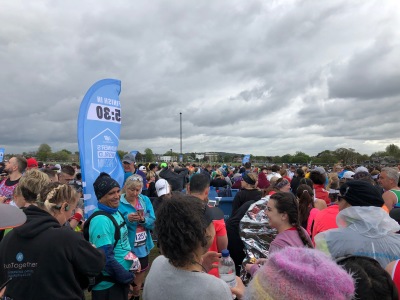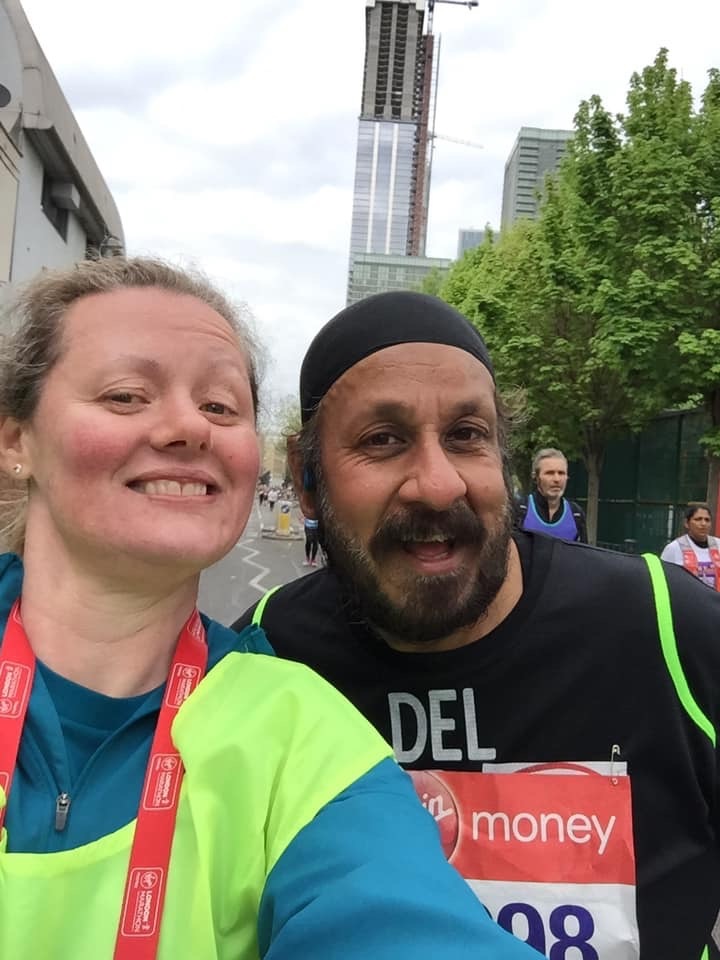 2019:  London Marathon 2019 Start Line & Waiting to Run
   2019:  London Marathon - BBC's Sue Dougan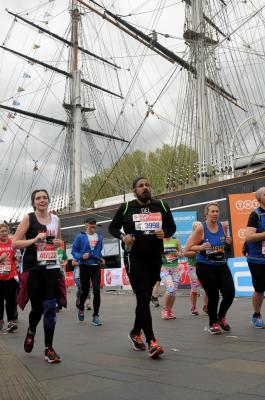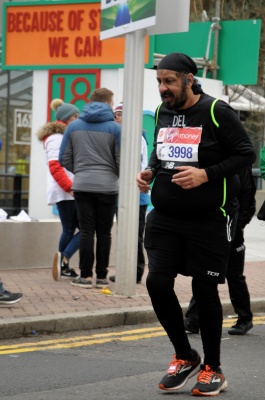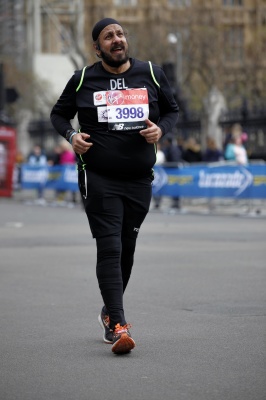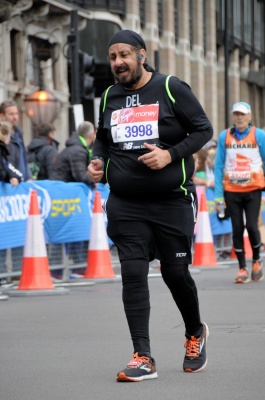 2019:  London Marathon Cutty Sark 
 2019:  Stephen Lawerence Tribute 
 2019:  20 Mile Point Reached 
 2019: 22 Mile Point Reached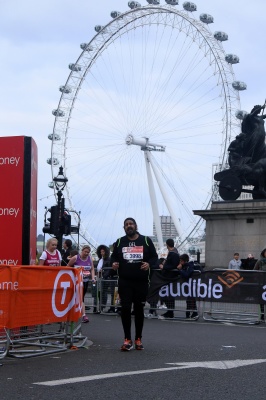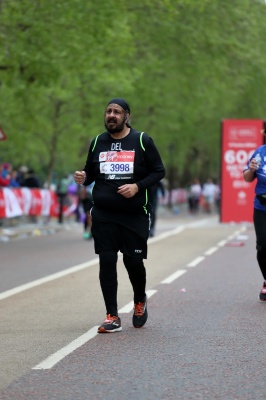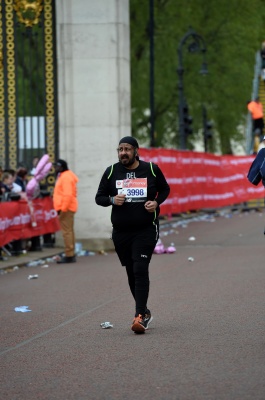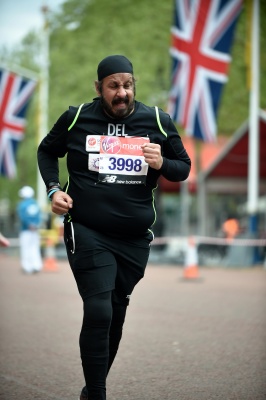 2019:  VMLM - The London Eye  
 2019:  London Marathon Into the Home Straight and the Finish Line 
 2019:  VMLM - Onto The Mall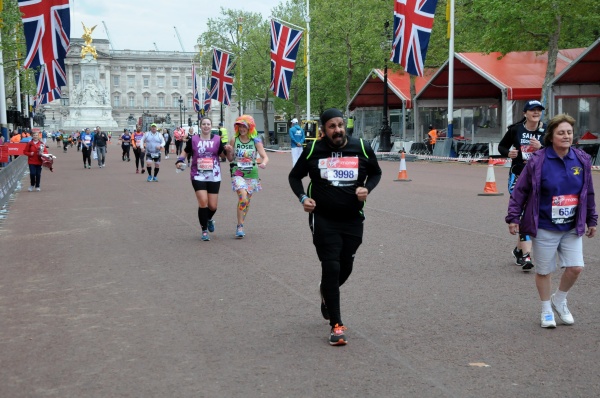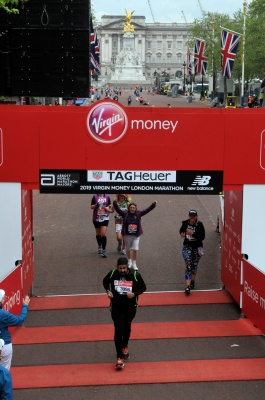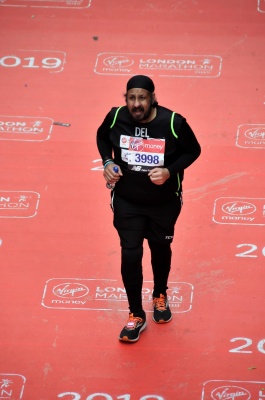 2019:  London Marathon Sprint Finish To The Line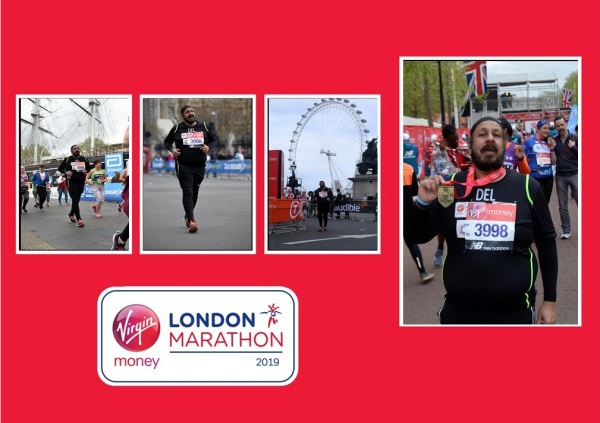 2019:  VMLM - Finish Line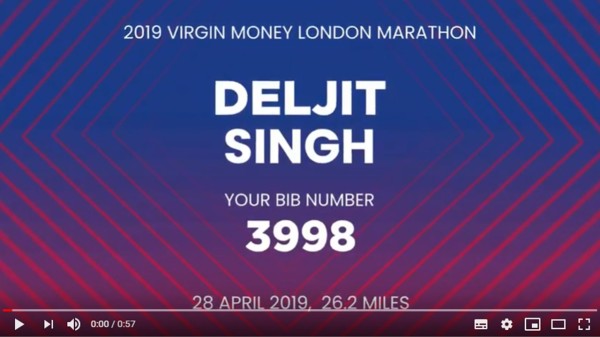 2019:  London Marathon to the Finish & My Medal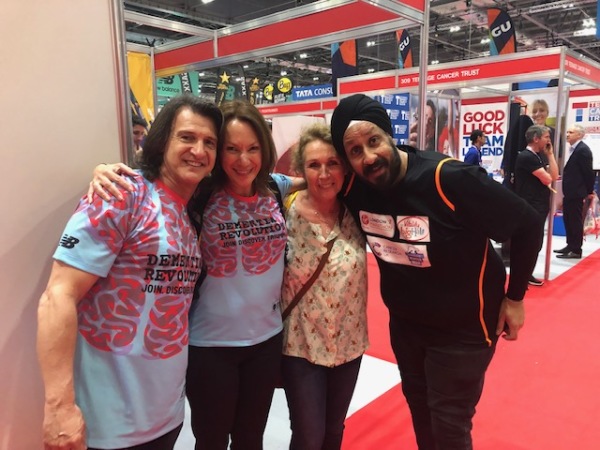 2019:  London Marathon - Video of My Marathon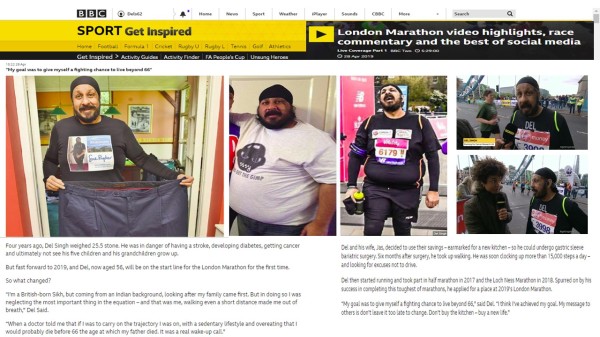 2019: Running Show with some of the Eastenders Team Running VMLM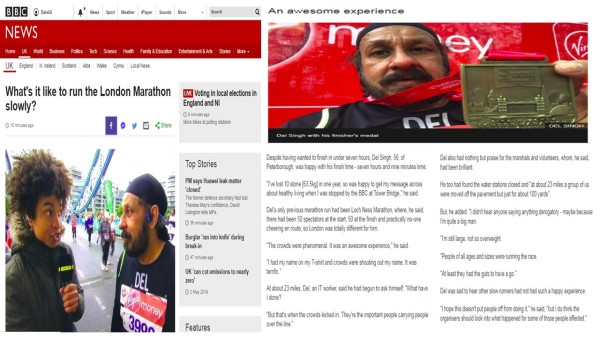 2019:  London Marathon - BBC Get Inspired Website 
 2019:  London Marathon -BBC News on Running a Slow Marathon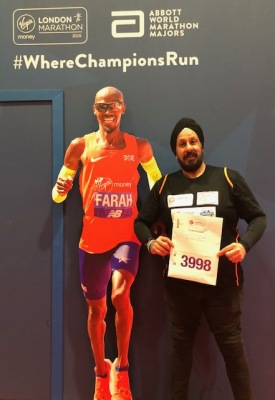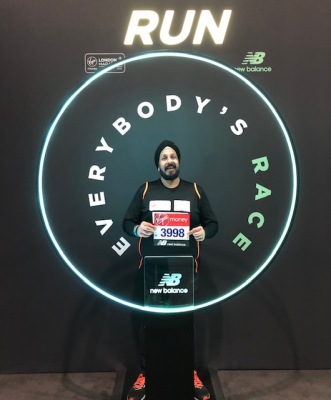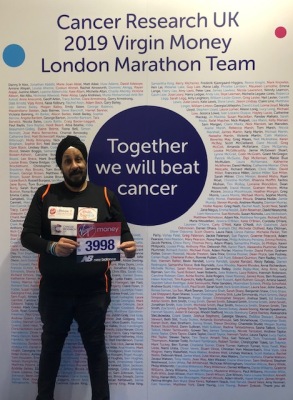 2019:  Running Show with Sir Mo.... Cutout!  
 2019:  Running The London Marathon  - LDN
 2019:  Running for Cancer Research UK
My London Marathon Dedicated To My Friend Darren Gentle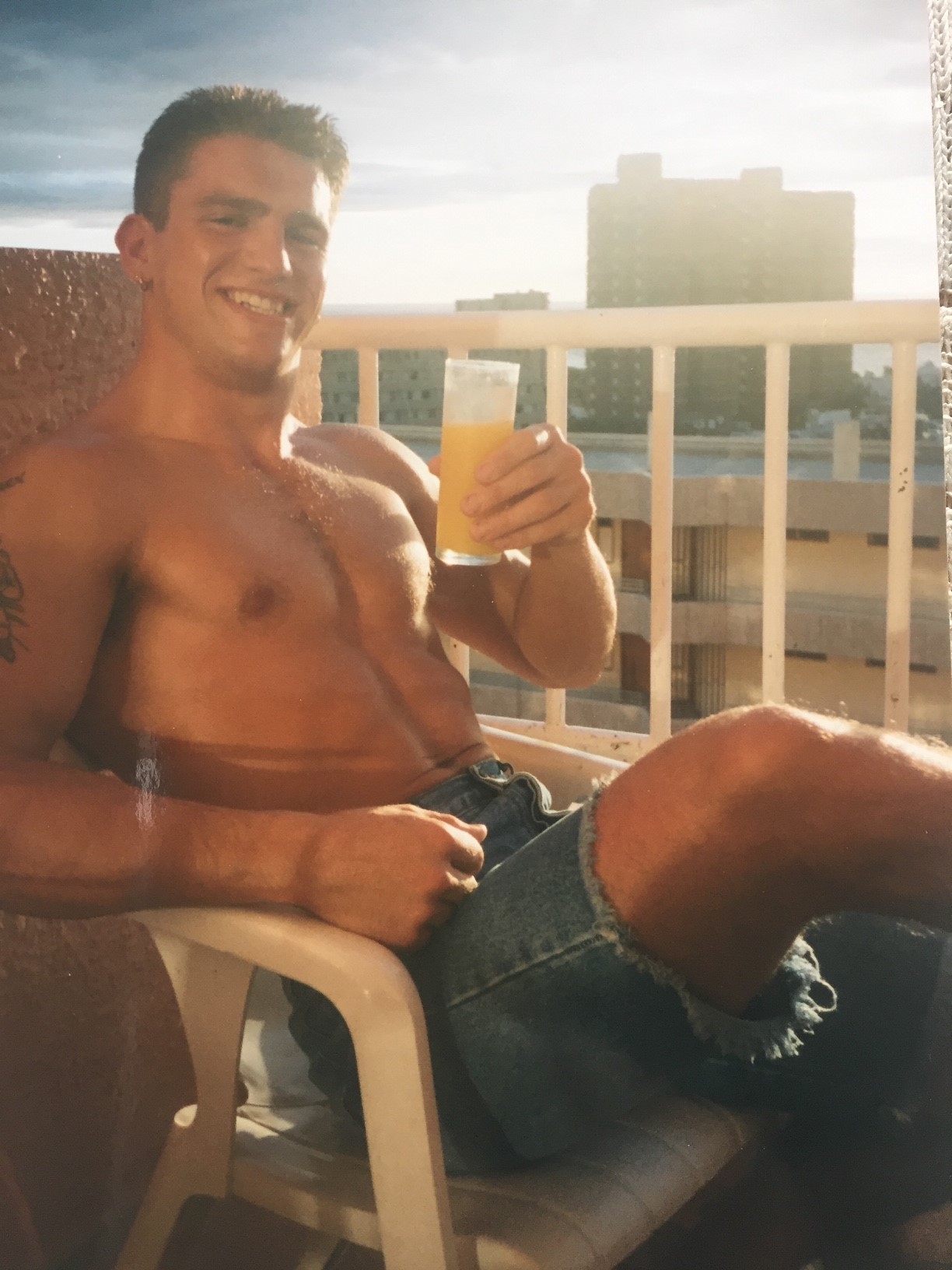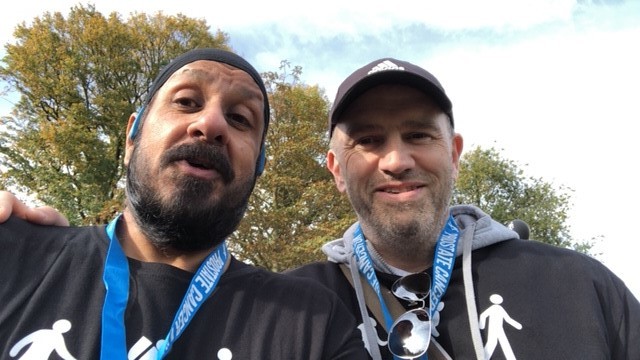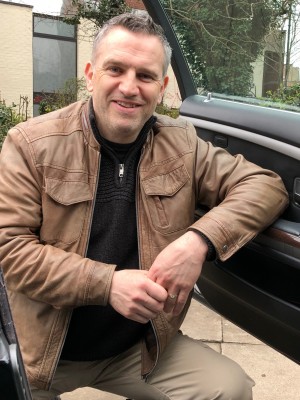 2nd February 1972
             4th May 2019

I signed up for my first 1/2 marathon in 2017 after my good friend Darren Gentle informed me in May that year of his cancer diagnosis.  Darren and his partner Helen came along to cheer me on at that first Gt Eastern Run in October 2017, as I ran to raise money for Cancer Research UK (CRUK).

For 2 years Darren fought bladder cancer undergoing chemotherapy and painful treatments. Just when we all thought he was beating cancer it spread to his lungs and made treatment impossible.

In the early hours of 4th May 2019, Darren finally lost his fight against cancer and passed away at Sue Ryder Thorpe Hall Hospice in Peterborough.  Darren was only 47 years of age and even though he had led a life where personal health and fitness were his priorities, cancer didn't care.

I know Darren was proud of my transformation and my physical activities for charity, as he told me as much.  What he didn't know especially at the end was how much he helped me get across the finish line at the London Marathon.  I thought I was done at 23 miles, but thinking of Darren in that hospice bed and his pain made me forget mine and helped me finish the 26.2 miles.  After the London Marathon I returned to Peterborough and visited Darren before going home to tell him I'd done it.  He nodded and smiled but I could tell he was in too much pain by then.  The only comfort I draw from his passing is that he is no longer in pain.

Darren Gentle - RIP my dear friend, this marathon was for you
​​

The Challenge Continues - Great North & Great South Run Still To Do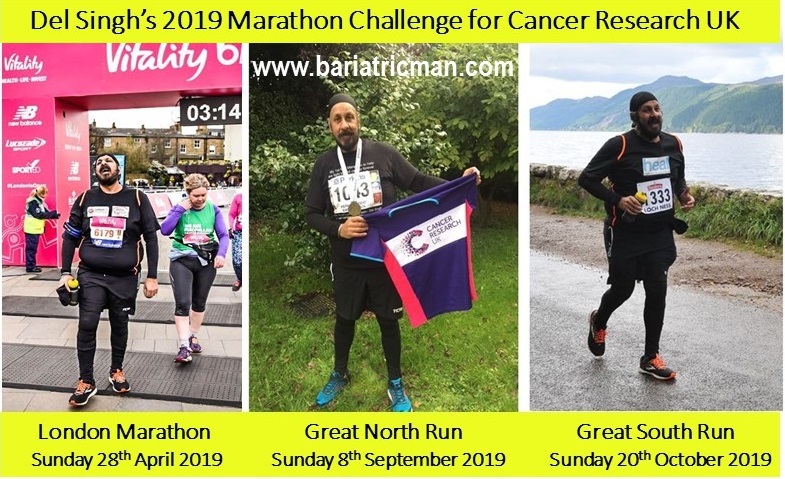 2019:  Revised and updated JustGiving Page now including both the Great North Run 2019 & Great South Run 2019